According to 2010 Miss Earth Nicole Faria who is from India, there apparently is some kind of link between "global warming" and the Earth's continental plate tectonics. This it seems was a conclusion she arrived at after she felt a tremor while in her hotel room shortly after arriving in Manila…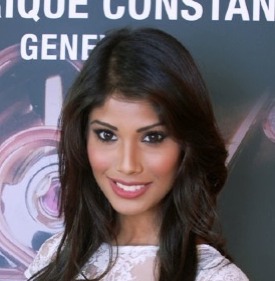 "I got scared at first, but I was relieved to know I wasn't going insane when they confirmed feeling it too," Faria said at a press conference at Discovery Suites in Pasig City on Tuesday.

The 5.9-magnitude quake was recorded at 1:15 a.m. Tuesday 30 kilometers under the sea about 35 km off Iba, Zambales.

"This is an alarm for us to wake up," Faria, 21, said. "Global warming is real, it is all our doing. I believe in karma: What we give the world, the world gives back to us."
Is there a link between global warming and earthquakes? According to Geoscience Australia, "An earthquake occurs when the rocks break and move as a result of stresses caused by plate movements." But there is also mounting evidence of a link between climate change and earthquakes…
Melt-driven pressure changes could also bring on more earthquakes. As deposits of Arctic ice grow thinner, those landmasses experience less pressure, whereas rising sea levels increase pressure on coastal regions worldwide. That tipping of the scales, wrote Bill McGuire of University College London, "may be sufficient to trigger a geospheric response." In past postglacial periods, McGuire noted, melting of ice sheets appears to have set off major seismic activity, as sections of the crust previously burdened by ice rise in a process known as isostatic rebound.
Certainly not the "karma" Miss Earth meant to cite as the effects of humanity's "contribution" to environmental dynamics, but perhaps the same in principle.
benign0 is the Webmaster of GetRealPhilippines.com.