The alleged assault against court sheriff Abe Andres by Davao City Mayor Sara Duterte is now turning into a media circus. But one good thing that came out of this recent dragging of the premier city of the southern Philippine island of Mindanao into the limelight is the renewed interest in the spotty human rights record over there.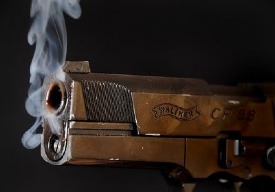 The city is specifically known for the infamous "Davao Death Squads" or DDS. The fact that the centre of the brouhaha, Sara Duterte, is the daughter of Davao City Vice Mayor Rodrigo Duterte (figure that arrangement out!) makes it interesting considering that the Vice Mayor once joked about the "D" in DDS standing for "Duterte" in a TIME Asia article that ran with the title "The Punisher." Whether Duterte's links with the DDS are true or not, he seems to find no reason to distance himself from the brand of West-of-the-Pecos style of justice that vigilante groups like it stand for…
Duterte is unapologetic about his willingness to venture beyond what legal niceties might permit. Criminals and rebels, he says menacingly from his perch at the bar, "do not have a monopoly on evil." A long, hard stare leaves little doubt that this is not idle talk. One day his methods might be unnecessary, he says. But for now, he insists on what most people from this town have also come to believe: "The only reason there is peace and order in Davao is because of me."
Indeed, in a country like the Philippines where just about everything is a gray area, including The Law, there seems to be very little sound bases for making a summary judgment of governance style and approach to taming a part of the Philippines that is so far away from Imperial Manila. Despite all this, the elder Duterte seems to have set himself apart from most other Philippine oligarchs and warlords…
Duterte suffers from none of the charges that dog most Philippine politicians: that he is beholden to vested interests, obsessed with retaining power, or bent on accumulating its spoils. He is accepted and welcomed because he has delivered Davao from the bloody days of the 1970s and 1980s when the city was known as the murder capital of the Philippines.
One can argue that Duterte had delivered results under his watch and that it's all good — whatever works, so to speak. However, there is something disturbing about an approach that puts up "assassination" as a virtual official course of action when dealing with criminal elements. Duterte even reportedly refers to the subjects of his anti-crime drives as "legitimate target[s] of assassination."
In a speech before the Integrated Bar of the Philippines in February of 2009, Mayor Duterte explained his perspective: "If you are doing an illegal activity in my city, if you are a criminal or part of a syndicate that preys on the innocent people of the city, for as long as I am the mayor, you are a legitimate target of assassination."
The trouble with law-and-order systems where officers are able to act as judge and executioner is that under such systems, there is none of the control mechanisms that allow any benefit of the doubt to be applied when delivering "justice" to the the subjects of said system. This means that you can be cheering "swift justice" one moment then suddenly find yourself looking down the barrel of a gun wielded by the very executioner you once cheered — all depending on what could amount to nothing more than the roll of a dice. A "black box" justice system does not lend itself to scrutiny. And even when one can peer into such a box, the lack of any rules that govern "action" makes any effort to rationalise such systems utterly pointless.
Indeed, a DDS "execution" can reportedly be bought for as little as Php5,000 (just a little more than USD100). So, in principle, the street value of the life of the average Davao resident, is not much more than a Diesel-branded t-shirt. The way that such tolerance for lack of due process can go was best described by the report You Can Die Anytime released by New York-based Human Rights Watch. ABS-CBN News reported on that report how…
[…] while petty criminals are still the main targets, news of mistaken identities has been rising and death squad members themselves have been targeted.

It may as well serve as a warning to the sympathizers and financial backers of death squads because it shows they can be targets themselves.

Because of the sympathizers' silence, there is a perception that residents and businessmen in Davao City are supportive of the so-called mission of Davao Death Squad to eliminate criminality in the city.
So what's the verdict? Just an ironic question there. Many Davao residents apparently like the Duterte approach to keeping the peace. Perhaps this is not surprising in a society that consists of people who prefer to place their fates in supernatural beings, heroes, and amulets and statuettes rather than on sensible products engineered by their more earthly brains — like rules, laws, and systems.
benign0 is the Webmaster of GetRealPhilippines.com.