In the last couple of months, tension between China and the Philippines around claims of sovereignty over the Spratly Islands have escalated, punctuated most recently by the deployment of the Philippine Navy warship BRP Rajah Humabon which sailed on a "patrol" mission to the Scarborough Shoal off Zambales. The Armed Forces of the Philippines as part of its five-year modernisation program has also been shopping for military hardware, reportedly eyeing options for two fourth-generation jet fighters among other weapons.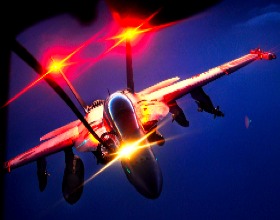 For the Philippines, an impoverished Third World nation of 100 million, spending on a capability to wage war with a foreign country seems hardly the sort of priority that would trump other more "conventional" domestic problems like education, reproductive health, and unemployment. But then maybe we should consider how a military buildup might benefit the country's economy and boost morale.
Military spending stimulates economic activity and can create huge markets for local industry. It also creates employment — specially where large military facilities are located. In his book Sex, Bombs and Burgers (How War, Porn and Fast Food Created Technology As We Know It), Peter Nowak writes how America rose to economic dominance on the back of warfare…
War also drives economic actvity, a truth that governments have always known. The Second World War, for example, ended the Great Depression [in the United States] by stimulating demand for everything from shoes to steel to submarines. In 1933 a quarter of the American workforce was unemployed and the stock market had lost 90 percent of its value since the crash of four years earlier. President Franklin D. Roosevelt's New Deal, a package of social reforms, steered the economy in the right direction, but the crisis was still in full flow when the war broke out. The United States saw steady recovery, first as it supplied its allies and then when it formally joined the war in 1941. The entire might of American industry moved to support the war effort and the nation reaped the benefits. In 1944, when defence spending reached an astonishing 86 percent of the federal budget, gross national product climbed a correspondingly huge 28 percent. In dollar terms, GNP went from $88.6 billion in 1939 to $135 billion in 1944. These are growth rates that economists and stock investors see only in their dreams.

The benefits went beyond mere numbers. By 1944 unemployment had dropped to 1.2 percent of the population — it has never again been that low — and even those people who couldn't normally find jobs, including many women and African-Americans, were gainfully employed. The contributions of those particular demographics during the war also did much to further their respective rights movements in the years that followed.
Military spending as a proportion of GDP in the Philippines in 2005 was a measly 0.90 percent, compared to 4.90 for Singapore, 4.50 for Brunei, 3.00 for Indonesia, 2.03 for Malaysia, and 1.80 for Thailand. For a country that prides itself in having the pound-for-pound greatest boxer in the world as one of its own, it is a pipsqueak where it matters. With millions of able-bodied Filipino men just wiling away their time on street corners drinking beer, the Philippines is a society of people begging for a clear purpose in their lives. Military service and the regimentation of a martial tradition can offer just that.
Even without the direct threat from China Filipinos are feeling at the moment, having a strong military gives substance to national pride — substance that no amount of waxing poetic about dead heroes, flaccid flag waving, or song and dance around street "revolutions" will ever come close to offering the Filipino.
benign0 is the Webmaster of GetRealPhilippines.com.