There isn't much about living in Australia to complain about. This is, I think, the reason why I haven't written much about Australia. I realise though that my long silence about life in Australia is a bit disturbing. Maybe it is just me getting a bit uncomfortable with being too comfortable. Indeed, when things simply work most days, it is easy to take that they do so for granted. So I thought perhaps it's about time I reflect a bit on my life here in the Lucky Country.
* * *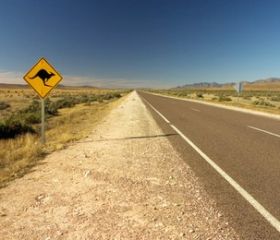 A society of respect
From the minute we stepped into their embassy in Manila to lodge an application for independent migration to Australia, I already felt like I was home. Despite at the time being geographically and culturally located miles away from my personal experience living in the Philippines, Australia made me feel valued right there and then. The way the clerk who served us patiently explained the relevant options available to us, the way the premises provided a comfortable waiting area for its visitors, the way the migrant's services queueing system ensured we were kept informed of our place in the queue… that whole first experience of dealing with an Australian government agency left a deep impression on me. It was an experience that was to remain consistent over the many years that was to follow in my life here in Australia — in the way both the Government (through its agencies) and the larger society touched our lives.
Respect pretty much encapsulates the experience of Australia.
Indeed, the consistency of the quality of this experience makes it hard not to remind myself not to take it all for granted. For a native Filipino, living in Australia turns the notion of respect from a textbook social theory you learn in school to a practical everyday reality.
At some point one is even tempted to see respect as a given. But then, I personally believe that the key underlying advantage Third World migrants have over home-grown Australians is that we possess an outsider's perspective; one that allows us to consciously maintain a constant state of awe at the excellent society that hosts us. This is an awe inspired by an appreciation of the bigger reality that respect is, in fact, NOT a universal given. Nor is being respected an entitlement, or a right; and by no means is it an absolute. Countries like the Philippines where a sorry deficit in mutual respect for one another prevails are a testament to that fact. A society where being respected is a local given and extending respect to others is a reasonable expectation is a rare and exceptional one in today's world. Unfortunately, countries like the Philippines constitute the bigger norm.
The ordinariness of mutual respect in a society like Australia's is something that the people of a backward society such as that of the Philippines can only begin to comprehend much less aspire to. Respect in Australia is so ingrained that it exhibits itself both at the macro collective level and at a micro individual level. Deep in their psyche each Australian harbours a robust shared sense of belonging and, as such, see themselves as stakeholders in the well-being of their society and its functioning as a harmonious whole even at the lowest levels…
At the coffee shop where I routinely get my morning fix, customers mill around the counter in a way that often makes it difficult to distinguish those who are (a) in the process of ordering and paying, or (2) waiting for a concluded order to be served. So it is a normal and routine courtesy to politely ask: "Where do I get in line?". The remarkable thing here is that even where a queue is not readily apparent, one actually exists. Each person just makes a mental note of who came first — and the collective outcome simply comes together in a natural way.

Even where there is a physically obvious queue, such as in a supermarket with multiple checkout counters, the kind of decency that is all but alien to the Filipino mind routinely manifests itself here. Once while waiting in line for my turn to pay for a trolley full of groceries, a cashier showed up and opened a previously closed checkout counter adjacent to the one I was lined up in. The person behind me politely told me he was jumping onto that counter and invited me to go ahead of him seeing that I was, in fact and quite obviously, ahead of him in the queue we were presently in. I thanked him and we both went for the newly-opened counter. In the broader scheme of things, both of us saved a bit of time — in a way that was fair to both of us.
The conclusion I make is quite self-evident:
"…courteous behaviour individually applied by the system participants clearly resulted in a harmonious or orderly outcome overall."
Australia is by no means the only country in the advanced world where such observations can be made. But taken relative to a country like the Philippines where people routinely clamber over one another like crabs to get their hands on what their enormous numbers had made so scarce, the banal courtesy and respect inherent in Australian society is a standout. It is, absolutely remarkable that a country founded as a penal colony after first coming in contact with Europeans and, as such, initially populated (i.e. as its first European settlers) by British convicts is now one of the most prosperous in the world offering one of the highest-rated quality-of-life standards to its residents. This is a country where rich and poor can share the same public facilities, go to the same quality schools, picnic on the same beaches, eat the same meat, and get treated at the same hospitals.
An egalitarian society
Any less than that level of egalitarianism constitutes an outrage here. Perhaps, to be fair, much of that relative economic equality is enforced by a tax system that heavily penalises wealth and, in many cases, is seen to be a disincentive to working longer hours. It is a system that can even be criticised as leaning much too closely to socialism for some people's tastes, perhaps — not because the state owns much of the means of production here (as the strict definition of socialism goes), but because there is a state-enforced re-distribution of wealth that hits poor little rich folk (and high income earners) here quite hard. But then I see the relative social harmony we enjoy that is an outcome of an economically egalitarian society as a form of non-financial wealth that sufficiently justifies every cent of the tax we pay. After all, what's the point in having a lot of personal wealth if you don't feel safe doing simple things like walking in public parks and streets?
When degree of access to life's nice things does not vary much between the working class and the leisure class, there is none of the covetous relationship amongst a society's people that we see in inherently unjust and unequal societies such as that in the Philippines. In such environments where wealth is more fairly distributed trust flourishes. And as I pointed out a while back, in societies where trust is more the rule than the exception, there is less corruption.
A system that works
Perhaps too, a very mature parliamentary form of government makes the flavour of democratic practice in Australia a very local affair, with us, the constituents, focusing on local issues and trusting our elected representatives and the collective dynamic of the parliament they form part of to distill the local perspective and local goals to the state perspective and national interests. As such, like the example of the coffee shop queue I cited, we all do our individual thing properly and the system facilitates the emergence of a working outcome. As such, a useless pre-occupation with macro matters need not burden the average citizen. Here is blogger Orion Pérez Dumdum being a bit more specific in his seminal article The Parliamentary System Fits the Philippines…
[…] in a Parliamentary System, it is much harder for unscrupulous vested interests, such as rent-seeking monopolistic members of the oligarchy to influence public policy through special deals and bribes because they will have to influence a majority of members of parliament just to influence policy. Such unscrupulous vested interests, as much as they may try, cannot easily influence the Prime Minister, because a Prime Minister cannot make decisions alone and instead can only propose courses of action which need to be confirmed through a deliberative assembly. In a Presidential System, unscrupulous vested interests need only to harass, intimidate, influence, or bribe one person: the President. In a Parliamentary System, vested interests will find it difficult (and far too expensive) to harass, intimidate, influence, or bribe a majority of members of parliament because there are too many of them.
Fair deal when it works. The elements conduct their affairs to ensure good outcomes within their individual spheres of influence and the encompassing system ensures that the agglomeration of these individual behaviours results in a fair emergent outcome. So under a parliamentary system, individuals get to focus on electing officials who are most relevant to them rather than on an official who represents a mere abstraction of their aspirations.
* * *
Respect, the egalitarian ideal, stuff that works. It's all here in Australia in bucketloads. Much of what makes a great society are things that are relevant to individuals at their personal Ground Zeroes. Contrasting that is the Philippines, where what prevails in the National "Debate" are politicians' quaint platitudes that rouse naive idealist sentiment in a population tragically idled by a flaccid economy. It needs to work that way there because, anything more detailed or specific than slogans and platitudes brings Filipinos face-to-face with what to them is the unfathomable reality that their leaders simply cannot influence their fortunes directly. In Australia, issues are local and specific. That is because we live in a society where our future fortunes lie squarely in our own hands and not in our politicians'.
benign0 is the Webmaster of GetRealPhilippines.com.