Is "Holy Week" a time to party and go to the beach? Definitely! When else do Filipinos get two week days off with a whole weekend sandwiched in between? Who wants to stay at home and watch all these bearded men walking around in sandals and robes on TV? And why (oh why!) is Holy Week the only week of the year that one can "have a deeper conversion and to be in communion with God through personal reflection and sacrifice"? I mean, the hours spent stuck in Manila's traffic already offers enough time for the average city-slicker to engage in that sort of activity.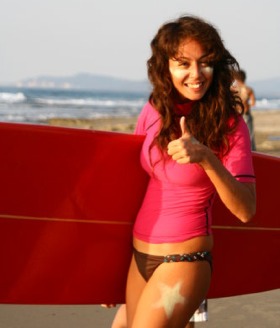 Fact is, "Holy Week" is to the Church what Valentine's Day is to retailers. Holy Week is the week the Church is most "relevant" and when its men-in-robes feel most important. Trouble is, most Filipinos are on to this scam. Holidays within which time certain activities are prescribed are nonsense to say the least. In the case of Valentine's Day, for example, why be extra loving and expressive to your partner on one particular day only when you've got 364 other days in the year to be the same? Same thing with Holy Week. What's up with all the pressure to rub flesh against them rosary beads all within a single weekend when there is so much time to pray over the rest of the 361 days of the year?
Being prayerful during Holy Week for me is presuming to see God as subject to our worldly Gregorian Calendar. Fact is calendars have changed many times in human history. And when one considers how infinitesimally short human history is when compared to geological timescales (much less the infinite time scales that God uses to mark his clocks with), then the idea of limiting the best of our prayers to a single week within a year is quaint at best.
So dust off those bikinis and head for the surf, kids! Don't let a bunch of killjoy clerics make you feel guilty over stuff that makes very little sense in the scheme of the good life we all aspire to acquire.
benign0 is the Webmaster of GetRealPhilippines.com.