I went to "Edsa" in 1986 to kibitz, make tusok-tusok da fishball and watch girls. Ok, so I also wanted to "contribute" to removing then President Ferdinand E. Marcos from Malacanang who, after all inconvenienced me no end with his banning of Voltes 5 and other Japanese robot cartoons back in the 70's. He also banned video arcade games (Pacman, Space Invaders, and Missle Command and all which I used to play at Shakey's and Ali Mall), and made sudden interruptions of afternoon Superman and Sesame Street shows with his habitual all-channel simulcast speeches and propaganda videos. Marcos also made importing American and Swiss chocolates, Playboy magazines, and apples and grapes a pain-in-the-ass. These and other imported goods were all prohibitively expensive and available only in "PX-Goods" shops, notably in Pampanga and Zambales where Uncle Sam's presence was most palpable. That pretty much summarises my personal stake in Marcos's removal from power.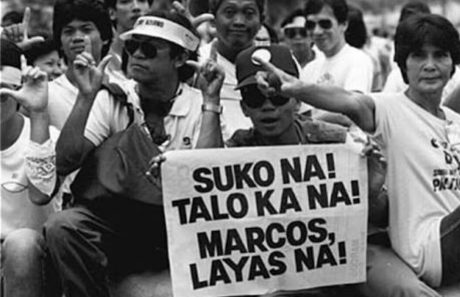 But according to the Inquirer.net Editor, the 1986 "People Power" EDSA "revolution" is an "unfinished revolution" because "it has not achieved its long-term aims, which were principally to bring about good governance and stamp out corruption".
Okay.
The year 1986 was a long time ago — 25 years ago last February 25 to be exact. But I do remember only one single defining slogan back then: Tama na. Sobra na. Palitan na. That's right. The only thinking (if you can even call it that) back in 1986 revolved around just one objective: removing then President Ferdinand E. Marcos from power and replacing him with someone. What I don't remember is hearing or reading anything whatsoever even remotely related to "long-term aims".
Long term aims? C'mon. That's giving too much credit to a bunch of pimpled adolescents led by their 20-something handlers waving placards and pumping fists (and "L"-shaped fingers) in the process of the making of this "seminal" event we call "Edsa" today. Even today, in glossy, glitzy, and technologically-savvy 21st Century Manila, the political "debate" failed to come up with a realistic vision for the Philippines and, consequently, no long-term plan had been drawn up to get us there (because there was no there defined to begin with). Back in 1986, we had an excuse. We were all kiddie-activists. What's the excuse of our middle-aged "statesmen" today?
Perhaps there was a lot of backroom wheeling and dealing among oligarchs, politicians and generals back in 1986. I wouldn't be surprised if the political cake had already been baked way before the cooks were invited into the kitchen. Indeed, the strategy work amongst the big boys of the time was never part of the public domain, and therefore certainly not a part of the people who supposedly exhibited the power back in 1986. We cannot by any stretch of the atrophied imagination of the Filipino attribute any sort of strategic thinking to "Edsa". As such, there were no "long term aims" in mind back in 1986, and therefore all this talk of "Edsa" being an "unfinished revolution" lacks a ground to stand on.
The 1986 "People Power" EDSA "revolution" is finished.
Marcos removed. Game over.
Jim Paredes himself used this very argument against his Twitter archrival Senator Gregorio "Gringo" Honasan, saying that "The people went with good intentions. But the coup plotters had other intentions different from ours". So the "people" (presumably those who did "People Power") had good intentions, while the "coup plotters" had other intentions — agendas, if you like. What were those "good intentions" supposedly harboured by that subset of the cast of characters that were involved in this "revolution" who are favoured by today's history writers? It's all in the narrative told by those who emerged "Victorious" from this "revolution" and who went on to legitimise themselves as the new civilian government of the Republic and whose "heroism" is now trumpeted continuously by the Big Media owners of that cultural artifact now known as "Edsa".
The emotionally-charged song, dazzling dance, and nebulous symbolism that is continuously delivered into every Filipino's living room everyday by Big Media — Paredes's Handog ng Pilipino sa Mundo, Tito Sotto's Panahon Na, the Yellow merchandise that emerge from the commercial woodwork on every Aquinoist occasion — these all symbolise those so-called "good intentions" that define "Edsa".
But beyond the paraphernalia that represent these "good intentions" where exactly are the specific artifacts that "symbolise" those "long-term aims" that the Inquirer.net Editor laments remain unfulfilled today? The second Aquino president himself, Benigno "Noynoy" Aquino III, is increasingly under critical scrutiny owing to a lack — even after eight months in office — of any evidence of a plan of some sort that leads to fulfilling a vision of some equal sort.
See, that's the trouble with initiatives carried out on a high fuelled by symbolism and emotionalism alone. When these opiates wear out, all you wake up with is a headache, and an upset stomach. Party animals call it a hangover. Those who are unfortunate enough to greet the morning with a naked stranger beside him or her face the infamous walk of shame — catching a cab still clad in the previous night's party outfit. Perhaps Edsa as we remember it raises that spectre before us — a combination of having to undertake that walk of shame while laden with a bad hangover. There is no "unfinished business" because there were no "long-term aims" to begin with. Quite simply, "Edsa" is finished.
benign0 is the Webmaster of GetRealPhilippines.com.