You wonder what sorts of shriveled brains produce the logic that the Opposition — still dominated by leaders of the Yellowtard-Communist Axis — apply to the issue of the Philippine Government response to the latest South China Sea incident. Not even the editor of Yellowtard newsletter Inquirer can resist the call for a bit of sabre rattling…
How do we not lose one inch of territory as promised by the President? The only way is to deploy better-equipped and bigger ships in and around the reefs and shoals in the West Philippine Sea.
Indeed, the fact is, China recognises no laws and no position outside of its claim to the South China Sea. As such, only military responses ultimately make for a credible response from the Philippines. But how can the Philippines respond in kind with the sort of military it commands — one that, for years, had shriveled under a sustained demonisation campaign from the Yellowtards and their communist comrades.
For that matter, any armed service is seen to be the enemy by leaders of this Opposition bloc. They launch campaigns to oppose any initiative to increase military spending such as what the communist and Kabataan Partylist founder Mong Palatino does in this tweet…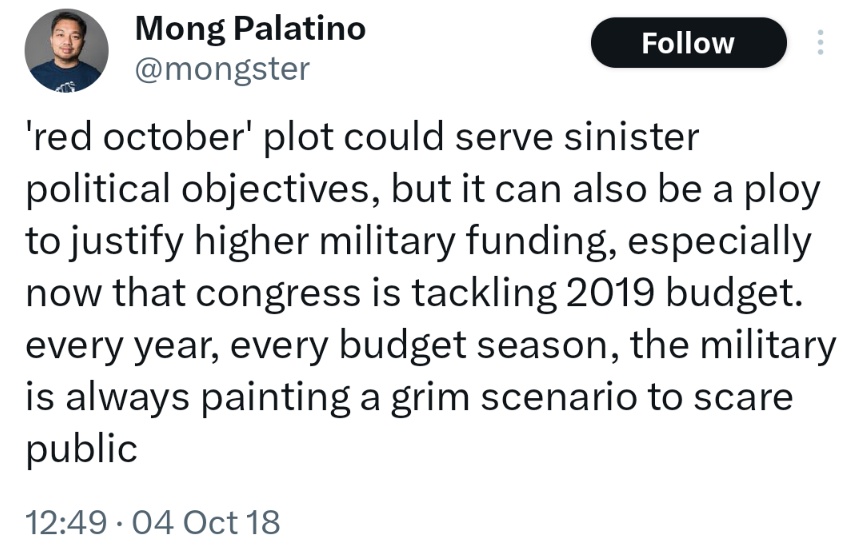 Communist media organisation Bulatlat, for its part makes liberal use of incendiary words to paint state forces as murderous organisations…
Of the proposed P4.1 trillion National Expenditure Program for next year, some P388 billion was earmarked for the programs that, according to Bayan Muna Rep. Carlos Zarate, would "enable the 'kill, kill, kill' mentality of the government."
The position taken by "activists" pretty much boils down to an oversimplified and overused cliché which basically goes like this: soldier bad, all the rest good. This is a doctrine that has peppered the lame rhetoric of Filipino "activists" for decades as we see in this typical example.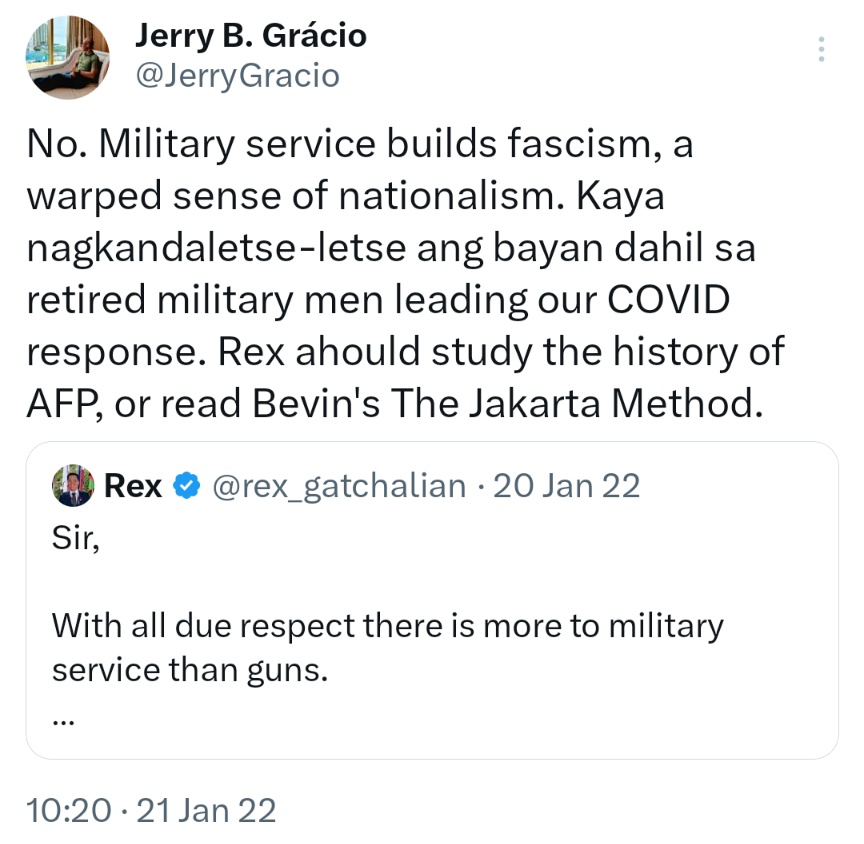 Perhaps it is high time Filipinos extend a bit more respect for their men and women in uniform. Strong state forces form the foundations of strong nations. The strongest of them are characterised by standout martial traditions and a historic capacity to wage war. It's time the bluster is matched by the hardware and the willingness to kill enemies to protect what belongs to the Philippines.
benign0 is the Webmaster of GetRealPhilippines.com.