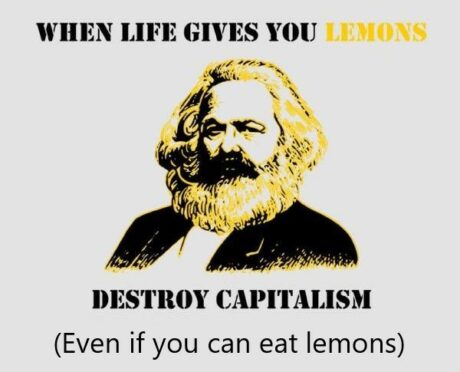 Wokes and commies are all about bringing down the capitalist world, or as the Critical Race Theory textbook puts it, the liberal order. This "order" is being badmouthed as the cause of inequality, oppression and suffering in general. Such an idea is stupid, since slavery and oppression have been existing as long as humans have been on earth and is not confined to one specific group or race doing it to another (even black Africans enslaved fellow Africans too). But, coming from this, I'll discuss why "capitalism" is worth defending and why the rhetoric of "transforming the world" as an anti-capitalist mantra is actually a disguise for destroying it, based on what I've learned in recent times.
Capitalism is actually defined as private ownership of the means of production. It is a scenario where different privately owned businesses, big or small, are producing goods without any need for any "authority" to direct them to. People are also free to choose whether to buy or not buy, which is more free than being obliged to spend on it by others. It is a "system" that developed naturally in history. In fact, I would say that what we call "capitalism" today is simply the natural order.
Karl Marx however wants to convince us otherwise. He and his followers today want us to believe that prosperity under capitalism is caused by a certain few who are in control of everything and had decided that it will be so. The world or certain people will be prosperous when they want it, or poor if they want it. This is how some people define capitalism: dominance by "capitalists" or certain evil people (changing the meaning of words is one of the tactics Marxists use; a fictional representation is Newspeak in Orwell's Nineteen Eighty-Four). They will even argue that prosperity is an illusion propped up by the "capitalists."
However, closer and more reasoned examination will disprove this. The few big businesses perceived to be dominant in many fields are only a part of the society where many private owners, including small ones, contributed to the abundance of goods in the market. The laws of economics, such as the law of supply and demand, are among the driving forces behind prosperity. The big businesses did take advantage of it and went up on the pecking order, but they are not control of the entire environment. This environment, the capitalist environment, enabled many innovations such as Fritz Haber's nitrogen fertilizer discovery, containerization, refrigeration and others that helped make like easier today. The claim that a central power just ordered all of this is a big lie.
But back to Marx, who says this evil central power that controls capitalism should be destroyed so that it may be replaced by his ilk (he says the lowly proletariat will take over, but he actually means his own equally affluent contemporaries). Marx's use of socialism could be seen as bait, to lure in people who mistakenly believe that it is "sharing." Then he will switch to what he really means: the world population will dialectically be cut down to those bearing the "communist mindset." They will be the true owners of all goods. It is actually like the Gnostic idea of the enlightened, only those who have "gnosis" will rule the world.
This is what anti-capitalism is really all about. It's a power-grab by those who are fake "oppressed," "enlightened," or other identity politics buzzword you can put here. They claim to be or represent the oppressed but they want to oppress. They claim to be for human rights, but they are actually for suppressing the rights of the people they do not agree with. They claim to be materialist and non-religious, but their ideology is actually cultic. They claim to be the experts that other people should follow but what they are promoting is actually bunk.
Marx is twisting words and lying while making one big gaslight of the free world. It's no wonder Eric Voegelin called him an intellectual swindler. And this big gaslight resulted in millions of innocents killed because a communist bourgeoisie replaced the strawman "capitalist few" and tried to control all aspects of life to bring about their own Utopia.
So we who are defending the free world from this scourge need to be armed with these explanations to counter woke commie hipsters. These likely believe that they can centralize production of game consoles, Starbucks coffee and luxuries so that everyone can have them. But it's more likely that none of these products would be invented under communism. It's also more likely that they'll be enslaved under a "socialist" government that demands free (no pay) labor so that products become "free" (with no assurance that they will be given what they produce). Also, if the commie hipsters take over, do they really know how to run a society efficiently? Even Marx did not clearly define how things will be run once the "bourgeoisie" are deposed.
Let's look at socialism. I agree it is another thing from communism. Socialism came from people like Charles Fourier and Robert Owen and they didn't call for people to be killed. Communism on the other hand seeks to implement socialism by killing non-socialists.
One of the misconceptions about socialism is that it is "sharing," so any act of sharing is socialism. This is yet another deliberate change of the definition. Socialism is actually defined as public ownership of the means of production. I had taken this to mean that all members of a society own the means of production and should be consulted every time a decision is made.
It seems practicable in a small tribe. But how about in a town of 10,000 people or a city of 500,000? Can you consult all of them for a major decision, such as through a plebiscite ("democracy" according to the Socialist mind)? No, having all of the public participate in decision-making is too slow and cumbersome, so a few will tend to be designated "leaders" who will make the decisions for society. So under socialism, these few will decide on how the means of production will be run. Socialism will still have an hierarchy.
A rich private person sharing things with poorer people is not socialism. It is just that, sharing. But some idealists will want socialist governments to compel more fortunate people to redistribute their wealth to the less fortunate. And it is a bad idea. Redistribution was never the solution to poverty. Trying to push for it will definitely run roughshod over people's rights and cause harm. Supporters will say, the intention is worth it. But, we know the saying about good intentions paving the way to hell.
Socialism and communism will never give us a perfect world. Nothing short of God actually will. Instead, we best defend and preserve the liberal "order" and our condition of all having individual will because these are the tools that help us make life easier. Individual and non-state efforts led to innovations that helped make food and other needs more available (Fritz Haber's fertilizer as a case in point) and life easier.
In James Lindsay's video In Defense of the Status Quo, he says "status quo" is a strawman word made by the Anti-Capitalists to make the real world look bad and to convince people into believing the wrong definitions of things. "Capitalists" are preventing the world from changing, according to them. In truth, the real world does undergo change, incremental change where many countries have developed their economies under the free market. Non-radical Civil Rights people have helped cut down racism, abuse and exploitation. This happened under the capitalist environment on the basis of individual rights. However, anti-Capitalists think the changes are too slow or not enough change is happening. They'll claim that the cause is they're not in charge. Or that even the non-radical Civil Rights people are part of the ruse to give the appearance of change.
Marxism was a system of lies to attack individual freedom and make the state (after they take over) dictate people's lives in all respects. Now we assume that the state in Marxism is made up of the people, as in, all the members of society as I mentioned above above. However, that is part of the lie. "People" under Marxism actually means certain people – those who developed "critical consciousness" or believe in Marxist metaphysics. Basically, only those who are Marxists. If one still maintains individual will, having their own opinion and interests, they are not of the people and deserve to be eliminated.
I have spoken of the World Economic Forum and claimed that it is communist. You would say, hey, a bunch of businesses are involved, so it's capitalism! No, just because businesses are involved doesn't mean it's capitalism. Capitalism, based on my explanation above, is just private entities selling and buying. Business and government do not control (as in, compel) any transaction or motion. What they're doing at the WEF departs from all these. Before I go further, I'll have to set you up with an idea.
Youtuber TIKHistory said that corporations can be considered states. I initially scoffed at that, but now I understand. Corporations, especially when working with governments, can put out policies or things like "you can't get this service if you're not vaccinated or you don't buy this other product." That amounts to not only control over resources but also control over people's behavior. In that sense, they have effectively become states. And since it is state control of the means of production and behavior, it is socialism.
This means that Communism and socialism will always default into an oligarchy. Basically, the lie is, we the "people" (the Marxists, woke, CRT believers) know what's best for everyone, so we should be in control. Then they make a power grab for the means of production. Remember "you will own nothing and you will be happy?" That's the WEF's "stakeholder capitalism" wherein the few businesses will own all that the people need and will try to dictate lives of people (like order them to be happy). It's like the Lopezes: they own what people need from birth to death. A new feudalism.
And remember, governments are involved with the WEF. They will help the businesses by enacting laws to force people to come under the "services" that the businesses have (another name for it is regulatory capture). Part of this is the social credit system similar to what is implemented in China. If someone "offends" any of the businesses or government officials or anyone close to them, they will shut off this person from the services (cancelling) and risk the person's death. It might even escalate to the point where anyone helping this shut off person will themselves be shut off or even arrested (and killed). In other words, a murderous dictatorship.
That's what "stakeholder capitalism" ultimately means: the "stakeholders" are dictators. It seems ironic but that is the ultimate endpoint of Stupid Anti-Capitalism.
That's also infiltration, Marxism's modus. Those familiar with Mao Zedong, Antonio Gramsci and Herbert Marcuse know that they encouraged infiltration of established systems. It's not just secretly teaching and recruiting in schools as we know in the Philippines. It's every institution. In the US, while they openly infiltrated schools and teach their doctrine shamelessly as "Woke," they also infiltrated government, business and entertainment to entrench their ideology as deeply as possible. They will use these institutions to infect the world with their ideology.
Seizing the means of production was not a way to reverse the oppressed and oppressor. It was a means for a few to seize totalitarian power. The same elite or "less than 1%" pretend to be "fed up" and have the intention of saving the world, but are actually still acting for their self-interests. Marxism lies about wanting a classless society but it actually leads to the worst kind of class oppression. This is something we must resist. People are being taught to hate capitalism for someone else's benefit, not their own, and they will get eaten up and thrown aside once the pretenders who seek power gain it.
I believe, as my cohorts here do, that what Filipinos embrace as their culture is what actually pulls the country down. And those who seem to be anti-dictators, who may also believe themselves to be "heroes," are the real dictators.