On the matter of getting appointed to a cabinet position or government agency under the incoming second Marcos administration, it does well to behave with the humility and restraint of my best friend's Aunty, Dr. Clarita Carlos.
Yes, that one.
When I came across an excel sheet that had the name of a government agency in one column and next to it was her name, I congratulated her.
She responded, "Paul, (it's) just a list… hahaha!"
(I could probably write another blog on the significance of ellipses-followed-by-hahaha in everyday exchanges on instant messaging apps, but I'll leave that digression for another time.)
If she had been mayabang or arrogant as some had depicted her to be, my guess is she would have hinted one way or another that she was up for a different position.
She's sharp and feisty, sure. And this could sometimes be interpreted by the usual timid and meek looking Pinoy as mapagmataas. Sure!
But, I don't think I have ever seen her count her chicks in public before they hatched in the way some other BBM appointees have — which to me, is pagmamayabang.
In fact, I've known her to almost always only say way much less than what she knows and this is the reason why I was pleasantly surprised when word spread that a certain Dr. Carlos was appointment as our incoming National Security Adviser.
I haven't read much else said about her appointment or any word about how she is organizing the National Security Council Secretariat. I tend to believe that, owing to the nature of the office as well as Dr. Clarita's character, little else will be said.
Because, after all, between the announcement and the rigors of getting the final green light from the Committee on Appointments is still quite a stretch.
Not a time to be seen doling out positions and favors.
In sharp contrast, the appointment of Trixie Cruz Angeles as the head of the Presidential Communications Operations Office caused quite a bit of a stir even before it was officially announced.
Before it was announced, friends in BBM's camp were mentioning Angeles along with Ambassador Bobi Tiglao. Not a few figured that Tiglao would head the PCOO while Angeles would become one of the Presidential spokespersons.
As much as I find Tiglao's tirades sometimes way out there and at other times too harsh, I've grown quite used to it and believe that what comes across in various media is fairly authentic. He's a mean and cranky old man just like a couple of my friends and myself — that's probably why I like him.
(I would have preferred Ambassador Babe Romualdez for the position but I've heard he's up to replace Foreign Affairs Secretary Teddy Locsin.)
If Tiglao had been appointed as the PCOO Secretary, it would have definitely struck fear in the hearts of BBM's committed detractors.
Angeles on the other hand… hahaha!
Well, a disclaimer might be appropriate at this point. I met her and "worked" with her at a friend's boutique PR firm way back in 2009. My friend said she was helping his PR firm with legal work as a consultant and also brought in some crisis management clients.
Back then, my impression was that apart from her work as an attorney for some people, she also contracted the services of PR firms and freelance publicists/journalists.
I even sat at a meeting where matters were discussed about an ongoing somewhat legal dispute between a shopping mall and local government unit. In the flow of discussions, there was an impression that Angeles was guiding both sides of the dispute in the way that US arms manufacturers aid fledgling democratic governments and freedom fighters.
An old blog post by a former colleague at RPN9 seems to describe the situation better than I can from my own recollection. In this post, the writer seems to have re-posted an account of Angeles' dealings by Argee Guevarra — a former business partner of Angeles:
Sometime in May 2009, we accepted Gotesco mall owners' request for us to render politico-legal services to prevent Caloocan City Mayor Recom Echiverri from gaining control and possession of the disputed mall. On the eve of the well-publicized takeover, she informed me that she will meet with some representatives of Recom. This supposed meeting was arranged by Amiel Cabanlig (a gay, bayaran blogger who always attacks PNoy in www.donavictorina.com and whose claim to social importance is bragging about his being a ka-chongkee and ka-cocaine of Mike Defensor).

I asked her why she needs to meet representatives of Recom and she informed me that Recom's group wants to "pay us off" so that we abandon our clients. I allowed her to meet with the representatives but only to listen and spy as to their intentions and tactics. I gave her strict orders not to accept or make any deal that would compromise our existing attorney-client relationship with Gotesco Mall owners.

A week later, we were able to accomplish our tasks for which we received partial payment for our attorney's fees.

Weeks after the Gotesco mall incident and considering my unwillingness to follow-up on the full payment of our attorney's fees from the notoriously stingy and shrewd Gotesco mall owners, I just assigned the task to Trixie.

At around that time, she introduced to me her supposed estranged "husband" Atty. "Estanislao" Bong Angeles, a Utopia fraternity brod of Recom who approached me and who came up with a story about some Commission on Audit finding that he said could coerce or compel the Gotesco mall owners into paying us our remaining balance.

Since I don't understand much about audit procedures, I just referred Trixie to my contacts in Gotesco mall and even accompanied her once to a meeting where nothing was actually accomplished because Trixie was herself vague of her husband's idea or did not understand the importance of this supposed COA finding.
(Image of this portion of the blog post below)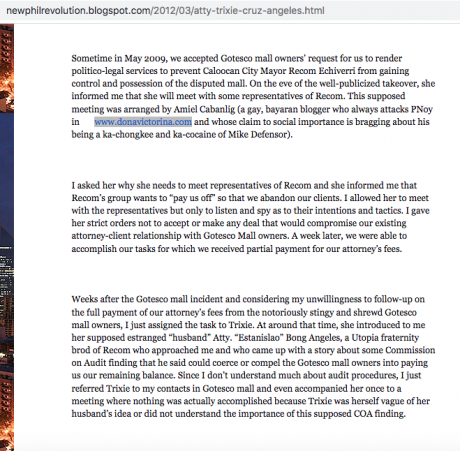 (You may read the rest of the post here )
She has probably evolved much more since then.
Somehow, she must have cozied up with the Pnoy Administration and became Vice Chairman of the National Committee on Monuments and Sites.
Perhaps as a sign of her fealty to the Yellow Lord born by Yellow Saint Cory, she even tweeted back in February 25, 2013 that "True justice is when we see at least Imelda Marcos in jail."
The Tweet received a number of comments and the most striking one was from a certain Bettina Monfort who said, "The son did not have anything to do with what his father did but might be punished for it."
To which she retorted, "Not true that he did not have anything to do with the father. He uses ill gotten wealth. That is complicity after the fact."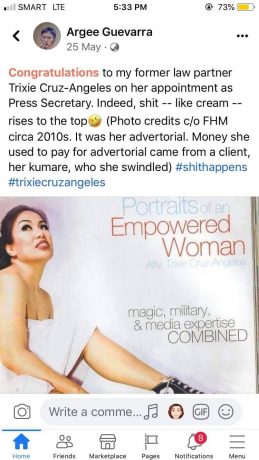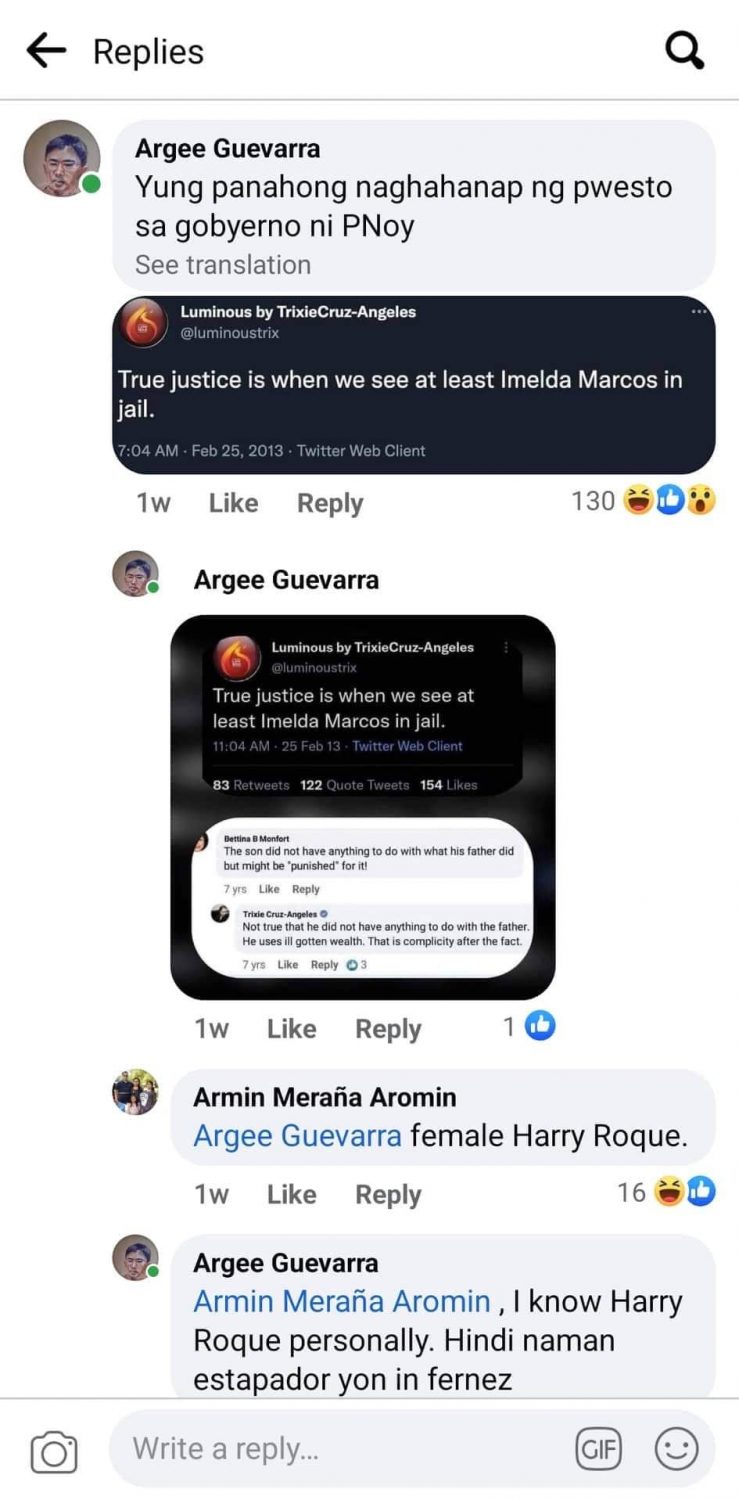 Since then, she became not only a social media influencer, but also a talk radio personality as well as a columnist — if I am not mistaken. Her successful foray in media might have been somewhat necessitated by her three year suspension by the Supreme Court in 2016.
There was even a point where she was or seemed to be the adviser for Assistant Secretary Mocha Uson and I am not sure that worked out well, if at all. If memory serves me correctly, this was the time when Asec. Uson got embroiled in a number of controversies which I would rather not enumerate because it seems to have flowed from one into another.
Aaaaand now she's the PCOO Secretary designate.
If at all, her appointment is a sign that BBM is remaining true and committed to his campaign slogan of UNITY and it should be welcomed… nay! APPLAUDED!
I mean, why not? Was it not said by Abraham Lincoln or whoever that "I destroy by enemies by making them my friends."
Angeles' team mates, I overheard, confoundingly credit BBM's largesse rather than Angeles' prowess as a lawyer and communicator.
With a budget reportedly amounting to P1.9 billion, giving the PCOO to Angeles is INDEED an act of Marcosian largesse approaching almost legendary proportions.
That's really far from the days when she was supposedly ousted by her law classmates when photocopying money supposedly in her care disappeared. Oh well, I don't think the PCOO needs to outsource its photocopying requirements… or does it? We shall see.
Imagine, instead of having her shot in the face, having all her silicone parts wrenched from her body, or water tortured in the Pasig River for calling for BBM and his mother's imprisonment, he does the complete opposite and gives her a plum position.
Which makes Angeles' teammates envy understandable because they're the ones I overheard talking about how she already earned the ire of one of BBM's biggest political and financial supporters.
The story goes that Angeles received a call from the fuming Bigtime BBM supporter and I imagined her disintegrating under the hail of curse words coming from the other end of the line.
Anyway, according to Angeles' team mate the caller was supposed to have said, "Trixie, I heard that you are appointing someone in PTFOMS. Is it true? Akin yan! Hindi PCOO yan."
PTFOMS or the Presidential Task Force on Media Security was organized to help journalists who are under threats of harm or intimidation arising from reporting on illegal activities.
Angeles was said to have mumbled some sort of explanation but the Bigtime BBM Supporter just shouted back, "NO. That's just what I want you to know."
Thing is, according to Trixie's teammate, she was not at all aware of how the PCOO is organized and how it works alongside other government agencies with functions ancillary to the Presidential communications.
As far as I understand, PTFOMS is under the Office of the President and works alongside PCOO. It is an essential component of a larger media policy implementation program designed to promote press freedom. In my mind, the Duterte media policy program includes the Freedom of Information Project Management Office.
Angeles' teammate further explains that what caused her to go out of bounds in "handing out positions" was that her media cronies were bugging her none stop.
Thing is, and this is a crucial point, Angeles doesn't yet have any power to hand out or even promise any position to anyone.
That's not only counting chicks before they're hatched, it's selling a tray of eggs as lechon manok and apparently, someone bought the whole lot!
As it turns out, a group that wants to place one of its lackeys as the head of PTFOMS has been attacking the agency's performance and propping up the profile of one Edu Punay as a replacement for the current PTFOMS head.
Edu Punay is reporter for the Philippine Star and Angeles' teammate says he feels entitled to head the PTFOMS because he had printed one or two stories favorable to BBM.
A screenshot sent to me shows one of Punay's friends congratulating him prematurely for being designated as PTFOMS head. It would not be unimaginable that Angeles or Punay may have spread the word of the designation way too early.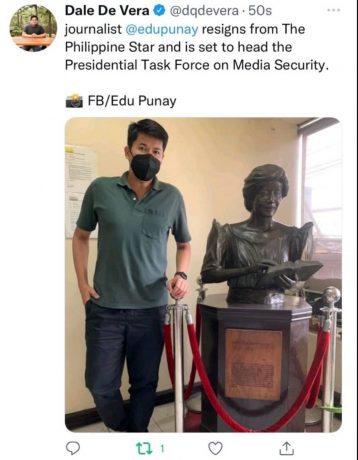 This did not sit well with the REAL transition committee, the one actually in charge of vetting the appointments for various positions in the BBM cabinet.
The actual words were, "Hindi pala nila alam yung ginagawang encroachment ni Trixie sa powers ng Office of the President. Bakit daw pinapangakuan ng position and nagpaplaning mag reorganize when hindi niya sakop yun and wala siyang power to appoint."
In not so many words, pointed remarks were made about Punay's eager beaver attitude towards getting a post.
Angeles teammate reveals, "Punay's team resorted to all kinds of dirty tricks to blighten the record of PTFOMS. Even coming out with an editorial in a tabloid kung saan connected si Punay. Obvious na galaw niya."
It was also said that Punay disparaged and belittled the current head of the PTFOMS, saying "wala siya sa kalingkingan ko."
That's the thing with some journos working for big media outfits, they inadvertently identify as the media outfit as if they had built it from the ground up. Colleagues of his from way back say that Punay wouldn't have a had a headline story or a noteworthy byline if it hadn't been enterprised by other reporters FIRST or leaked to him by very friendly sources.
Apart from Punay's media campaign for the PTFOMS appointment, Angeles' teammate also reveals that Punay pressured the reported PCOO Secretary designate by resigning from his media outfit. (Then again, I guess Punay might have been pressured as well by his media outfit to resign or get fired for moonlighting as a PR freelancer. It is unethical to work as a publicist while employed as a journalist.)
Word coming from another source is that Trixie may be on their way out even before they she officially steps in as PCOO Secretary.
Too bad. Huhubels…