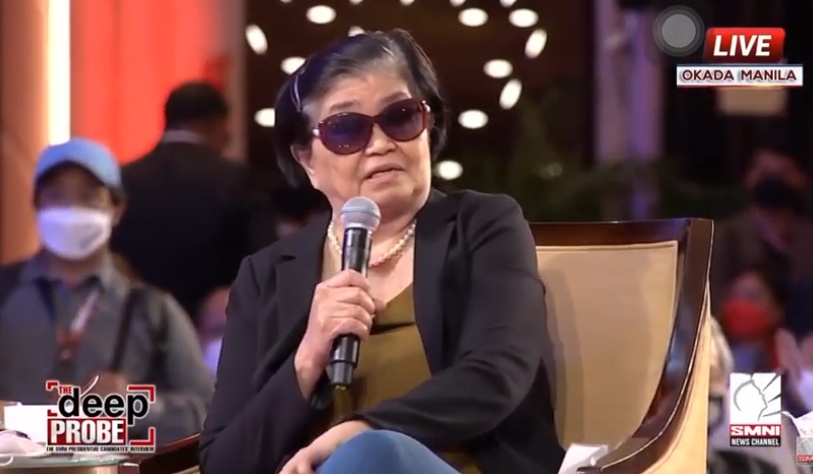 Rappler kiddie "reporter" Lian Buan should be careful what she calls esteemed University of the Philippines Professor Clarita Carlos. A "report" she authored published on the disgraced "social news network" was headlined "UP political science department distances from Marcos pet analyst" effectively denigrating the qualifications of this veteran academic with no apparent bases. Buan uncritically "reports"…
The University of the Philippines (UP) Department of Political Science issued a public notice on Saturday, May 21, distancing itself from – perhaps even short of disowning – retired professor Clarita Carlos, who has been the pet analyst of the supporters of presumptive president Ferdinand "Bongbong" Marcos Jr.
What does Buan argue to substantiate her assertion that Carlos is a "pet analyst" of Marcos's supporters? Well, she writes, "Carlos has been criticized for past remarks whitewashing the atrocities of Ferdinand Marcos' Martial Law." Who were her critics and what specific "whitewashing" do they refer to? Don't look at Buan because she provides answers to neither in her "report". All Buan provides is a small sample of Carlos's political opinions which, when one steps back to regard these objectively, every Filipino is entitled to express in the free market of ideas that is the Philippines' platform for free expression. In so doing, nobody, certainly not one like Carlos who applies more than the average rigour to vetting the views she issues, deserves to be slapped a label by some two-bit "journalist".
Indeed, Carlos has a vast body of scholarly work to her name — something a Rapplerette like Buan is unlikely to have parsed over a big enough sample set for solid bases for input into her "news reporting". There's also the more important matter of the Yellowtards actually being the true pioneers of cultivating "pet analysts" to quote too when crafting "reports" that slant to their preferred narrative. An example of their dishonest produce is Buan's fellow Rapplerette JC Punongbayan who is routinely put up as the unofficial Chief Yellowtard Economist.
Punongbayan is some sort of product of the University of the Philippines School of Economics — a PhD holder, we are told. He is known for his intellectually dishonest habit of backward-engineering his "analysis" from pre-determined politically-motivated "conclusions". Back in 2018, he ran some sort of forum to explore the idea of the Philippine economy "in the time of Marcos and Duterte". Just from the title of the forum alone, it was evident that Punongbayan sought to establish a causal relationship between the economy and the governments of the two men by merely correlating economic performance to the periods over which they governed. For all the curls in his do, Punongbayan seems to be unable to grasp the basic pitfall that discredits the work of most kiddie analysts like him — that causation cannot be readily-concluded from mere correlation.
I wrote back then…
The title of Punongbayan's symposium aims to lure its audience into arriving at that perverted conclusion — that economic indicators that marked the administrations of Ferdinand Marcos and Rodrigo Duterte constitute proof that they caused the economic conditions these indicators described. This is bald dishonest use of data — feeding it into a patently rigged algorithm or evaluation method and publishing a conclusion that is not subject to critical evaluation by qualified people.
Small surprise that Rappler holds the distinction of being one of the least trusted media outlets in the Philippines. How, after all, can one have confidence in the soundness of a media channel that licenses "journalists" like Lian Buan to make sophomoric critiques (if it can even be called that) on the work of an academic stalwart such as Professor Clarita Carlos?
The University of the Philippines can "distance" itself from Professor Carlos all it wants. She is, after all, retired and no longer part of the UP faculty. Besides, that's just UP being UP — the communist-infested den whose officials habitually presume to represent the sentiments of an otherwise diverse student body and community of alumni. Buan, for her part, should go back to "journalism" school and learn that there is more to writing "news reports" than indulging one's personal political biases. Then again, perhaps that is exactly what Rappler is — a journalism school where a bunch of spoilt brats learn a perverse form of this craft on the job.
benign0 is the Webmaster of GetRealPhilippines.com.