It's good that my article "Yellowtards trying to cover up the FACT that Leni Robredo is now fat" generated a lot of healthy debate about the proverbial elephants (pardon the pun) in the room. The whole trouble with having a no-go-zone around which we need to tiptoe is that they don't go away unless they are confronted. Left unaddressed, these slow down or even paralyse the more real conversations we need to be having about the politicians who have put themselves out there for Filipinos to scrutinise in the lead up to an important election. Worse, efforts to whitewash or, shall we say, pinkwash a gaping matter begging to be acknowledged only serves to highlight said matter even more.
First of all, it is a fact. Leni Robredo is fat. Did I say there is anything wrong with being fat? Perhaps not, but health experts do have something to say about excessive weight. That's beside the point, however. The real points are the ones that the Yellowtards who rabidly defend Robredo consistently miss — those two points I cite above; i.e., (1) tiptoe around a no-go-zone in the discourse and that zone only gets bigger (pardon the pun again), and (2) cover it up and you end up with a dike springing holes here and there that you need to keep scrambling to plug. The inconvenient thing about facts is, well, they always emerge one way or another and ruin people's plans to come across as all sugar and spice and everything nice.
So on to Fact Number Two. Bam Aquino was one of those who brought all this to light in a tweet where he exhibited a campaign meme that made use of what looks to be like a 2017-era photo of Leni Robredo all glammed up in a slim-fit dress and high-heeled shoes.
SUPPORT INDEPENDENT SOCIAL COMMENTARY!
Subscribe to our Substack community GRP Insider to receive by email our in-depth free weekly newsletter. Opt into a paid subscription and you'll get premium insider briefs and insights from us daily.
Subscribe to our Substack newsletter, GRP Insider!
Learn more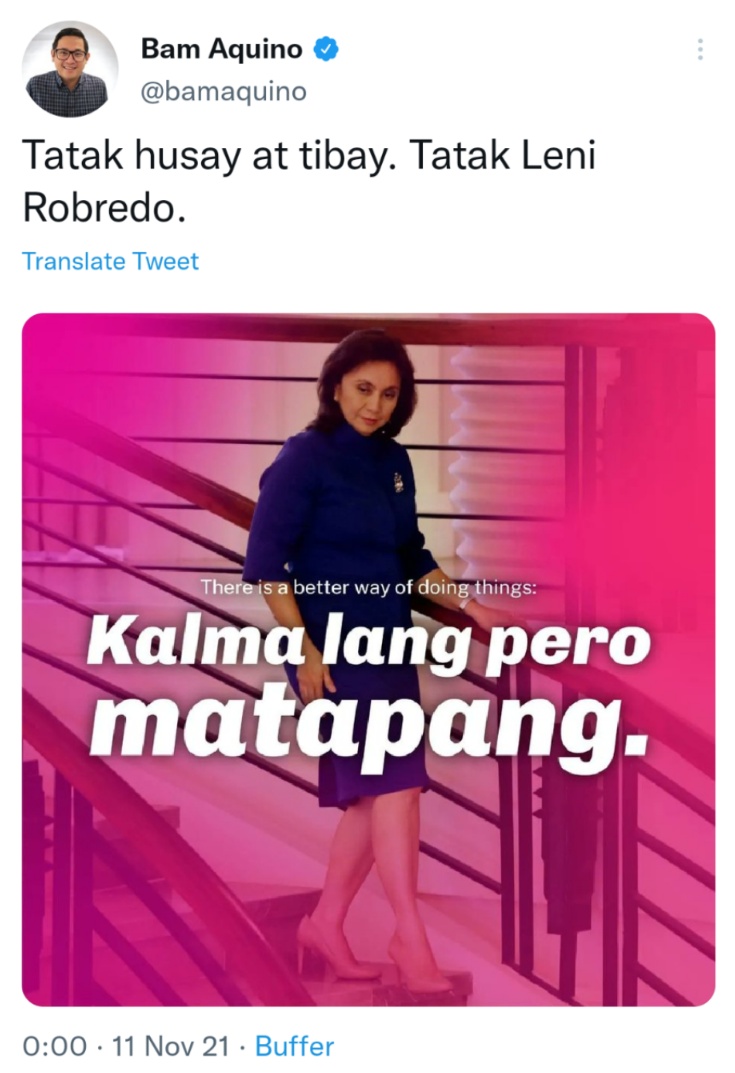 As Borat would say, izza-niiiccce, right? Maybe I'm reading too much into that meme and Mr. Aquino's choice of photo for it. But one thing's for sure, that choice was a conscious one. We may, of course, never know what really motivated that choice because Yellowtards see themselves as too uppity to respond to child-like questions such as mine, so that perhaps gives us some license to assume that he chose that photo because Robredo looked better at the time it was taken. That is, of course, fair enough. Who, after all, consciously posts unflattering photos of themselves when they want to win a presidential race, right?
Then again, I could be mistaken. Robredo seems to want to come across as being "one with the masa" (plebes) and goes to great lengths to craft that persona. We can see this in the way she is not above hamming it up with the likes of star vlogger Mimiyuuuh (a.k.a. Jeremy Sancebuche) — basically upholding a tradition of campaigning to the lowest common denominator by tapping into that easy space where a lack of a strategic vision for the nation is of no consequence.
parang tanga pic.twitter.com/UdJUjNSv1G

— #ShennaAll (@jessie4895) November 11, 2021
Thing is, when you engage the public via a medium like TikTok where visuals trump intellectual payload, well, one necessarily opens one's self to judgement on said visuals. After all, there isn't much to evaluate beyond the visuals so, guess what, one's appearance becomes fair game.
If Robredo wants to be taken seriously and be regarded for her ideas and vision rather than her hairdo, her choice of shoes, the colour of her threads, or, yes, her increasing girth then she needs to give the public something to work with. As far as we have seen, Robredo and her camp have given out nothing beyond loud colours to gawk at and big elephants in the room to awkwardly ignore. Act like a clown and you will be regarded as such. Talk about other people and you will be responded to with whataboutisms. Have an actual vision and a strategy to take Filipinos on a journey to achieve it and there will be less need, if at all, to engage shamelessly in the earlier two.
benign0 is the Webmaster of GetRealPhilippines.com.