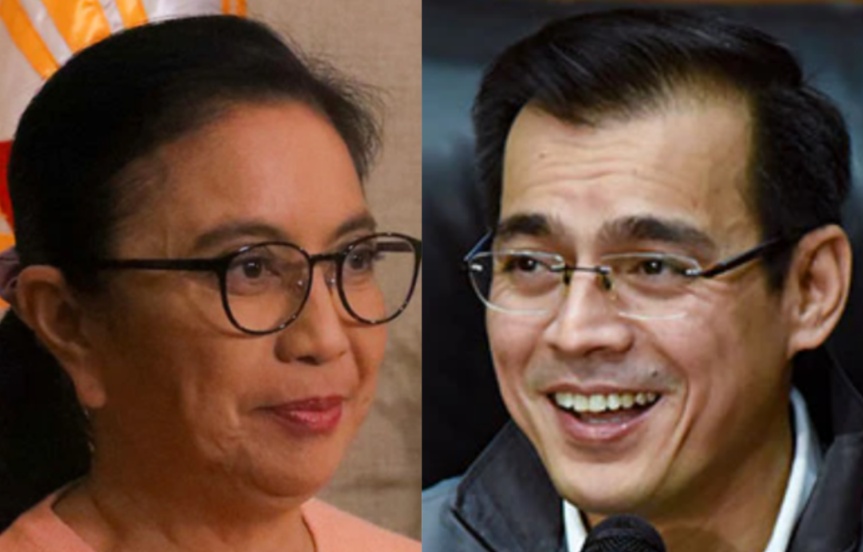 Today Isko Moreno Domagoso will make the formal announcement of his candidacy for President with Willy Ong as his running mate. It might as well have been made last night as it was all over social media by late afternoon. Many wondered at the choice of his running mate. For pundits like myself, it meant that Senator Grace Poe kept her word of supporting the Ping Lacson – Tito Sotto tandem. She is Isko's natural running mate. The match made in heaven. Unfortunately for Isko, it didn't materialize. But why Willy Ong? He made it to the 18th spot in the 2019 election garnering 7.6M votes. He bested some of the Otso-Diretso candidates who had better name-recall. This was mainly due to his social media following. It also goes to show the dearth of viable candidates in the political labor pool.
What it further indicates is the weakness of Aksyon Demokratiko as Isko's political party of convenience. Lito Banayo has his work cut out for him building a coalition based on Isko's performance as the campaign progresses. One thing's for sure, Isko can't duplicate what then presidential candidate Rodrigo Duterte did in 2016. For one, he is weak in experience and qualifications. While he may have name-recall, the voting public is looking for leadership at this crucial juncture where uncertainty is the only certainty due to the pandemic. Isko also carries with him excess baggage in closets full of skeletons. These will all come out as soon as today albeit in instalments. There is also the issue of his not having a political base except Manila. It remains to be seen if Manileños will not shun him for breaking his promise to the Batang Maynila of a better and more improved city in nine years.
SUPPORT INDEPENDENT SOCIAL COMMENTARY!
Subscribe to our Substack community GRP Insider to receive by email our in-depth free weekly newsletter. Opt into a paid subscription and you'll get premium insider briefs and insights from us daily.
Subscribe to our Substack newsletter, GRP Insider!
Learn more
What has Isko actually achieved in the capital city during his three years as Mayor? Except for the beautification projects, social amelioration, housing and improved peace and order, not much. It is basically a patchwork quilt of projects designed to make him look good. The local government unit (LGU) bureaucracy is still manual. Corruption is still rampant. He hasn't gone after the dinosaurs in City Hall because he needs their political support. It is evident in the vaccination drive though Manileños share some of the blame because of their lack of discipline. Still, this is on him because he is the Chief Executive.
What does Isko bring to the Presidency should he be elected on May 2022? Not much again. Isko doesn't have a think-tank of qualified advisers. His inner circle is composed of Cesar Chavez, Letlet Zarcal and Noel Leyco. Lito Banayo can give him a crash course in the political masterclass he needs but he doesn't have a labor pool that is worth its weight in qualifications and experience in government service. If he wins, the learning curve is going to be steep. It will be unlike Duterte, who even if he was a Mayor, had enough friends and acquaintances in and out of government whom he tapped to hit the ground running after his inauguration. Isko is widely believed to be relying on the support of anti-Duterte oligarchs; Manny Pangilinan, the Lopez family and the Ayala's. This group would be able to help in providing him with warm bodies for appointments to key positions which would mean back to the good old days of regulatory capture of government departments or agencies responsible for enforcing policies for the companies of his campaign supporters. The anti-Duterte oligarchs are hoping that Isko can be a better version of Duterte for them because he is more malleable. The bet is he can bring over the masses, the youth and millennials to his side for the win.
It is actually wrong to classify Isko as part of the opposition. He never was. His Mayoral run had the blessing of the President. He managed to get appointments in the interim after his unsuccessful Senate run in 2016. He was part of the strategy to shutout the Estradas in 2019. Duterte can never forget a slight and he never forgave former President Joseph "Erap" Estrada making that statement that he was unfit for the Presidency. This is why Erap wasn't allowed to graduate in Manila and sons Jinggoy and JV both lost their Senatorial bids. The Estradas were also shutout in San Juan by their rivals the Zamoras who ran under PDP-Laban.
The Opposition is now left with one woman standing alone — Vice President Leni Robredo. The situation now is worse than that of the 2019 election debacle which is also on Robredo. She gravely miscalculated when she shunned the proposal of Sen. Ping Lacson last July. The prep work needed for 2022 should've begun right after their loss in 2019 but Robredo didn't show any initiative. She became the titular head of the opposition in 2016 but she didn't provide the required leadership, for that matter, nor did Kiko Pangilinan who was just as useless to the Yellowidiots as the President of the Liberal Party. Fact is, even as the "winner" of the 2016 Vice-Presidential race, Robredo still does not have a reliable voter base. That makes her "victory" in 2016 very much suspect, short of saying outright fraudulent.
Robredo has no way to extricate herself from the quagmire she finds herself in now. She is the one left on the 1Sambayan list. This makes her their only choice. The convenors must be banging their heads on the proverbial walls as well given all the rhetoric they spewed during their launch last June 12. As of today, the Opposition has crumbled. You see that when former Undersecretary and yellowidiot "thought leader" Manuel L. Quezon III (MLQ3) tweets about a political conspiracy theory of his own concoction about Ping Lacson withdrawing in favor of Isko making it an Isko-Sotto ticket for NPC-Reporma. Fat chance of that happening. Then you have "activist" Katrina Stuart-Santiago still sighing over what might have been if Isko-Poe materialized.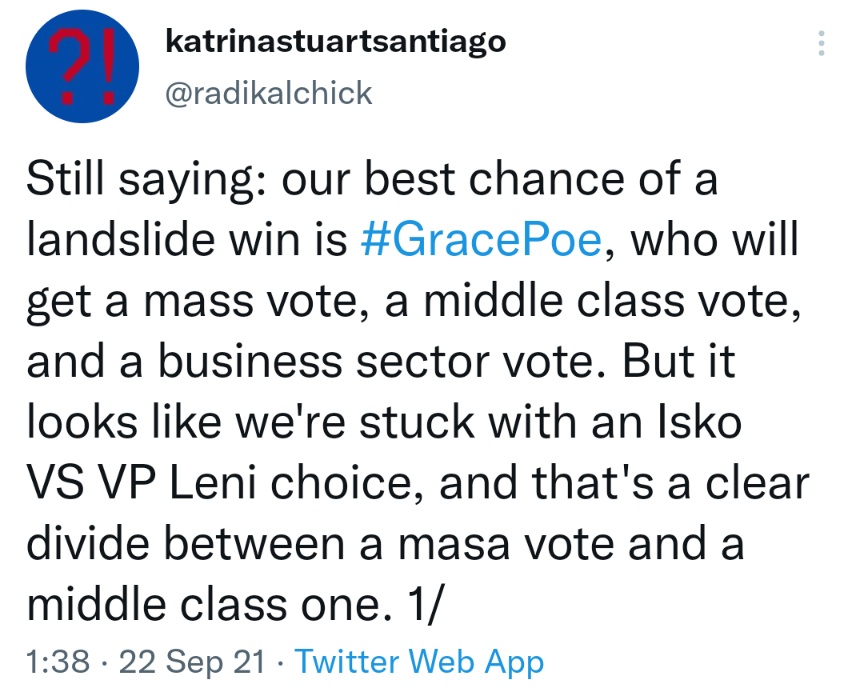 In the end, she throws up her hands and issues an indictment of the dismal quality of the discourse her lot had engaged in over the last several months.
I have a tendency now to disengage completely, because there is nothing productive about the kind of engagement one gets on Twitter or FB when one doesn't think like the Liberal-VPLeni mob.
The anti-Duterte forces Robredo mentioned in her statement last Monday are, and have been, in a state of chaos and confusion. They are so detached from political realities that they even failed to catch wind of Isko's and Manny "Pac-Man" Pacquiao's impending declaration of their candidacies. Up to Monday, Robredo was still hoping to unify the opposition, even if Isko and Pac-Man weren't originally a part of it. What is evident now is only the NPC-Reporma ticket poses the most serious challenge to the administration ticket, whoever it might be composed of. The much-anticipated match between the Yellowidiots and the "Die-hard Duterte Supporters" (DDS) camp will not take place because the Opposition has defaulted due to lack of leadership and strategy. This is all on Leni Robredo's shoulders. The buck of failure stops at the presumptive "leader" of the fantasy of a "united" Opposition.
Cook wide reader political crackpot music afficionado old soul out-of-the box thinker aspiring writer tech geek gearhead