So butthurt are the Yellowtards over Toni Gonzaga's Bongbong Marcos interview that they'd come up with the dumbest logic in their lame attempts to cancel her. Most recent is this ululation coming from ABS-CBN News Channel (ANC) anchor Christian Esguerra. According to Esguerra a "bad" journalist is one who makes her interview subject "happy".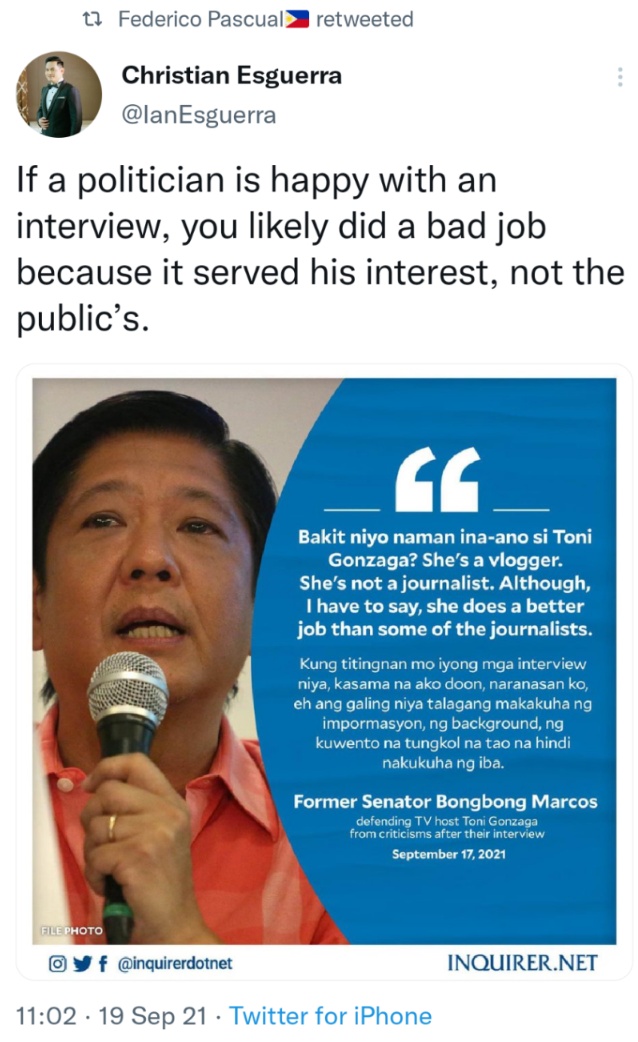 It seems that, rather than direct that assertion to Ms Gonzaga (who does not even presume to be a "journalist"), Esguerra should, instead, call out his colleague Karen Davila. Davila recently featured Vice President Leni Robredo in a fluff piece in which a tour of her little condo was spun as proof of Robredo's "simple" living.
Clearly, Robredo came out of that "interview" all happy chappy. What does that make Davila? Well, one would then assume that Mr. Esguerra wouldn't be too impressed, right? Maybe somebody should take a statement from the esteemed anchor as we are all genuinely curious as to what his opinion might be on that matter.
If the Yellowtards are hopping mad over Gonzaga's treatment of Marcos on her show, and insist on being so prescriptive of what she ought to have asked him, then why not up the ante and sick Davila on Marcos? Davila, after all, is widely perceived to be a Yellowtard "journalist" and will likely do their bidding.
Oh but that would give a platform to the "dictator's son".
Whatever.
Goes to show that when you lie to people, mislead them, and keep them hooked to an imaginary demon, you would latch on to any moronism to stick to your dishonest narrative. Thanks to "journalists" like Esguerra and Davila, Big Corporate Media are now paying for those sins.
benign0 is the Webmaster of GetRealPhilippines.com.