Evidently caught up in the past, John Nery waxes nostalgic in his Inquirer piece "The united opposition of … 1986". Nery points out that the fragmented Opposition of that time managed to rally together at the eleventh hour to beat their bogeyman, then President Ferdinand Marcos. He writes wistfully, suggesting that his comrades must see parallels between the challenge the Opposition face today and their magical climactic unification of yore…
But on Feb. 7, 1986, the Marcosian date Marcos himself chose as the day of decision, many of the opposition forces learned to focus on the do-or-die election, and rallied around one standard. By stepping forward, Cory [Aquino] not only made the difference; she made the difference possible.
Indeed it is true that the Opposition then was more fragmented compared to today. Any anti-Marcos rally would be composed of ten or more groups. Monching Mitra was close to both Danding Cojuangco and Ninoy Aquino. That was because they were more than political or friendly acquaintances. They shared a passion for politics, wine and women. Mitra was different because he didn't have the same warlord tendencies that Ninoy and Danding had. The latter two didn't disdain violence. It was a necessary tool during those times as evidenced by the regional political warlords.
The United Opposition only came to fruition after Doy Laurel was persuaded to step aside in favor of Cory but not before a deal was made. Cory promptly reneged on the deal after she was installed as President by declaring a revolutionary government. Mitra remained loyal to Cory on paper but this was for the sake of political expediency. Mitra led the welcoming committee when Danding suddenly returned from his US exile in November 1989.
SUPPORT INDEPENDENT SOCIAL COMMENTARY!
Subscribe to our Substack community GRP Insider to receive by email our in-depth free weekly newsletter. Opt into a paid subscription and you'll get premium insider briefs and insights from us daily.
Subscribe to our Substack newsletter, GRP Insider!
Learn more
Nery is clearly hoping that history will repeat itself for Leni Robredo. But the circumstances are different now. The Opposition is deluding themselves with their construct that President Rodrigo Duterte is another Marcos and Leni is Cory redux. This is why we are now seeing the various groups which are "clamoring" for Robredo to run. If they take the time to read the writing on the wall, they'll find that Robredo is not even in the running, much less the central personality of the Opposition that Cory eventually became.
Duterte just put a padlock on the Vice-Presidential race today with the PDP-Laban press release that he has accepted the nomination to run for Vice-President. It remains to be seen if he is serious or not given his record with dilly-dallying until the last minute. But if he's serious, this may mean Inday Sara "Daughterte" is not running and opens up the possibility of a Bongbong Marcos – Rodrigo Duterte ticket which would be formidable. Already we have the asinine political analysts of the Opposition such as Richard Javad Heydarian weighing in with their half-a-centavo brain being forced to produce a one-centavo output that is actually illogical even to the average Filipino.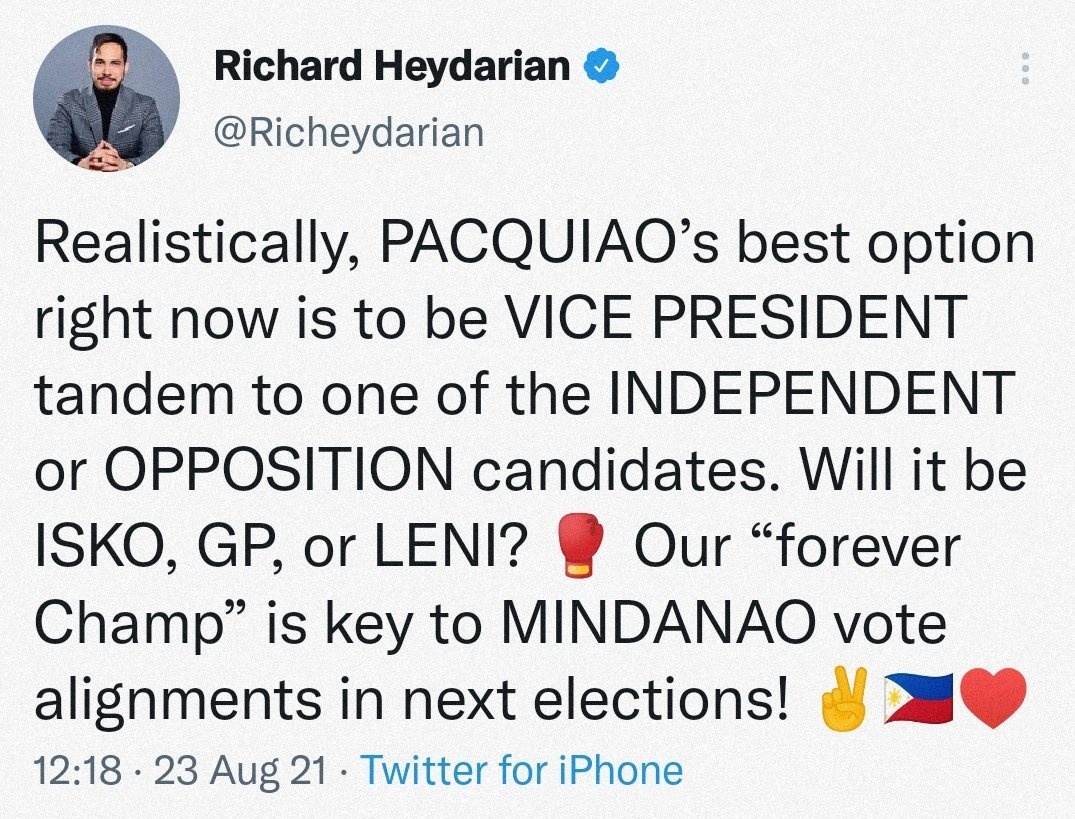 Simply put, Duterte is playing a game of Go which has his opponents baffled. The Opposition see the election as an opportunity but Duterte sees it as continuity given the present crisis wrought by the pandemic. In 2016, one of the reasons he cited for running was he couldn't bear seeing the Philippines being subject to an American President which is an obvious reference to Grace Poe's citizenship issue. There was also the Yellowidiots' 18-year plan; six years of Aquino, six years of Mar Roxas and more than likely, six years of Franklin Drilon. They were confident of pulling this off until Duterte entered the picture and ruined everything.
Now it appears the President is bent on doing the same thing again. He is defining the field of battle by his rules. The only thing sure at this point is it will be an exciting last four months of 2021. For all we know, the election may be decided before or by the end of this year.
Cook wide reader political crackpot music afficionado old soul out-of-the box thinker aspiring writer tech geek gearhead