The rift is real between the Davao Origs and Davao Mayor Inday Sara "Daughterte". Reading her statement posted on Facebook, it looks like she will not run if her father President Rodrigo Duterte runs and she is not inclined to embrace Senator Bong Go to be her running mate either.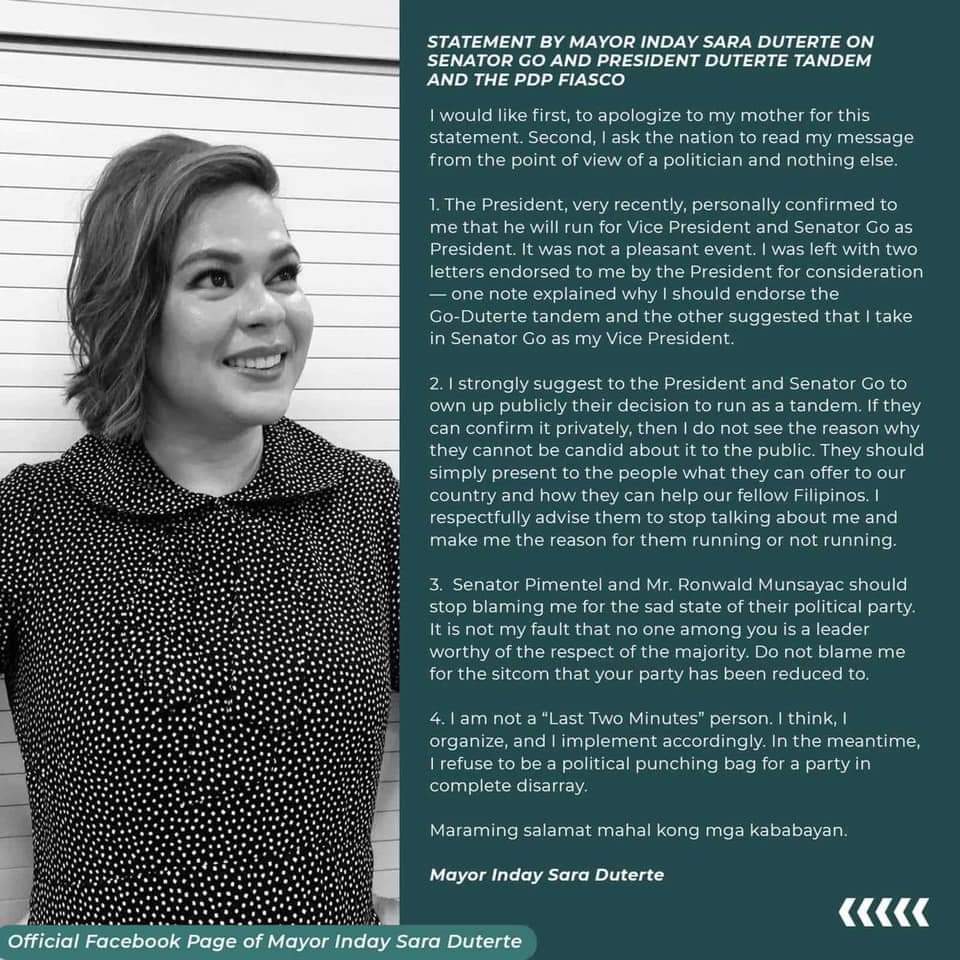 Transcript of text captured from the above meme using Google Photos follows…
SUPPORT INDEPENDENT SOCIAL COMMENTARY!
Subscribe to our Substack community GRP Insider to receive by email our in-depth free weekly newsletter. Opt into a paid subscription and you'll get premium insider briefs and insights from us daily.
Subscribe to our Substack newsletter, GRP Insider!
Learn more
STATEMENT BY MAYOR INDAY SARA DUTERTE ON SENATOR GO AND PRESIDENT DUTERTE TANDEM AND THE PDP FIASCO

I would like first, to apologize to my mother for this statement. Second, I ask the nation to read my message from the point of view of a politician and nothing else.

1. The President, very recently, personally confirmed to me that he will run for Vice President and Senator Go as President. It was not a pleasant event. I was left with two letters endorsed to me by the President for consideration one note explained why I should endorse the Go-Duterte tandem and the other suggested that I take in Senator Go as my Vice President.

2. I strongly suggest to the President and Senator Go to own up publicly their decision to run as a tandem. If they can confirm it privately, then I do not see the reason why they cannot be candid about it to the public. They should simply present to the people what they can offer to our country and how they can help our fellow Filipinos. I respectfully advise them to stop talking about me and make me the reason for them running or not running.

3. Senator Pimentel and Mr. Ronwald Munsayac should stop blaming me for the sad state of their political party. It is not my fault that no one among you is a leader worthy of the respect of the majority. Do not blame me for the sitcom that your party has been reduced to.

4. I am not a "Last Two Minutes" person. I think, I organize, and I implement accordingly. In the meantime, I refuse to be a political punching bag for a party in complete disarray.

Maraming salamat mahal kong mga kababayan.

Mayor Inday Sara Duterte
If she does decide to run it will be her own decision with the blessing of her mother. The rift will have to be resolved by former President Gloria Macapagal Arroyo (GMA) who will be the final arbiter. Go has become like Ramon Ang (RSA) to Danding Cojuangco and his son Mark. If the Go-Duterte bid pushes through, Bongbong Marcos (BBM) will run, but with who? This opens up the possibility of a Trillanes move by BBM where he runs as President with Duterte as his adopted running mate. Whatever tandems are born out of the chaos between the opposition and the administration, it will be up to the people to decide who their choices will be. This makes the 2022 election an open race where issues will dominate the campaign which is actually good.
Go is a no-sell as President. A four or five-way race for the top two posts would open the possibility of a compromise candidate making it — think Ping Lacson – Tito Sotto whose packaging is neither administration nor opposition. The Senators will make a show of scrutinizing the proposed 2022 national budget. This again favors the public who believe that public health and education should be the top priorities in the midst of the pandemic. Sen. Ping Lacson has resigned as Vice-Chairman of the Senate Finance Committee for this very purpose just the other day.
Daughterte is not the type who will be dictated upon not even by the pater familia. If she's decided, she will form her own coalition. If not, she will just sit on the sidelines and focus on her Davao City constituency leaving the national political scene to those who are most interested in keeping power.
Cook wide reader political crackpot music afficionado old soul out-of-the box thinker aspiring writer tech geek gearhead