The dismal state of "journalism" in the Philippines is once again in the spotlight. On exhibit is a case of dishonest "reporting" delivered by Al Jazeera's Philippine correspondent Barnaby Lo.
Lo, evidently unprepared for a live patch to an Al Jazeera anchor yesterday, stammered through his on-the-ground "report" from Manila and claimed that there was a "mad scramble of people" for COVID-19 vaccines there supposedly caused, as Lo seemingly wanted his audience to believe, by a statement he "reports" was made by President Rodrigo Duterte that unvaccinated people will be arrested if they stepped out of their homes.
Ahead of a stringent 2-week lockdown, thousands of Filipinos crowded vaccination sites after President Rodrigo Duterte warned the unvaccinated may not be able to go out and may even face arrest. Live report on @AJEnglish yesterday. pic.twitter.com/DxRrWmRslX

— Barnaby Lo 吳宗鴻 (@barnabychuck) August 6, 2021
SUPPORT INDEPENDENT SOCIAL COMMENTARY!
Subscribe to our Substack community GRP Insider to receive by email our in-depth free weekly newsletter. Opt into a paid subscription and you'll get premium insider briefs and insights from us daily.
Subscribe to our Substack newsletter, GRP Insider!
Learn more
Not amused by this insinuation, Philippine Foreign Secretary Teddy Locsin, in a tweet Saturday, challenged Lo's "report" citing that people visiting vaccination centres observed sensible queues and jabs were being administered there in an orderly manner.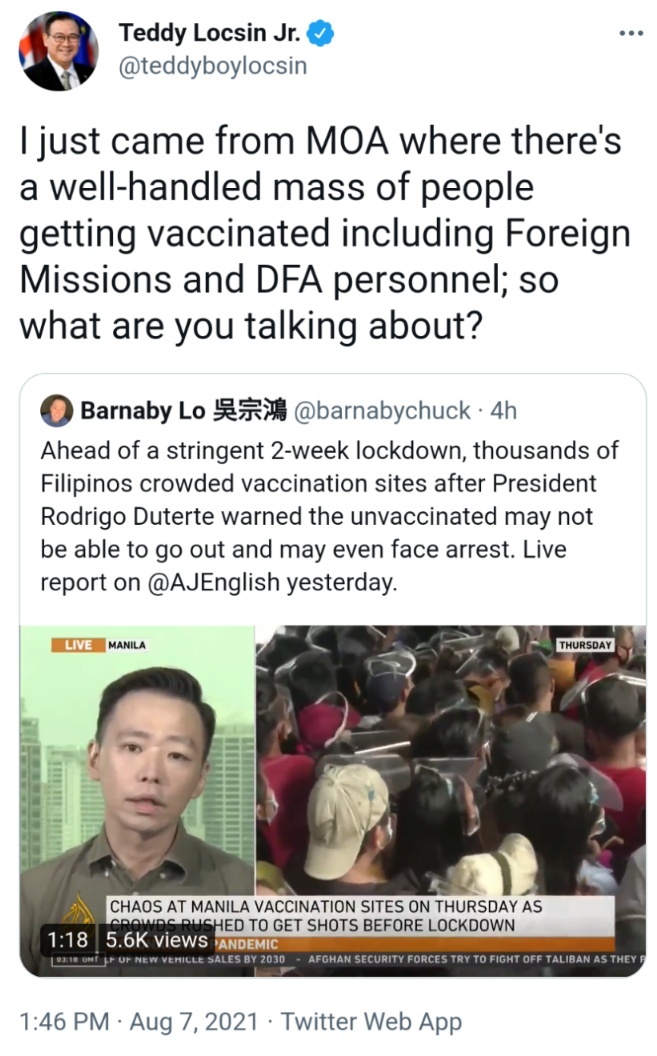 The trouble with Lo is how he selectively singled out Manila as a sample upon which he issues sweeping statements about how the Philippine government is handling the pandemic. Interestingly, this closely follows a similar "report" filed by Dwight de Leon on "social news network" Rappler on the 5th August that screamed "Chaos erupts at COVID-19 vaccination sites a day before Metro Manila ECQ".
In Manila, police estimated that the turnout on early Thursday morning, August 5, could go as high as 22,000 across four malls operating as vaccination hubs.
De Leon noted that, on record, "President Rodrigo Duterte had said he wanted police and barangay captains to restrict the movement of people unwilling to get a COVID-19 jab."
In an earlier "report" aired on Al Jazeera, Lo cherry-picked statements taken from people interviewed at the scene of the so-called "mad scramble" that are clear misinterpretations of this statement.
Lo used these as evidence to defend himself. He responded to Locsin in a tweet, "I was just reporting. That's my job." He later posted a screenshot of a log of these interviews. "Interviewees were the ones who said they scrambled to vaccination sites because of what President Duterte said. Okay?", Lo tweeted.
Lo could have balanced his ,"reporting" and prevented roping in Al Jazeera into becoming an accessory to the propagation of false perceptions by applying a handful of simple measures including (1) making reference to the original statement Duterte issued (as Rappler "reporter" Dwight de Leon had done), (2) putting the "mad scramble" in proper perspective by taking stock of the situations in other Metro Manila municipalities, and (3) being a bit more prepared for his live patch to the Al Jazeera mothership. Clearly all that basic due diligence was asking a bit too much of this kiddie "reporter".
benign0 is the Webmaster of GetRealPhilippines.com.