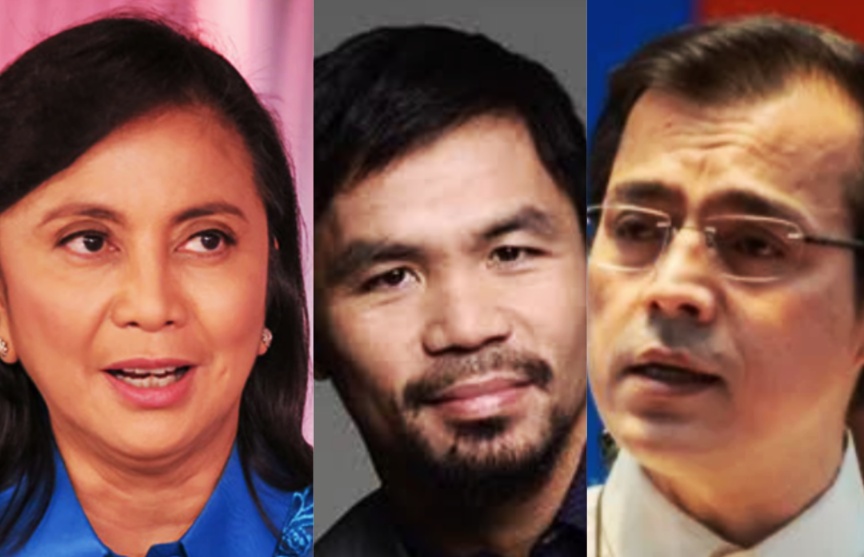 Manila Mayor Isko Moreno is back from a Covid-induced hiatus. I don't think it was really Covid but more of a tactical retreat after having been the subject of a full-frontal attack by no less than the President himself. If you believe his campaign manager Lito Banayo, he gained political points for that. Unfortunately, we are not in any position to conduct independent focus group discussions (FGDs) to test that assertion. At a groundbreaking for one of his projects yesterday, Isko was spotted sporting a t-shirt with the "God First" logo. This will most likely be his campaign trademark. If Grace Poe will not agree to be his running mate then it makes sense that either Leni Robredo or Manny "Pac-Man" Pacquiao will be up for consideration.
Banayo has praised Robredo in two previous columns. There was a test event held at the Quirino Grandstand where the two shared the limelight. Isko as President is non-negotiable as this was what he conveyed to the camp of Sen. Ping Lacson when they met. This means that Robredo will have to run as Vice-President again. Considering the alternative of becoming the Mayor of Naga City or Congresswoman, the races of which she can easily win as opposed to a gubernatorial run where she would be up against the Villafuerte's machinery, this would be the best alternative for the incumbent Vice-President. The problem is there is Robredo's inherent weakness as against what Pac-Man brings to the table in terms of his popularity and being a native son of Mindanao. Pacquiao is more palatable to the masa as Vice-President than he is as President. But he has excess baggage of his own in the person of Koko Pimentel who is bent on having him run as President. Could Pac-Man break away from the clutches of Pimentel so he can chart his own political future?
SUPPORT INDEPENDENT SOCIAL COMMENTARY!
Subscribe to our Substack community GRP Insider to receive by email our in-depth free weekly newsletter. Opt into a paid subscription and you'll get premium insider briefs and insights from us daily.
Subscribe to our Substack newsletter, GRP Insider!
Learn more
Sen. Bong Go has formally declined the nomination of PDP-Laban for him to be their standard-bearer. This does not necessarily mean that the path is clear for Inday Sara "Daughterte" to run as President given she still has unresolved issues with the pater familia. She has retained only two of her father's original aides to be part of her campaign, if ever. Jun Evasco and Peter Tiu Lavinia are the two originals who were marginalized by the Go- Salvador Medialdea Palace faction. Perhaps Daughterte trusts them more than the aide who has become the second most powerful man in the country today as the Presidential Gatekeeper. Banayo has indicated that they will not consider 1Sambayan as a legitimate convenor group. This means Robredo will also have to take her name off for consideration as the "common" opposition candidate for President.
Truth be told 1Sambayan lacks credibility to begin with. This is precisely the reason why all the potential candidates it named begged off only hours after their announcement. The Opposition has hard decisions to make between now and October 8. If the Isko-Leni or Isko-Pac-Man tandem does become a reality, the anti-Duterte vote would be a toss-up between the ticket led by Isko against the Ping Lacson – Tito Sotto tandem. The latter is not open to any compromise given they have crossed their Rubicon and decided to run whatever happens. The advantage is really on their side given the two are political veterans with the experience to match. A possible split in the administration ranks, where Marcos would run if Daughterte doesn't or even if she does, makes the 2022 election anyone's race.
The reason for this is the pandemic environment. Filipinos are wary of their future and this would be the first time that they will listen more to the plans of action of candidates instead of indulging in the usual theatrics of petty political rivalry as they have been wont to do in the past. Lacson-Sotto already has the advantage because they will be the first to formally declare on September 8.
Cook wide reader political crackpot music afficionado old soul out-of-the box thinker aspiring writer tech geek gearhead