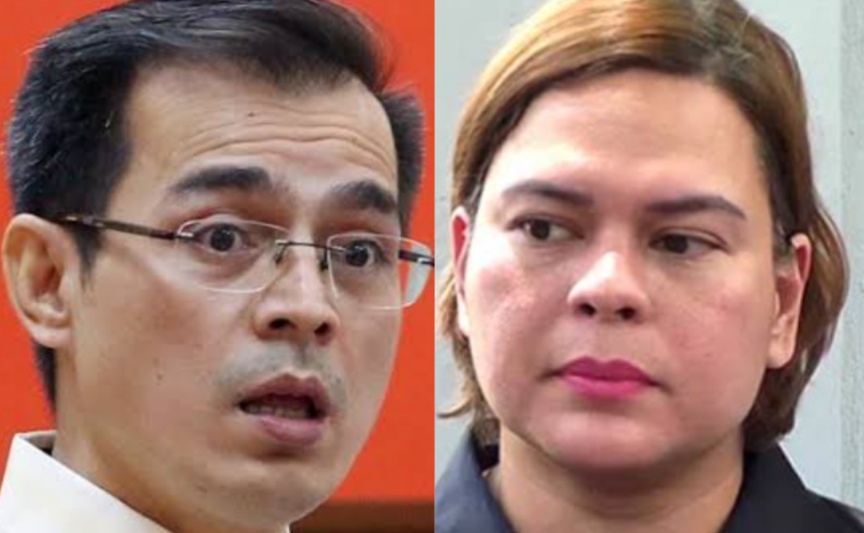 It was inevitable that Javad comes up with this comparison given the most recent surveys having the Manila Mayor in the number two slot after the Davao City Mayor. In his Inquirer piece "Isko vs Sara: The battle of mayors", Richard Javad Heydarian can only write this much about the subject of what is evidently a fluff piece…
What makes Isko a compelling candidate is not only his truly humble beginnings in the slums of Manila, making him a natural champion of the "masa," but also his sheer will to constantly improve his vocabulary of politics and learn from best practices across the world.
Javad's comparison fails because Manila Mayor Isko Moreno is just about to complete his first term while Davao City Mayor Inday Sara "Daughterte" has been in office as Vice-Mayor or Mayor since 2007. Isko was a Councilor or Vice-Mayor then. It is but natural to compare the two. Daughterte is a lawyer. Isko managed to complete his education when he transitioned to politics from showbiz. As Javad notes, Isko tends to be performative while Sara, for her part, is mostly stoic. The latter has charm and charisma but is not in the news cycle 24/7 or 25/8, as Isko is on social media. If you believe the Chief Political Analyst that is Antonio Contreras, Isko's voter base trumps Daughterte. But that is as per their survey. Javad mentions the midde-of-the-road chasm that is developing among partisan diehards. This has been noted in the Pahayag surveys of Publicus Asia. This growing base of persuadable voters, as they are referred to, could influence the outcome of the election but only if there is a candidate who makes a compelling argument for his case. This would be equivalent to the same or even greater disruption caused by Duterte when he ran in 2016.
SUPPORT INDEPENDENT SOCIAL COMMENTARY!
Subscribe to our Substack community GRP Insider to receive by email our in-depth free weekly newsletter. Opt into a paid subscription and you'll get premium insider briefs and insights from us daily.
Subscribe to our Substack newsletter, GRP Insider!
Learn more
The recent actions of Isko exposes his weaknesses. He takes a potshot at Daughterte by way of a blind item which is how it's done in showbiz. The next thing you know, he is at Clark International Airport in Pampanga for its inauguration where his presence was acknowledged by no less than the President himself. It's no secret that President Rodrigo Duterte has an elephant's memory when it comes to those who have slighted him, one way or another. Witness how the Estrada-Ejercitos were shut out in 2019. The President praised JV. Daughterte was present at the launch of Erap's campaign in Manila. But Isko had the Palace's backing in the Manila Mayoralty race which he won.
If Isko throws his hat in the ring, he'll be encountering difficulties. First is a political party which will serve as his flag of convenience. Next is a running mate. Then it is campaign financing. While he can count on the support of anti-Duterte oligarchs, his indecision has left these oligarchs looking at the Ping Lacson – Tito Sotto tandem, which admittedly, has better chances going up against the administration with the Nationalist People's Coalition (NPC) machinery and the alliances it has forged with regional political kingpins such as Chavit Singson.
Isko is largely incapable of duplicating Duterte's feat in 2016. While he is popular, he is dispossessed of gravitas, which the Lacson-Sotto tandem has in terms of track record and experience. Daughterte also has gravitas with her ouster of then Speaker Pantaleon Alvarez from his post after a rift developed between them due to certain statements which were perceived as a threat to the President. Daughterte also has communication lines open with both the Marcos camp and former President Gloria Macapagal Arroyo (GMA). Arroyo has done the rounds of the country during the 2019 campaign and has a picture of what she needs to do in order to win.
Then there is the X factor that is current Vice President Leni Robredo. If Robredo runs, the opposition vote will be split three-ways; Robredo, Lacson and Isko, not necessarily in that order because among the three, Lacson is senior not only in age but experience. Robredo's quiere, quiere para jele attitude when it comes to making a decision about running or not is also working against her. The same is true with Isko. If and when Lacson-Sotto makes their announcement on August 5, they're sure to pick up a numbers bump because the public will now look at them as serious contenders. There were reports of exploratory talks between Isko and Lacson but this fizzled out because of Isko's standing pat on being the Presidential candidate.
While Isko has a compelling narrative to sell, he doesn't have a voter base he can call his own except Manila. Lacson is a native son of Cavite. Cavite is the most vote-rich province in the country. Region 4-A or Calabarzon is third among voter population on a regional basis. Isko's being identified as the Opposition's, read Yellow, candidate is the kiss of death. Lacson-Sotto being in the center has the better path to victory with a compelling and disruptive platform. Sorry Javad but all the smart quotes in your piece don't amount to anything when up against the political realities on the ground.
Cook wide reader political crackpot music afficionado old soul out-of-the box thinker aspiring writer tech geek gearhead