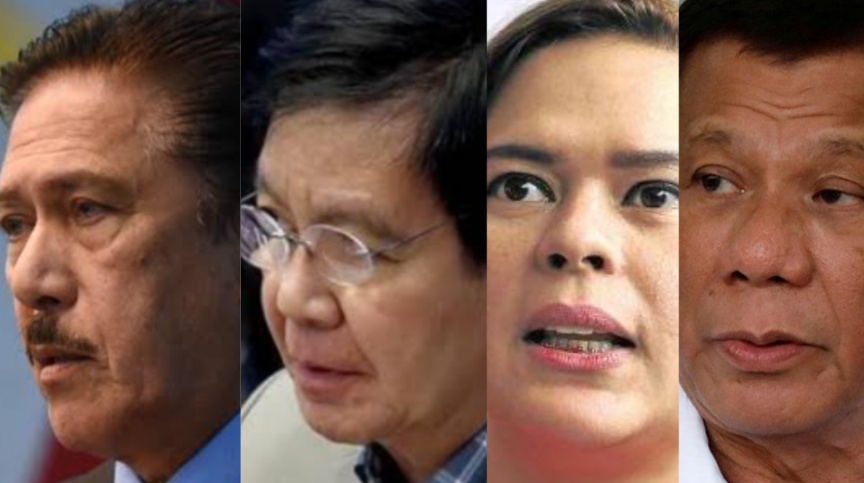 Manila Standard columnist Lito Banayo thinks that an amendment of the Constitution solves the problem of political turncoats. In his piece "The short shelf life of Philippine political parties", Banayo expresses his hope that "the next president will see it fit to initiate revision of the 1987 Constitution and end this insanity of a multi-party system in presidential form."
I don't agree.
SUPPORT INDEPENDENT SOCIAL COMMENTARY!
Subscribe to our Substack community GRP Insider where you can opt to receive by email our more comprehensive and in-depth free weekly newsletter GRP Mail. Consider also supporting our efforts to remain an independent channel for social commentary and insight by sponsoring us through a small donation or a monthly paid subscription.
Subscribe to our Substack newsletter, GRP Insider!
Learn more
We've seen what happened with the Nacionalista and Liberal parties in the past and those which were organized for the 1992 election. Only the Nationalist People's Coalition (NPC) survives with a relative measure of clout because founder Danding Cojuangco deemed it necessary to provide financing every election cycle. But Boss Danding is gone. It does not look like San Miguel CEO Ramon S. Ang (RSA) is interested in the NPC because his financial resources aren't as deep as the original patron. Other parties represent business interests such as the National Unity Party (NUP) which is identified with Ricky Razon. The same is true with the Manila Standard which Razon bought from Andres Soriano III's Anscor group. The other parties are only hollow shells like corporate holding entities. Laban ng Demokratikong Pilipino (LDP) has only one member, Sonny Angara. It was different from the time of Edong because there was money coming in from his firm Angara Abello Concepcion Regala & Cruz (ACCRALAW). Lakas–CMD, a.k.a. Lakas, is no longer former President Fidel Ramos's (FVR's). It is now under former President Gloria Macapagal Arroyo (GMA) and Martin Romualdez.
The long-term solution is a federal parliamentary system which will have regional parties to which the constituents can identify with and actively participate in its affairs. Political parties are expensive to maintain. I recall back in the 90s as a volunteer from NPC how much monies we moved physically from Manila to the regions. Regional political kingpins got the largest share. After that came the Governors and the Mayors. This does not ensure their loyalty either. Those who remain identify more with the patron rather than the party. There was a mass migration to Lakas after FVR won in 1992. In Laguna, only one Mayor was left in the NPC fold. Danding's strategy was to establish bases in vote-rich provinces where he also had business interests. Negros Occidental, Rizal, Pangasinan and Tarlac were the bailiwicks of the NPC. It remains to be seen what will happen under Tito Sotto's watch as he is now the most senior member of NPC.
Federalism has been on the table since the time of former President Cory Aquino. Its original proponents were Reuben Canoy and Nene Pimentel. It's time that it be seriously-considered given how the pandemic exposed the wide development gap between the National Capital Region and its outskirts (NCR+) and the other regions. The Luzon-wide enhanced community quarantine (ECQ) put the economy into a recession because 40% of economic activities were in NCR+ including the logistics hubs. Aside from Manila, the only ports through which flow direct shipments of goods for export are the private wharves of Del Monte and Dole in Mindanao. For imports it is only the Ports of Cebu and Davao that can be considered to be significant other hubs.
The pandemic will not end anytime soon. This is why the 2022 election is crucial to the country. We need a President who has the political will to institutionalize reforms for the future of the country. We cannot survive under the old system. Platforms are very crucial. Not only at the national level but at the local government unit (LGU) levels as well. Recovery requires a whole-of-nation approach. Singapore is now working on the basis that the pandemic is endemic. We should too. A federal parliamentary system will provide consistency and continuity. Most importantly, it will allow public participation in governance. Our food security issues can be addressed by the development of Mindanao. This is now possible with peace in the Bangsamoro Autonomous Region (BAR). Energy security is another compelling issue what with the looming power shortage again because the Malampaya gas reserves are about to run out and the life of coal power plants nearing their EUL period. Instead of renewables, nuclear is the best option.
There is a lot at stake on May 2022. We need candidates who have clear plans of action not the usual motherhood statements and campaign promises. Our survival depends on them and for once, it should finally be about issues, not personalities who are merely popular.