So-called Dumaguete Smart City Reclamation Threatens to Spread Devastation in Mindanao Sea
Dumaguete City Mayor Felipe Antonio B. Remollo is grossly understating the devastation that his pet 174 hectare reclamation project will bring to the people of provinces surrounding the Bohol Sea — also called the Mindanao sea.
This even as today Mayor Remollo and other city officials pushes through with the the contract signing of the Joint Venture Agreement (JVA) for the so-called "Smart City" in the face of citizen-led protests.
Unlike reclamation projects within a bays such as Manila bay where the resulting damage can be naturally contained, the proposed reclamation project juts out into the Bohol Sea where debris as well as all manner of pollution will be carried out and circulated for years.
The project entails years of dumping 17,400,000 cubic meters of soil, sand, and rocks over an area more two and a half the size of the Mall of Asia or four times the size of NAIA.
The resulting disturbance of the seabed in the area is certain to spread debris and pollution over throughout the Bohol Sea which feeds the provinces of Negros, Cebu, Leyte and Bohol as well as provinces in Northern Mindanao Region and Caraga Region.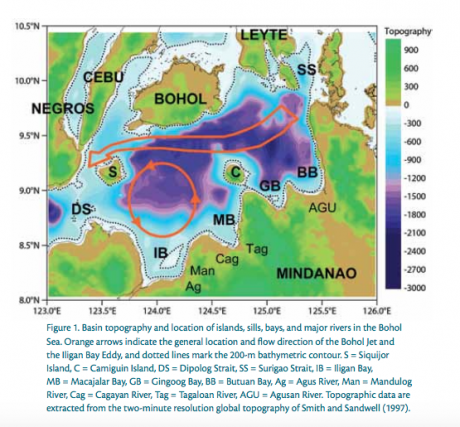 The impending environmental devastation is further described in detail in a joint statement signed by Silliman University President Dr. Betty McCann together with former SU presidents Dr. Ben S. Malayang III and Dr. Angel Alcala — former DENR Secretary.
The statement reads:
1. The project will directly destroy, literally bury, the few remaining coral reef, seagrass and soft-sediment ecosystems that support small-scale fisheries and gleaning in Dumaguete. A recent study recorded more than 200 species of fish in one of the areas that will be directly affected by the reclamation1. About 60% of these fish species are relied upon by local fishers in Dumaguete for livelihood and subsistence1.
2. The massive scale of this reclamation project and relatively steep slope of the seafloor off Dumaguete means that enormous amounts of material will be needed to create new land. This material will most likely be sourced from land or dredged from the seafloor, causing further damage to the source sites. If the material will be dredged from deeper soft-sediment sites adjacent to the reclamation sites, construction will not only bury the remaining shallow marine ecosystems of Dumaguete but also destroy deeper marine ecosystems that support local fisheries. A recent study estimated that up to 84% of the fish species found in these deeper ecosystems are targeted by local fishers in Dumaguete.1

3. Dumaguete City has committed to protect its marine ecosystems and secure the fisheries-based livelihoods of its constituents by legally establishing four marine protected areas (MPAs) over the past 20 years. These MPAs have a total area of approximately 104 ha and are situated off barangays Bantayan, Lo-oc, Mangnao and Banilad. These MPAs are part of a system of protected coral reefs, seagrass beds and soft-sediment ecosystems in Negros Oriental that is meant to boost fisheries productivity, conserve marine biodiversity and support tourism. The massive reclamation project will negatively impact these MPAs directly or indirectly. Some of these MPAs may even cease to exist. If the project pushes through, Dumaguete City will renege on its commitment to do its part in marine conservation for the province, region and country. It will be a disgraceful act considering that the MPA movement in the Philippines, known throughout the world for its successes in the past 40 years, has its roots in Dumaguete City at Silliman University.

4. Relocation, rehabilitation or reconstruction of the critical marine ecosystems that will be affected by this reclamation project is not feasible. Cost-effective and scientifically sound methods that would allow the recreation of entire functional marine ecosystems simply do not exist. For instance, a recent study showed that the vast majority of coral reef rehabilitation efforts around the world have not been able to scale up to the size of actual coral reef ecosystems, in the order of hundreds to thousands of hectares2. This is partly due to the monetary costs involved. Scientifically sound coral restoration may cost anywhere from several tens of thousands to millions of US dollars per hectare, not unlike the cost of restoring seagrass and mangrove ecosystems3. It seems likely that the planned reclamation project of Dumaguete City has not incorporated such tremendous expenses to offset the negative impacts on marine ecosystems, not to mention the economic and social impacts on local communities that are dependent on these ecosystems for food and livelihood.

5. The costs and benefits of this project while probably fully appreciated by its private developers and some officials in the City have not been revealed for wide public consideration. Neither are the technical, legal, and due diligence reviews done by the City Council. Absent this, the sociology, ecology, and the economics of the project are unclear. They are not available nor have they been openly discussed for scrutiny, verification, and validation, to provide the basis for fairly holding elected officials of the City legally, politically, morally, and electorally accountable.

6. Who will more and less benefit from this project? Sharing of revenues, when unclear on how revenues are to be recorded and accounted by two partners that is one public (the City) and the other private (developer) and each having their own accounting and auditing procedures and standards, does not ensure fair sharing. Besides, who will own the project, control access to and businesses in the island? These are valid technical concerns relevant to public well-being.

7. A project of such size, cost, and impact on the City requires either or both free and prior informed public examination and third party reviews to ensure its regularity and integrity in light of this being pushed just months prior to general elections and even sooner prior to election bans on infrastructure projects done by or with government.

Our APPEAL

1. The City Mayor to fully expose for public scrutiny and discussions (a) his appreciation and reasons for pushing this project, including how this Project would not disadvantage the government and people of Dumaguete; (b) his confidence on the developer with whom he will contractually obligate the City Government and the people and environment of the Ciity; and (c) the history, track record, and verification of owners and investors on the developer's company.

2. The City Council to rescind its action to indorse this Project and its approval of the Contract as exercise of due legal diligence, political and electoral accountability to the citizens of Dumaguete, and good governance. This, until it has been furnished and had engaged in public reviews of the technical, social, economic, and ecological acceptability of the Project to the people of Dumaguete.

3. The Mayor and the Members of the Council to publicly disclose their individual and collective reasons why this haste of pushing this huge project knowing that elections are to be held next year and they might not be in office by then. Why not leave such a highly consequential project for the next Government to conduct more thorough review of it than would be available to the present Government at this time? All these, to hold a public interest in high moral grounds as is intended by the Constitution and laws of our country.
Cc:

Fidel Ramos, Honorary Doctorate Degree holder, Silliman University

Leonor Briones, Former Chair, Silliman University Board of Trustee

Julito Cortes, Bishop of the Diocese of Dumaguete

Philippine Association of Marine Science

Federation of Institutions of Marine and Freshwater Science

National Academy of Science and Technology

Foundation for Philippine Environment

Silliman University Alumni Association, Inc.

___________________________________

References

1. Abesamis, R. A., Utzurrum, J. A. T., Raterta, L. J. J., & Russ, G. R. (2020). Shore-fish assemblage structure in the central Philippines from shallow coral reefs to the mesophotic zone. Marine Biology, 167(12), 1-15.

2. Boström-Einarsson, L., Babcock, R. C., Bayraktarov, E., Ceccarelli, D., Cook, N., Ferse, S. C., … & McLeod, I. M. (2020). Coral restoration–A systematic review of current methods, successes, failures and future directions. PloS one, 15(1), e0226631.

3. Edwards, A.J. (ed.) (2010). Reef Rehabilitation Manual. Coral Reef Targeted Research & Capacity Building for Management Program: St Lucia, Australia. ii + 166 pp.
We're scratching our heads trying vainly to figure out the kind of thinking that led DENR Secretary Roy Cimatu to approve the area clearance for the Dumaguete reclamation project in December 2019.
This is an absolute turnaround from former DENR Secretary Gina Lopez's widely popular shutdown of all mining operations in the country which saved millions of hectares of forested land.
We're not sure if this has any bearing on Cimatu's support for what appears to us an environmentally unsound project that could destroy the Mindanao Sea, but we have come across information that a certain Lem Faustino was seen inspecting the future reclamation site.
We asked around and it seems Ms. Faustino here, apart from going on site inspections in Dumaguete City, will be running for Mayor in Calumpit, Bulacan. For certain, campaign expenses in this season of COVID-19 may be quite steep and one must have the means.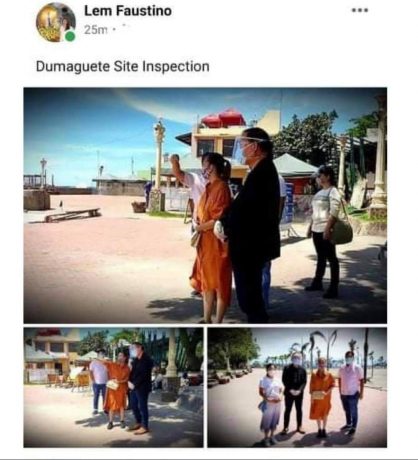 Lem is said to be the sister of Mayumi Faustino who is said to be very, very close to Cimatu. Perhaps coincidentally, the Faustinos own a construction business and it was said that they're getting a lot of government contracts — though I am not sure if a substantial number came from Dumaguete City.
However, the money that
Somebody will become billionaires out of this. MY ESTIMATES: Project cost: 23 Billion Pesos. Area: 174 hectares or 1,740,000 square meters.

Backfilling Depth: estimated at not less than 10 meters. Estimated required volume of backfilling materials: not less than 17,400,000 cubic meters.

Truckloads needed (carrying cpacity 16 cubic): not less than 1,087,500.

Price per cubic: not less than 500 pesos.

Projected income: 8.7 Billion pesos.

Projected destruction: 174 hectares of seabed and marine sanctuary + 174 hectares of earth materials from our mountains.

THE PROMISE OF PROGRESS AND WORK IS THE BAIT. BUT WHAT IS THE CATCH?

Earnings of those behind the project:

ON TOP OF THE INCOME OF LAND DEVELOPMENT,

Projected Buildable land area: 60% of 174 hectares or 1,740,000 square meters = 1,044,000 square meters; Present market value – 60,000 per square meter.

Total income to be generated – 62,640,000,000 or 62.64 Billion Pesos vs investment of 23 Billion Pesos.


What does our government get in the transactions, only public spaces. No buildable areas.

In the JV agreement, the City is the applicant of the reclamation, but the contractor and those behind it are the owners of the project.
Another curious detail about the Dumaguete reclamation project is the city government's joint venture partner which is said to be E. M. Cuerpo. It seems the company recently figured in allegations of a rigged bidding in Negros Occidental.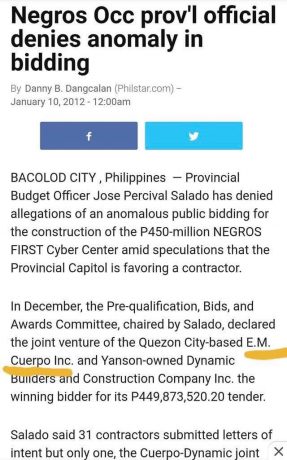 The article reads:
"Provincial Budget Officer Jose Percival Salado has denied allegations of an anomalous public bidding for the construction of the P450-million NEGROS FIRST cyber center amid speculations that the Provincial Capitol is favoring a contractor.
"In December, the Pre-qualification, Bids, and Awards Committee, chaired by Salado, declared the joint venture of the Quezon City-based E. M. Cuerpo Inc and Yanson Dynamic Builders and Construction Company Inc. the winning bidder for its P449,873,520.20 tender."
Moreover, it was also Cuerpo that faced an investigation by the Clark International Airport after a ceiling it allegedly installed collapsed.
In an article from CNN Philippines, it said:
Clark International Airport Corporation President Jaime Melo on Wednesday said its legal team has started reviewing the contract of E.M. Cuerpo Incorporated, the contractor of the old passenger terminal building, following allegations the airport was constructed using substandard materials.

"We can get back to the contractor if we find that its substandard… We're checking if its substandard. We're checking the contracts done six years ago," he said.
A deeper look into some comments on a number of posts on Facebook allege that E. M. Cuerpo is a front for another Chinese corporation.
They are not making a reclamation that is adjacent to the Dumaguete shoreline.

They are making an island. Meaning you can't just access it from any of our territorial boundaries . They'll put bridges. So this owners will have control of the entryways. It is private property after all.

And this EM Cuerpo Development only just recently qualified as a quadruple A contractor.

He is just fronting for Chinese Nationals.

Hay, the insik will be everywhere here. They'll bring their gambling, drugs, prostitution with them.

We're up in arms about the West Philippine Sea, Scarborough shoal etc and yet now , there will be an island 30 meters away from our coastline.

Hello New China Territory! What they are not mentioning are the casinos they'll have there.

The city officials (with exception to Perdices and Arbas) are enticing the Dumaguetenos with promises of jobs yet we all know, basing from what is happening in Metro Manila, these Chinese bring their workforce in from China because labor is cheap and there are no labor laws to speak of from where they came from.
Furthermore, it was said:
POLY CHANGDA is the investor. EM CUERPO is just the developer. Both the mayor and the developer want to get this contract signed. This is the requirement for POLY CHANGDA to release the funds. Poly Changda, also known as the Guangdong Provincial Changda Highway Engineering Co,- a Chinese company.
What the… It's bad enough that the Chinese have gotten a couple of rocks in the West Philippine Sea, swathes of Pasay City and Paranaque City… NOW THEY'RE GOING TO GET DUMAGUETE CITY TOO?
Is reclamation the only way towards progress?
Nearly ten years ago, I campaigned hard for a reclamation project in Manila bay after seeing how it could alleviate the terrible congestion that we Manilenyos experienced from sun up to sun down.
Manila was choking in overdevelopment and squalor. Sky high residential condominiums and sprawling malls suffocated the open spaces that once used to be playgrounds and promenades even as informal settlement areas were bursting onto the streets.
Getting to and from places within a four kilometer radius took hours on streets filled with smoke, garbage, people, interminably open excavations,  potholes and untreated sewage. That is, if it wasn't raining because even a ten minute downpour would render all major streets impassable because of chest deep floods.
To most of us  who lived in Manila who welcomed it, reclaiming hundreds of hectares seemed to be the only logical solution to urban congestion.
We figured that Manila Bay was long dead anyway and creating new land from the dead bay would allow us in the city room to breath, that would in turn enable us to rethink the development of the inner city without the duress created by the problems of congestion.
Opposition against the new reclamation project on Manila won and the project was shelved indefinitely.
Today, other solutions to inner city congestion in Manila has come online and this has forced those of us who were for initially for it to rethink our positions — if not, to completely abandon the idea.
The opening of the Skyway Stage 3, the expansion of the MRT lines, and others have vastly shortened commuting times to and from areas farther north and south of Manila. The Balik Probinsiya program that was launched last year as part of the the government COVID-19 response also somewhat had an impact on urban congestion.
All of the above and others that I may have neglected to mention show that there are ways to preserve the environment and cultural heritage even as we rush headlong towards development and progress.