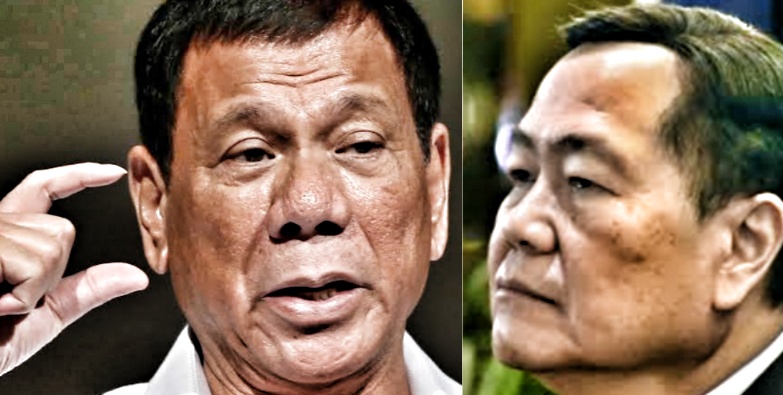 Retired Supreme Court Justice Antonio Carpio leads the only group — 1Sambayan — that aspires to cobble together a broad Opposition coalition to go up against the camp of Philippine President Rodrigo Duterte in the coming 2022 elections. It therefore makes sense that Carpio, at the very least, dignify the President's challenge to a debate with a response. At best, Carpio should accept it. He is, after all, a leader (perhaps by default, for now) of a major Opposition bloc that has explicitly expressed its intention to face off with a formidable incumbent.
According to the above-cited Inquirer report, Duterte "has been insisting that Carpio and then Foreign Affairs Secretary Albert del Rosario were involved in the decision to withdraw Navy ships from the West Philippine Sea. He said he would resign if anyone could prove that he was lying about this." Carpio and his camp are also up against the likes of Manila Times columnist and former ambassador Bobi Tiglao who, for months, has been calling out Carpio and, at the time, Foreign Affairs secretary Albert del Rosario for seriously misleading Filipinos into thinking they had won a ruling that favoured their claim over China's on certain South China Sea territories.
In his September 2019 piece "Arbitral ruling a colossal deception: It damaged our national interests", Tiglao points out that that Del Rosario, in citing "Chinese government vessels' attempts in May 2013 to block Philippine vessels from providing supplies to our 12-man marine detachment in Second Thomas (Ayungin) Shoal living in the BRP Sierra Madre wreck" as part of their argument, inadvertently attracted a "devastating" ruling that framed their case as one hinged on a "military situation" and therefore outside of the jurisdiction of the United Nations Convention of the Law of the Sea (UNCLOS).
Tiglao writes…
The implication of this ruling is devastating to us. It means that any Chinese (or Vietnamese) attempt to use some kind of force — such as a blockade of, say, our Pag-asa Island to starve our contingent there — falls outside the jurisdiction of Unclos. Can we ask the US to intervene? Well, Aquino and del Rosario did during the Scarborough stand-off in 2012: then-President Obama outrightly refused to even have US ships escort our fisheries bureau's vessel and our fishermen's boats into the shoal.
With the the nature of most pathways forward interpreted as predominantly potential "military situations", the idea that the Philippines can actually execute its perceived entitlements given its practically non-existent military capability is ludicrous at best. In his July 2016 Washington Post report "Why the South China Sea ruling matters", Erik Voeten referencing research conducted by University of Maryland scholars Benjamin Appel, Sarah Croco and Paul Huth points out that there are "few, if any, examples of arbitral rulings in which great powers give in to smaller powers over sovereignty disputes." Furthermore…
The Philippines' clear bargaining position may help, but it could also hurt. If it holds on to the PCA ruling too stringently it may forgo opportunities for peaceful settlement. The ruling could also draw other countries into uncomfortable foreign policy choices between a desire to uphold international law and a desire to appease China.
In short, this paper-pushing adventurism mounted by minions of the administration of former President Benigno Simeon "BS" Aquino III all but pushed the Philippines into an even tighter space — one that only military might can get it out of. Clearly the Philippines has none such.
In his follow-up piece "Carpio persists in lying about arbitration ruling vs China" published in January 2020 Tiglao had already crafted the challenge to Carpio and his mob…
I challenge Carpio, academic Jay Batongbacal, the writers at that vainly named Albert del Rosario Institute for Strategic Studies that the former Yellow Foreign Affairs secretary has set up together with a US think-tank to fool the nation on our disputes with China, and those still cheering that huge blunder that was the arbitration suit against China, to rebut my arguments and data — for the sake of the nation. I hope Carpio can start this debate by responding directly to this column.
Carpio has seemingly not responded to Tiglao. Who is Tiglao after all, right? Just a journalist who asks all the hard questions that Carpio need not dignify with even just an acknowledgement. Today, however, we have no less than the President of the Philippines summoning him to respond. The words of Major Richard Winters portrayed in the TV series Band of Brothers come to mind; "salute the rank, not the man". Carpio may not respect the man but he should, as an officer of the law, respect the office.
benign0 is the Webmaster of GetRealPhilippines.com.