Just a few days ago in a previous article, I posed the question: Are community pantries deadly stampedes waiting to happen? Only time will tell. That was just four days ago — not much time for what looked to be an implausible risk at the time to become a real and serious concern.
ABS-CBN starlet Angel Locsin who also jumped on the bandwagon to put up her own such community pantry on the occasion of her birthday seemed to have reportedly bit off more than she could swallow…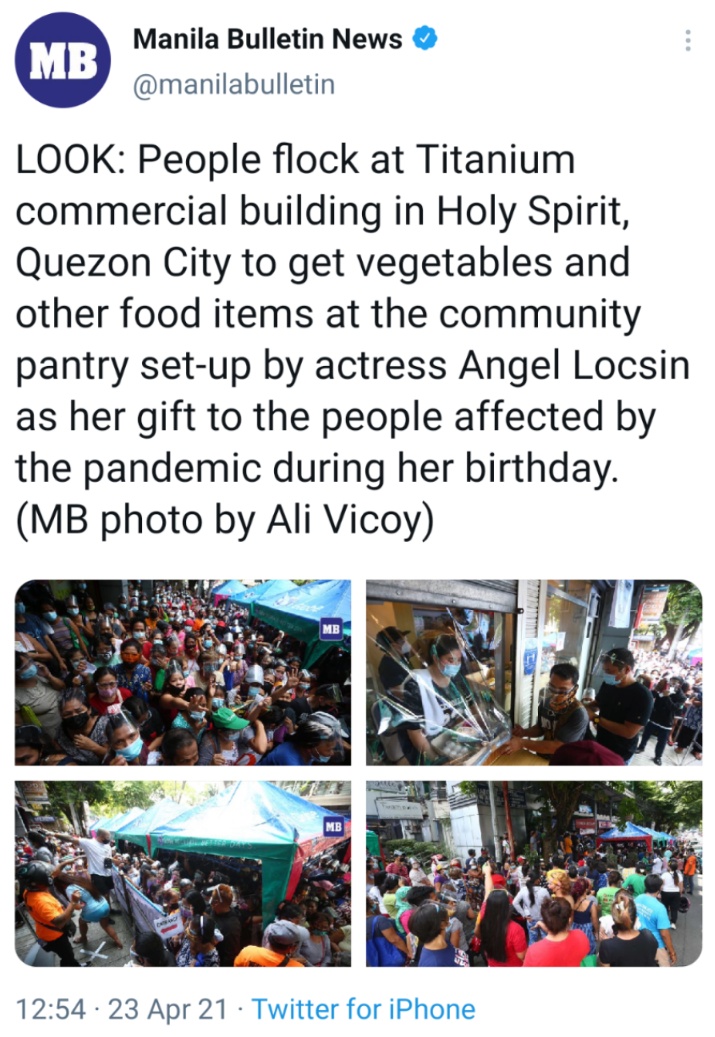 If you find yourself shaking your head as you behold the throngs of people in the above photos, think more of the subsequent report of senior citizen Rolando dela Cruz, 67, who was amongst them collapsing and later dying.
Dela Cruz was among those who fell in line at the community pantry that was organized for Locsin's 36th birthday at a commercial building on Don Matias Street. Locsin briefly led the distribution of goods to those who were lined up and went live on Facebook before noon on Friday to say that stubs were given to those availing of the provisions.
Locsin later reportedly apologised for the tragedy, the chaos that led to it, and the inconvenience felt by residents of the areas affected by these enormous crowds. Reporter Jeline Malasig described the situation at the time surrounding the incident as "grim" which was consistent with Locsin's own personal recollection…
Locsin said some residents who [did] not have stubs cut the line, causing further crowding.

"Nagpatulong rin po kami sa munisipyo na mabilis naman po ang pagtugon sa aming barangay din po. May mga pumunta rin po dito na mga pulis at saka mga military na tumutulong naman po pero 'yun lang po, hindi lang po talaga nila ma-control 'yung mga tao," Locsin said.
(Locsin's quoted Tagalog statement translates: "We requested assistance from the municipal authorities who were quick to respond. Some police officers and military personnel also came to help but really could not control the crowd…")
The incident highlights the problem with initiatives like these which could attract a large crowd, at best posing an inconvenience to residents of affected neighbourhoods and, at worst, leading to loss of life and damage to property if said crowds turn unruly. Indeed, a crowd of desperate people is a tinderbox that could be set off by the smallest spark or altercation. More importantly, it puts into the spotlight earlier messages being sent out by Opposition "activists" and "thought leaders" who denounced efforts by the police to be present in areas where community pantries were springing up and local government authorities to apply regulatory oversight to these activities.
One example of this arrogance amongst key personalities in the Opposition is lawyer Rowena Guanzon, a commissioner in the Commission on Elections (COMELEC), who issued explicit threats on Twitter to flout local government regulation in her plans to set up her own community pantry.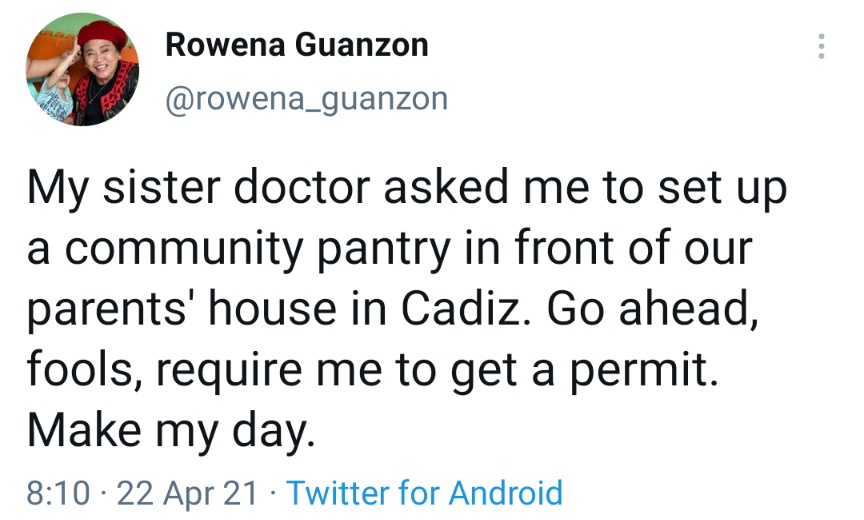 Indeed this is behaviour unbecoming of a law practitioner. Guanzon seems to forget that laws and rules are in place to mitigate the risks of precisely the sorts of things that happened to Locsin's initiative. "Activists" should see the lesson in all this and learn to be a bit more circumspect when demonising police officers and government officials who are merely doing their jobs.
As the Locsin incident shows, the public will more than likely always turn to state authorities and state forces for help when things get really problematic. It highlights just how dishonest the tired old Yellowtard (the bloc of Opposition partisans loyal to the Aquino-Cojuangco clan) and communist anti-police and anti-establishment rhetoric is. You can't just dismiss the police and local authorities as the "bad guys". Who are you going to turn to when things get out of hand? The New People's Army?
benign0 is the Webmaster of GetRealPhilippines.com.