Why should the Philippines join the international community to condemn the coup d'etat that ousted the "democratic" government of Myanmar and established military rule there? Leading the condemnation, after all, is none other than the United Nations Human Rights Council (UNHRC) which, need we remind ourselves, itself has been unfair in its treatment of the government of Philippine President Rodrigo Duterte.
Back in 2019, the UNHRC approved a resolution directing UN High Commissioner for Human Rights Michelle Bachelet to prepare a "comprehensive written report on the situation of human rights in the Philippines" within a year. This was nothing short of an insult to Filipino voters. The fact is, the Philippines remains a fully-functional democracy with a completely free (even rambunctious) press, fully independent co-equal branches of government that keep one another in check, and a dynamic free market economy. Seeing the way the UNHRC seems to arbitrarily judge how democratic — or undemocratic — a state is and get it wrong half the time highlights the presumptuosness in the manner with which it invites the international community to intervene in the internal affairs of a sovereign state.
More importantly, it is evident that this whole Myanmar thing is, yet again, being used by the Philippine Opposition as another opportunity to undermine the government of their own country. Unfortunately for them, the way they go about it only further reveals their camp's profound intellectual dishonesty. Case in point is this tweet issued by Inquirer columnist Gideon Lasco.
SUPPORT INDEPENDENT SOCIAL COMMENTARY!
Subscribe to our Substack community GRP Insider where you can opt to receive by email our more comprehensive and in-depth free weekly newsletter GRP Mail. Consider also supporting our efforts to remain an independent channel for social commentary and insight by sponsoring us through a small donation or a monthly paid subscription.
Subscribe to our Substack newsletter, GRP Insider!
Learn more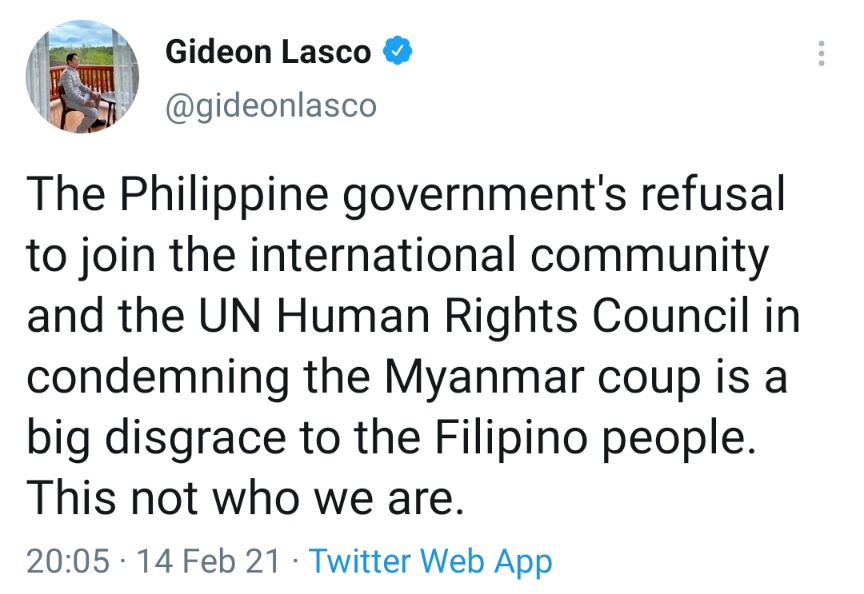 That depends on what you mean by "we", Mr Lasco. If by "we" you mean your lot, perhaps you should look no further than one of the leading politicians in your camp, the convicted putschist and former "senator" Antonio Trillanes, for a reality check. Trillanes remains a revered "thought leader" of the Philippine Opposition despite having led a mutiny in the mid 2000s that sought to do exactly what the Myanmar Army had succeeded at today. Trillanes was one of a number of Filipino ex-military personnel who mounted a rebellion against the government of then President Gloria Arroyo in 2003 and again in 2006. When Benigno Simeon 'BS' Aquino III came to power in 2010, he issued Proclamation 50 granting amnesty to Trillanes allowing him to escape accountability for these crimes.
What exactly does Lasco mean when he asserts that the indifference with which the Philippine Government would regard the events transpiring in Myanmar is "not who we are"?
For that matter, what's the big deal to begin with? The Philippines lacks any capability to project diplomatic, political, cultural, or military power beyond its shores. For all the shrill posturing of Opposition "thought" leaders like Gideon Lasco, there really is not much Filipinos can influence in Myanmar no matter how much he and his pals "stand in solidarity" with Myanmarians (is that what you call them?) protesting the demise of their "democracy". There is much the Opposition need to focus on that is far more important than stuff happening in a little Indochinese country. Winning the 2022 elections comes to mind. Does the average Filipino voter really give a shit about Myanmar? The answer to that question may be the wake-up call the Philippine Opposition badly need to get their priorities right.
benign0 is the Webmaster of GetRealPhilippines.com.