The notion of actors only of a certain sexual orientation or who "identify" with a certain gender being qualified to play characters in cinema or TV that are of the same sexual orientation or gender identification is the subject of much debate. Actually, thinking again, for many in that community, the entitlement is practically a non-negotiable.
For example, a certain Tina B who, according to her Twitter profile is into "Sociology & Human Rights" called actress Nathalie Hart a "homophobe" in a tweet for expressing her sexual preferences in the context of a lesbian role she played in an episode of popular Filipino TV anthology Maalala Mo Kaya ("Would You Remember?).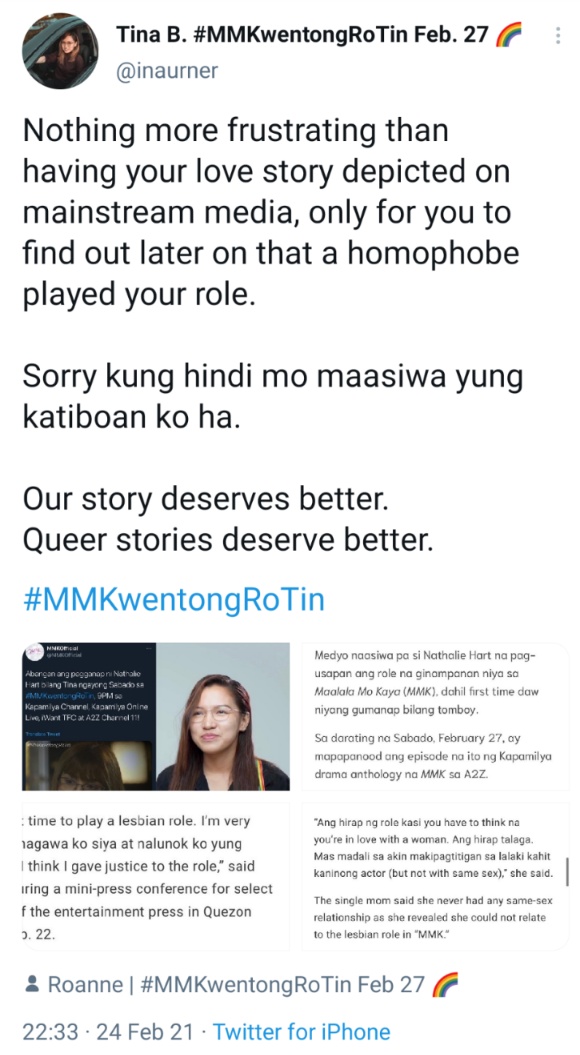 But was Hart being a "homophobe" when she aired her thoughts on the role she played? This is what the award-winning actor reportedly said about the role in a press conference she attended on the 22nd February (the subject of the screenshots attached to the above tweet…
It's my first time to play a lesbian role. I'm very excited na nagawa ko siya at nalunok ko yung role na ito. I think I gave justice to the role
Here, Hart evidently starts with expressing what a challenge it is to play a certain type of role for the first time — perhaps something Tom Cruise may have felt playing a Top Gun fighter pilot having never experienced flying an F-14 before. Hart then goes on to say…
Ang hirap ng role kasi you have to think na you're in love with a woman. Ang hirap talaga. Mas madali sa akin makipagtitigan sa lalaki kahit kaninong actor (but not with same sex)
Was that being a "homophobe"? The jury may still be out but, thanks to the characteristic shrillness of the "woke" Cancel Army, Hart would reportedly go on to issue a subsequent public apology…
"Hello guys. My close friends and family know how much I love gay people. I'm sorry if I offended the LGBTQ community, for the remarks I made which were taken out of context," Nathalie wrote on Instagram.

Nathalie said she regretted her actions and that she "truly apologizes" to the people she has "offended."

"I'm truly sorry," she said.
…effectively not just swallowing this lesbian role she found challenging but also forfeiting any entitlement to a fair go at making what is clearly a valid challenge to the "homophobe" label she had been likely unfairly slapped with by the Gay Taliban. Herein is yet another example of how "woke" cancel culture effectively stamps out honest public debate on matters they deem offensive to their "community". It seems there is no longer any room for any kind of challenge to perceptions of offense to people who enjoy control over topics that have all but hijacked editorial oversight over content aired over Big Corporate Media channels.
For her part, a certain Patricia Lasaten, a "Music Composer/Arranger" in a tweet almost gets it right halfway but should have quit while she was ahead…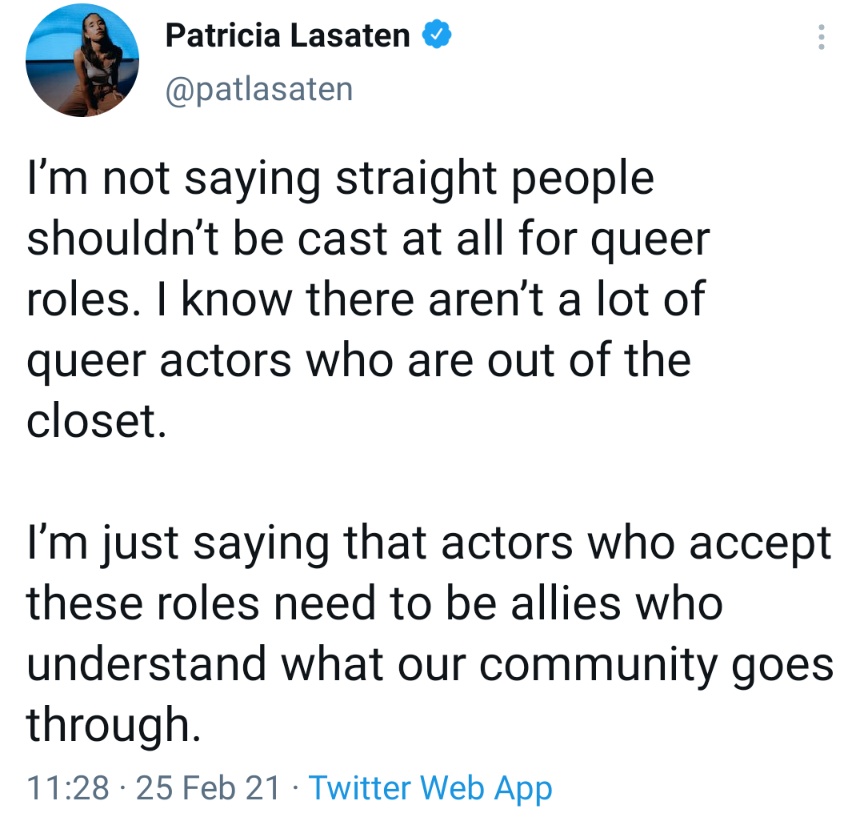 I don't think so.
The fact is, Nathalie Hart should have given herself more credit. She did not have to apologise for being honest about her feelings for a role she most likely pulled off brilliantly. Tom Hanks, for example, played a gay man with astounding sensitivity in the 1993 film Philadelphia despite being a heterosexual. It made him one of the greatest actors of his time. Neil Patrick Harris, for his part, is gay but played straight men most of his career. In short, it really comes down to how good an actor is and not his or her sexual orientation.
A transformation into a meritocracy is long overdue in Philippine society. It is this primitive tribalism and abject emotionalism that remains a formidable roadblock to that march towards modern thinking at a society level. This lack of perspective when regarding what are essentially non-issues will persist as long as infantile "influencers" continue to hijack the National Debate. It's time the broader Filipino people put their foot down and cancel this idiotic Cancel Culture.
benign0 is the Webmaster of GetRealPhilippines.com.