How can Leni Robredo hope to be president of the Philippines someday if she keeps acting like a barangay tanod (town sheriff) rushing from one disaster site after another? Presidents are chief executives who oversee and administer initiatives at a national scale. What Robredo is doing is redundant — a job that first responders like real barangay tanods, the police, the military, and the Coast Guard are more qualified and in better positions to do.
Unfortunately for Filipinos, they are being seriously misled by the Yellowtards (the bloc within the Opposition rabidly loyal to the Aquino-Cojuangco feudal clan) into thinking it is only Robredo who is all action in times of crisis. The way the Office of the Vice President (OVP) is being put up as a disaster response agency by Yellowtards is like how Filipinos turned GI jeeps into public transport just after World War II. We know now how that turned out. They clunked along doing the job clumsily but remained totally unfit for purpose.
Fact is, there are many public servants, government agencies, and private individuals and groups doing things. The Yellowtards and Robredo herself insult these quiet workers by making everyone believe that Robredo is doing it all. At a time when Filipinos should be uniting to work towards the interests of the broader public, the Yellowtards, in putting up "vice president" Leni Robredo as the hero above all, continue to sustain the deep divisions within Philippine society. Noted influencer Carlo Ople notes this in a recent tweet…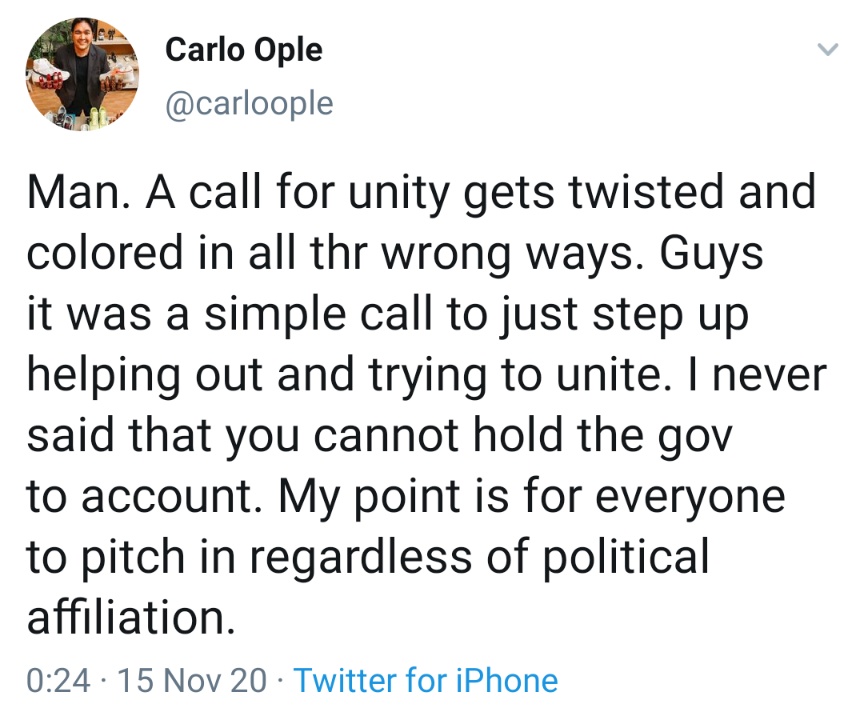 No matter how many influencers encourage people to be "one nation" in solidarity in dealing with disaster, the reality is that the Philippines is a deeply-divided nation. You see it even in the way the rich live inside walled fortified enclaves patrolled by private armies. You see it in the way the country's top "thought leaders" are incapable of framing the big issues of national consequence outside of their society's highly-polarised partisan politics.
What is really baffling is the inability of the Yellowtards to engage in a bit of introspection and help themselves understand why, rather than attract admiration, Robredo instead cops a lot of scorn and ridicule for her efforts. It is because her most influential supporters fawn over her like she is God's Gift to Typhoon Disaster Response.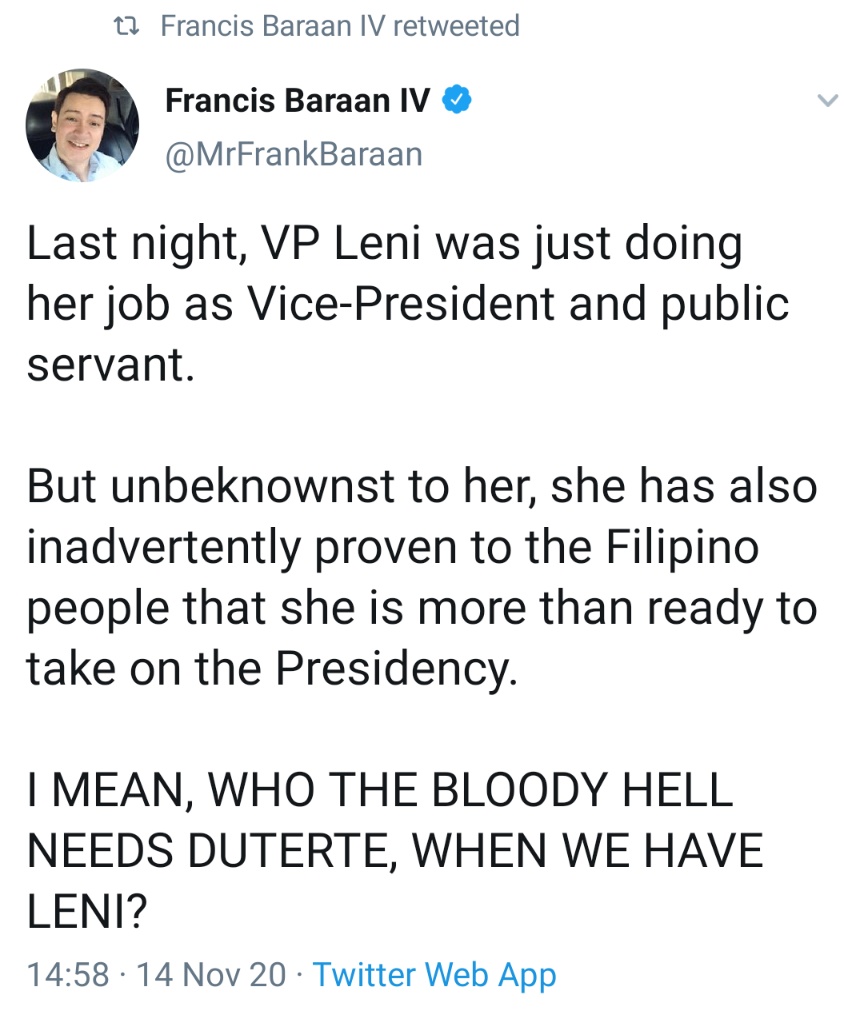 With their comrades behaving this way, it's small wonder that the more sensible supporters of the Opposition like Inquirer columnist Gideon Lasco struggle to inject some perspective into the political chatter.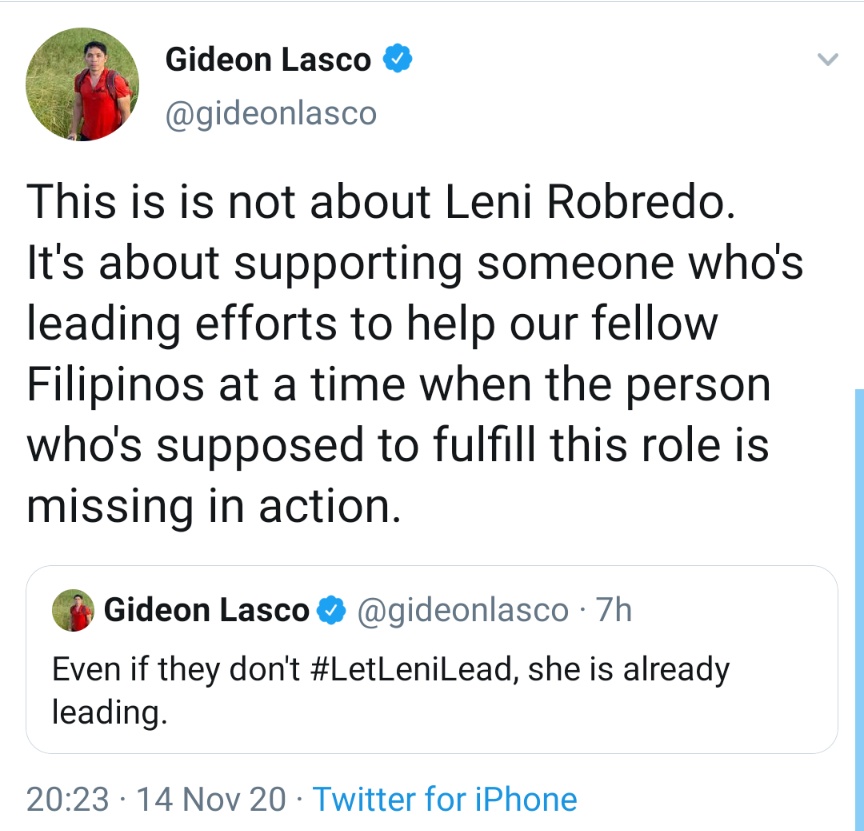 One can just as easily respond to Mr Lasco with another question; Well who made it all about Leni Robredo to begin with? Why none other than the Yellowtards!
Everyone is doing their part to respond to disasters whenever they strike the Philippines, but it is only the Yellowtards who are making it a self-promotion activity on social media. Indeed, Leni Robredo is like one of those bozos who after one game of paintball act as if they are war vets. Perhaps all the presidential drumming-in she gets from her fandom is starting to get into her head. Perhaps she herself believes that she'd make a better president than current Philippine President Rodrigo Duterte. Well there really is only one way to find out if she can be president. If you Yellowtards truly believe Leni Robredo "deserves" to be president of the Philippines then, by all means, make her your presidential candidate in the coming 2022 elections. Please do that.
benign0 is the Webmaster of GetRealPhilippines.com.