The most overused "dissent" template of the Philippine Opposition is that the "(insert issue name here) issue" is the fault of Philippine President Rodrigo Duterte. Because this has been used over and over again and applied to just about every problem besetting the Philippines, it has become less and less effective. If the Opposition hadn't noticed yet, their campaign to make the ABS-CBN franchise denial out to be of Duterte's doing did not fly. Some time ago Chief Opposition "Economist" and Rapplerette JC Punongbayan even tried to pin the blame for a rise in inflation on Duterte. Punongbayan's boss Rappler CEO Maria Ressa, for her part, made a name for herself in Western liberal circles selling the notion that her legal troubles were engineered by the Duterte "regime".
In recent months, the world's biggest problem, the COVID-19 pandemic, has been the Philippine Opposition's current flavour of the month. Their position on the matter of that pandemic is, guess what, that its runaway spread across the Philippines (now suffering the highest number of reported cases in southeast Asia) is Duterte's fault too. Let's see how that one flies over the long stretch. Given the Opposition's track record of failure playing the "it's the incumbent's fault" card, it is unlikely that this position will be winning them any elections anytime soon either.
So desperate is the Opposition for emotional hooks to throw at the Filipino public that their blame-Duterte rhetoric has started to plumb embarrassing lows. Activists have even started to blame Duterte for a spate of runaway animals spotted in various Philippine cities!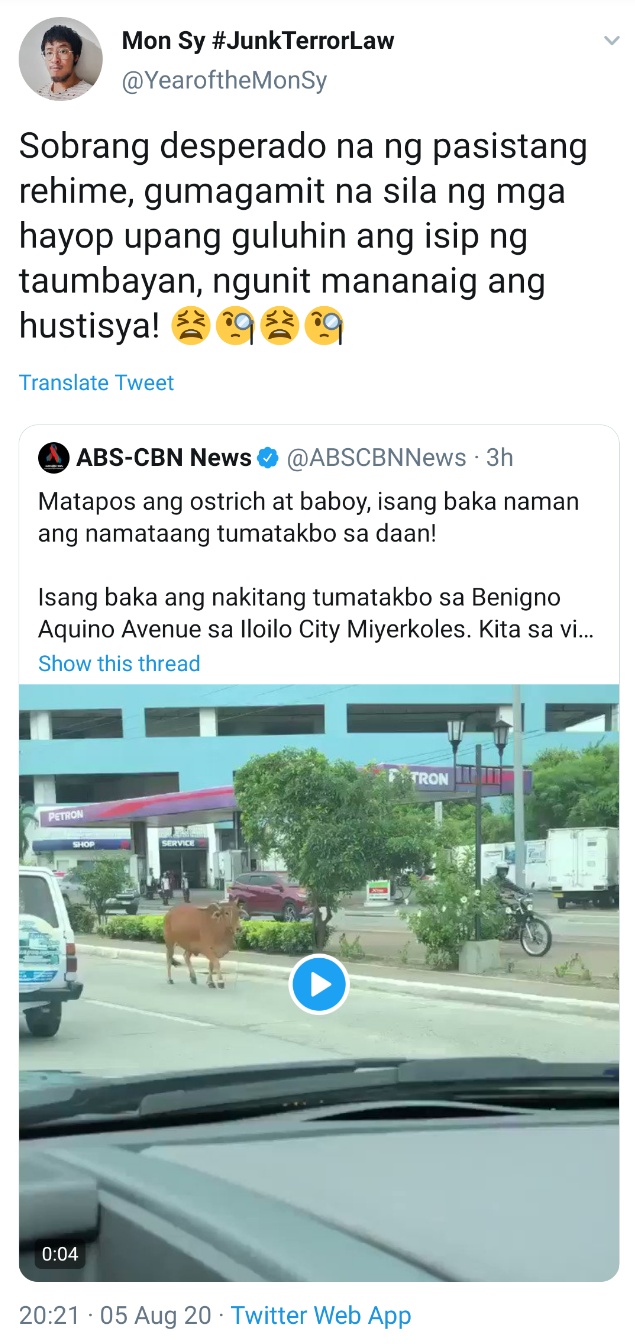 To be fair, governments and presidencies go on to be defined by the problems and crises they oversee (or fail to oversee). The trouble with the Opposition is that they fail to exhibit a pitch to Filipino voters that goes beyond exploiting that — something that will eventuate anyway. Rather than build a platform of alternatives and solutions on the back of those problems and crises, today's Opposition remain stuck in a mind-numbing blame platform that had long ago worn thin. In short, to the question of what it is exactly the Opposition expect Filipinos to look to them for, one can only shrug. The Opposition offer no pathway forward. They offer nothing because they lack any semblance of a compelling vision for the Philippines to begin with. All they and their foremost "thought leaders" do is blame.
The Opposition, to its credit, are learning some lessons albeit rather slowly. The "activist" Mong Palatino on Bulatlat writes, "It is not enough to boost social media influence and make it in the trending topics of the day; our actions must be powerful enough that it becomes a traumatic experience for despotic authorities. They must feel it in realtime and force them to reconsider their remaining time in office." Impressive work learning that lesson, genius. The trouble with that epiphany is that it is an incomplete one. The most important lesson of all still eludes guys like Palatino — Winning National Elections 101.
It is either the Opposition are (1) too stupid to learn that lesson or (2) have no plans of seizing power legally to begin with. On the basis of the latter, there may be reason to excuse Palatino specifically seeing that he is a communist writing for a communist journal. Communists after all don't aspire to acquire political power legally. Then again, a bit to the communists' right on the political spectrum sit the Yellowtards, that bloc of rabid partisans loyal to the Aquino-Cojuangco feudal clan. They too are addicted to extra-constitutional means to seizing power what with their "people power" narrative being at the core of their ideology.
All of those are not working, folks. It's time you people evolve or reinvent yourselves. Filipinos will decide in 2022. Or maybe they will decide while staring down the business end of an AK-47 if Palatino's and Bulatlat's principals' "revolution" succeeds and their vision of a "dictatorship of the proletariat" is realised. Oh wait… turns out they actually do have a vision for the Philippines after all.
benign0 is the Webmaster of GetRealPhilippines.com.