Seems like Singaporean motorcycle taxi service Angkas is getting a pretty hefty Christmas bonus.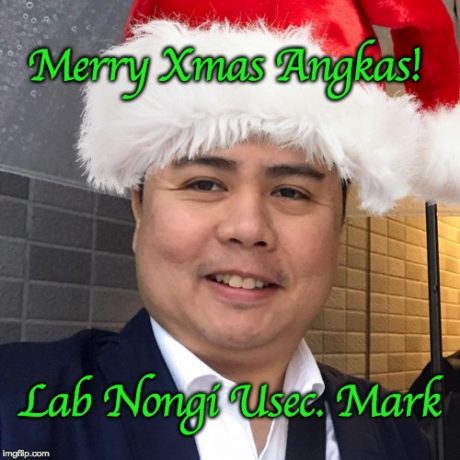 Thanks to good old Santa er Undersecretary for Road Transport and Infrastructure-DOTr Mark Richmund M. De Leon.
Apparently our good Undersecretary failed to attend the TWG meeting which would conclude the pilot testing program, thus resulting in the DOTR either allowing the operation of ALL motorcycle taxi services, disallow all motorcycle taxi services or allow a select few to operate.
SUPPORT INDEPENDENT SOCIAL COMMENTARY!
Subscribe to our Substack community GRP Insider where you can opt to receive by email our more comprehensive and in-depth free weekly newsletter GRP Mail. Consider also supporting our efforts to remain an independent channel for social commentary and insight by sponsoring us through a small donation or a monthly paid subscription.
Subscribe to our Substack newsletter, GRP Insider!
Learn more
According to my sources at the DOTr, without a decision on the pilot testing for motorcycle taxis, it appears Singaporean Angkas will continue to be the ONLY motorcycle taxi service ferrying passengers all over Metro Manila and Cebu during the most lucrative time of the year for transport services.
Seeing the rather unfair situation created by Usec De Leon's absence at the crucial meeting, Samar Congressman Edgar Mary S. Sarmiento wrote a letter to DOTR Secretary Art Tugade which he coursed through our chubby cheeked Usec Mark.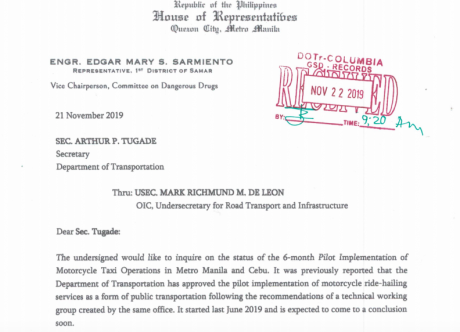 Sarmiento inquired as to the status of the pilot implementation of the motorcycle taxi service, which is really a way of nudging Secretary Tugade and making sure Usec. De Leon knows he's being watched by a representative of the people.
Perhaps Sarmiento thought that it would only be fair to conclude the pilot testing and allow all motorcycle taxi services to operate.
"Sana ALL!" I imagine Congressman Edgar saying.
I have no idea how much money Singaporean Angkas will earn off the misery of hundreds of thousands of Filipinos who simply want to get from point A to B during the maddening Christmas traffic-geddon.
With surge rates in effect and with the sheer volume of the number of trips a day, the daily gross earning of each rider in the Angkas system could easily double or even triple all throughout December.
Roughly figuring things from some data I came across in different articles online:
Riders = 27,000
Ave. Gross Earning Multiplied by Three = 1000 x 3
Number of days in December = 31
SUSMARYOSEP!! So 27,000 multiplied by 3,000 multiplied again 31… Angkas Gross earnings could reach P2.5 BILLION!
I haven't found an article which states specifically how much Angkas and its riders split up earnings, but let's just figure 25% goes to the owners of the Angkas app.
Factoring that in, Singaporean Angkas could be earning P627 MILLION and keeping it all mostly to themselves.
Woooooow! Whose bell do I have to ding-dong to get favored with a monopoly? Tsk!
For most of us, we pretty much have to do the 9 to 5 grind or slave over multiple projects just to make ends meet.
Meanwhile, Singaporean Angkas gets over half a billion peso windfall because Usec. Mark De Leon was probably just "too busy" to conclude the pilot testing for motorcycle taxis.