My sports geek friends are eagerly awaiting the 30th Sea Games and they are paying no mind at all to the horrendous traffic it'll create all over Metro Manila as well as in the various venues outside of NCR.
Right in the middle of recalling various sports statistics and some esoteric bits of sports lore, one of my friends yelled aloud, "Oh my God! Why does the SEA Games preps cost SEVEN BILLION PESOS?!"
My friend and I exchanged blank stares as we shrugged our shoulders.
Thing is, neither of us have come across news reports about the projected cost of the SEA Games preparations that detailed how much was being spent on what.
All that we're aware of are bits and pieces of "intriga" about the cost of uniforms and such. (Who knows why they're that pricey? Is it because of the designer? Were materials sourced from some quantum realm?)
I heard from a friend that the 30th SEA Games has a pretty huge and well funded mainstream and social media team, but it looks like they're not doing a good enough job otherwise these intrigas would have been rebutted by now.
For instance, do you know how much the tickets to the SEA Games opening ceremony costs?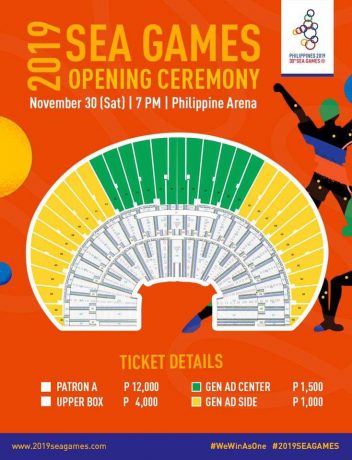 Nevermind that the Patron A seats (front and center) are worth P12,000 each and the Upper Box seats behind that are worth P4,000.
The seats for the sports loving masa cost P1,500 for the General Admission Center and P1,000 General Admissions Side.
Well, if you really… really… REALLY LOVE our SEA Games athletes (whoever they are and that's the thing, right? For P7.5 billion, you'd expect that our athletes would be household names by now. If they were, perhaps P1,000 bucks for the nosebleed section wouldn't be a bad deal.)
You'll have no choice but to SPLURGE!
Otherwise, watch the whole thing on TV like everyone else.
Of course, that'll mean you'll have to pass up a chance to see the giant 50 meter tall P50 million cauldron that the Philippine Sports Commission commissioned. 
The higanteng kaldero apparently cost P4.4 million to design. The base or foundation of the kaldero cost P13.4 million and kaldero itself cost P32 million.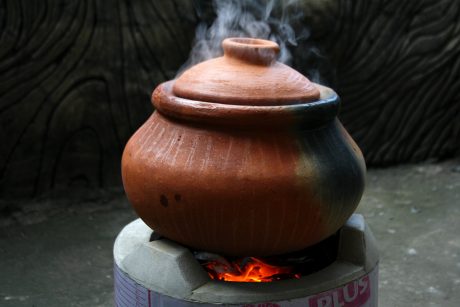 Apparently, Senator Franklin Drilon took issue with this. (Was he concerned he'd be boiled in it?)
Old senator porky face says it'd be exorbitantly priced if it were to be used only once. And as much as I detest the guy, I find myself having to agree that it is indeed a lot of money to spend on a kaldero.
For that price, the SEA Games kaldero better look like its worth it! People ought to be crying when they go home after seeing it and telling their grandchildren about the awesome SEA Games kaldero.
Thing is, perhaps there'd be less issues against the Philippine SEA Games Organizing Committee (Phisgoc) IF government officials weren't part of it.
As we already know, Phisgoc is headed by House Speaker Alan Peter Cayetano.
Aaaand, here's the thing… Phisgoc is a private organization and presumably not subject to the same procedures as well as auditing as government agencies.
PHISGOC is a non-stock, non-profit organization created to oversee the preparations and execution of the Philippines' hosting of the 30th SEA Games.

All government agencies were directed by President Rodrigo Duterte under Memorandum Circular No. 56 to "render full support and assistance" to PHISGOC in preparation for the regional sports meet.

However, Duterte himself raised corruption concerns regarding PHISGOC's handling of the SEA Games, pointing out that "there's a lot of corruption in the private sector."

But the alleged corruption, according to Duterte, supposedly does not involve Cayetano — his staunch ally whom he endorsed to become Speaker for 15 months, before being replaced by another ally, Marinduque Rep. Lord Allan Jay Velasco.
Hindi lang siguro makapagsalita si Pangulo.