Our webmaster Benign0 and other bloggers have all mentioned how the jeepney is a symbol of the Philippines' backwardness. Recently, efforts to improve it, or replace it with a better vehicle, met resistance from the likes of "transport groups" like PISTON, who want to keep their old ways. What's funny is how even celebrities and middle-class commenters insert themselves and say, "keep the classic design of the jeepney, it's part of our culture," or "replacing the jeepney is anti-poor," when they don't know what they are saying. It's also funny when they say they want change in the country, but what they're doing is wanting to keep the status quo in public transport.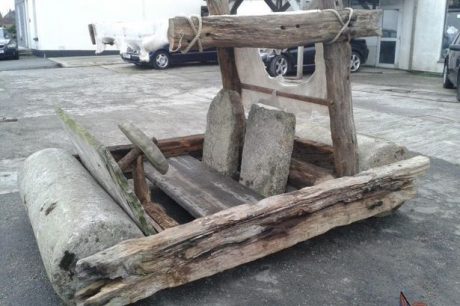 Perhaps they hold romantic notions of primitivism, keeping the "old thing" as culture, when at times it's revealed to be rotten culture in practice. I have always held that this is one of Filipino culture's greatest hindrances. I think of primitivism as the Filipino's desire to keep things ridiculously simple (as in simple-minded or dumb), to become anti-intellectual, and to become careless as to throw everything to the wind (bahala na).
The Filipinos' mendicant culture drives PISTON and their ilk to keep the old jeepney. They want to keep the old system where they look poor, so they can then ask for assistance. They also want to keep the boundary system and not have a national transport system because they seem to prefer having transport companies compete. In this situation, it does not stimulate quality; instead it's where each transport operator dreams of being a bigshot mogul. Or perhaps they are too lazy to improve and have the passenger's welfare in mind, they only believe the passenger is obliged to risk their lives on their vehicles, but still handing over their money. In that case, that's the primitivism of selfisnness and egoism.
The Nostalgia Trap
This might go on a tangent, but primitivism towards the jeepney reminds me of a lot of other things in Filipino culture. I sometimes see people in the nostalgia forums look at old bahay kubos and say, "oh I would like to live this life," assuming it would be better. It also looks to me like the assumption behind a bahay kubo life is that they don't need to work. They think they can go out of the bahay kubo, pick food or raise livestock. They think this is better?
Life during these times was lots harder, first, because you have no access to healthcare. Baby mortality rates were higher; probably every family on average would have a child or two die. Bahay kubo days also saw crocodiles (as well as other wild creatures on land) roaming the Pasig river, who would kill hapless people straying from their communities. And what would keep people busy? There are few books or art, and no cellphone games to keep people occupied, so they'd just do sex. That would lead to more kids who are at risk of dying, while they would think nothing of letting their children die like that. That reminded me of Hector Gamboa's article where he described how Eskimo people would leave out babies to die in the cold if they could not take care of them. That would be murder, wouldn't it (like how jeepney operators seem to believe the public should sacrifice for them)?
I'm also reminded of Nick Joaquin's observations about the Philippines in 1965, which seem to have an eerie relevance to today's world. He wrote of decreasing intellectualism and a widening divide between old and new. The young people of this time were losing interest in in literature and other liberal arts. This was also the time of "women should stay at home," so they often just do housework, but gossip on the side, and dream of becoming hacienderas. They became today's grandparents, who have been molded by 1950s-60s advertising to be rabid consumers, and lovers of what's fed to them on TV (for example, most of the victims of the Wowowee stampede in 2006 were elder women). This is the generation that set the stage for our current trashy culture and the kind of primitivism we have today.
The "Good Old Days"
It seems to me that the "old things" that Filipinos love are reflections of their power-hungriness. One other example is My Family's Slave that raised a furor a while back. I believe Filipinos would really love the setup where they could exploit other people's labor and servitude for free (the parents of the family who enslaved Lola Pulido are of the same generation described above). It doesn't matter if Filipino slavery is debt or indentured slavery instead of chattel slavery; it is still exploitation.
Since some transport groups have communists in their ranks, it would be in line with their beliefs to keep the transport industry cottage level. Communism also carries the spirit of primitivism. China during the time of Mao Zedong applied this, and boy, did that work for them (massive famine killed millions). Local communists keep on decrying capitalism and the modern lifestyles that go with it, while their leaders enjoy these modern capitalist luxuries. Local commie primitivism seems to imply gullibility as well.
If we ever want to move the country forward, primitivism should be excised from our mentality. Seeking the old culture is also connected to our sense of entitlement. It produces the identity that we are a poor country that must keep asking for things from other countries. And it demonstrates classic Filipino self-contradiction, because if Filipinos want life to be comfortable, they're doing it the opposite way.
I believe, as my cohorts here do, that what Filipinos embrace as their culture is what actually pulls the country down. And those who seem to be anti-dictators, who may also believe themselves to be "heroes," are the real dictators.