Far from being Solomonic, word has it that MMDA General Manager (GM) Jojo Garcia has thrown MMDA Spokeswoman Celine Pialago under the bus in exchange for good publicity for himself from ABS-CBN News reporter Doris Bigornia.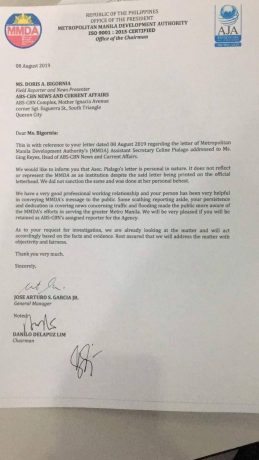 In a letter written by Garcia to Bigornia, the MMDA GM described Pialago's complaint on Bigornia's attack on her as "personal" and does not involve the MMDA as an institution.
Garcia wrote, "We would like to inform you that Asec. Pialago's letter is personal in nature. It does not reflect or represent the MMDA as an institution despite the said letter being printed on the official letterhead. We did not sanction the same and was done at her personal behest."
He went on further to write to Bigornia saying, "We have a very good working relationship and your person has been very helpful in conveying MMDA's message to the public. Some scathing reporting aside, your persistence and dedication in news concerning traffic and flooding made the public more aware of MMDA's efforts in serving the greater Metro Manila. We will be pleased if you will be retained as ABS-CBN's assigned reporter for the agency."
Thing is, Garcia seems to be a frequent guest and favored guest at a radio program of Bigornia on DZMM called SRO.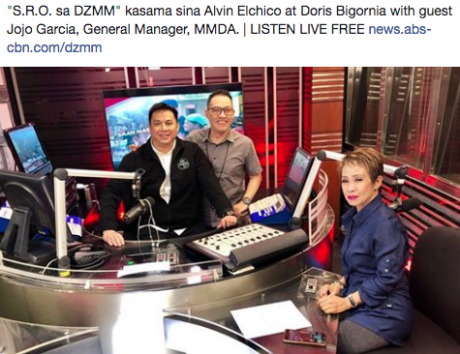 Friends from PR and news circles say that such a practice would be peculiar unless the MMDA had entered into a co-production agreement. In such an agreement, the MMDA would be in effect sponsoring a segment and part of the money paid for the segment would end up as a talent fee for Bigornia.
We should also note Garcia's penchant for consistently hogging radio and tv news coverage as well as consistently showing up on social media, a role which would ordinarily be left to the MMDA Spokeswoman Pialago.
Garcia's hunger for attention from mainstream media had gotten the better of him years ago when he said that journalists criticizing the MMDA should be subjected to tokhang — a word which had become synonymous with summary execution.
He was immediately chastised for his statement by no less than PCOO Secretary Martin Andanar who rebuked Garcia saying, "The PCOO, as co-chairman of [the] PTFoMS (Presidential Task Force on Media Security), will not tolerate such irresponsible and threatening remarks."
Garcia's hunger of attention, according to some observers, could either be gunning for MMDA Chairman or possibly an elective position in 2022.
In anycase, his stand on Pialago's complaint against Bigornia seems to indicate to some that he would gladly sacrifice any of MMDA's personnel should they run in conflict with reporters like Bigornia.
Hopefully, Garcia's enabling action on Bigornia's arrogant behavior won't bite him in the ass later.