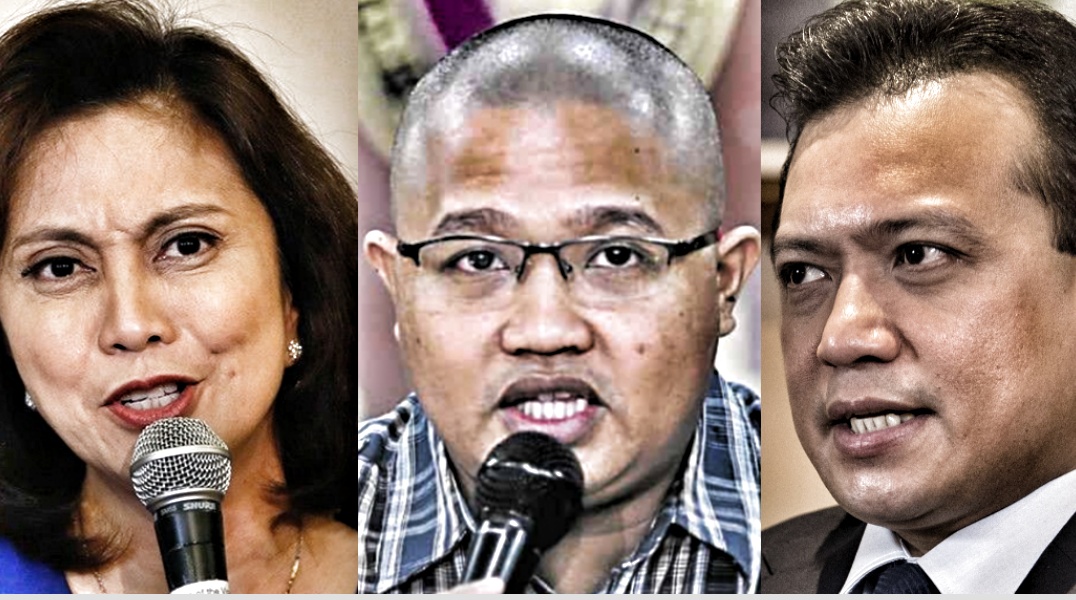 In her Inquirer column today, Solita "Winnie" Monsod is up in arms over what she regards as the Philippine police's selective treatment of statements made by Peter Joemel Advincula over the last several months. Advincula, we recall, is the hooded figure "Bikoy" in the video series "Ang Totoong Narcolist" which supposedly tagged President Rodrigo Duterte's family in the drug trade.
According to Monsod, the police ignored the allegations "Bikoy" made in these videos but then, in laying sedition charges against key Opposition personalities this week "swallowed Advincula's new version hook, line and sinker." Monsod further asserts that the police "have been investigating his new charges, where they completely ignored his old ones. Not only investigated, they have filed charges against the whole lot, for 'inciting to sedition'."
Monsod is seriously misguiding her readers. This "new version", is based on Advincula's actual sworn statements and not merely on things he said on YouTube videos. Monsod is wrong saying that the police would have had equal bases to act on the "Bikoy" videos in the same manner that they now do in laying charges against Opposition leaders recently. The "Bikoy" videos offer no bases for police action. But Advincula's more recent sworn statements, on the other hand, do.
The Inquirer, in an article published on the 4th of June, reported that "Advincula has submitted his affidavit to the police after returning to the PNP Criminal Investigation and Detection Group on May 27 for protective custody." The affidavit documents Advincula's claims he met with a number of members of the Roman Catholic clergy as well as former Education Secretary Armin Luistro and that these meetings "centered on how to publicize a story that the President's allies and family were linked to illegal drugs, to unseat Duterte, and to ensure the defeat of administration-backed senatorial candidates in the recently concluded elections."
Dubbed, "Project Sodoma," the supposed conspiracy to undermine and unseat Duterte may have possibly been sanctioned by administrators of the Ateneo de Manila University and could involve the highest officials of the Catholic Bishops Conference of the Philippines (CBCP). In his 27th May affidavit, Advincula reportedly "claimed that [Archbishop Socrates Villegas of Lingayen-Dagupan and former head of the CBCP] was present at a meeting on Dec. 12 at the Jesuit Residence at Ateneo de Manila University."
Charges of sedition filed by the Philippine National Police Criminal Investigation and Detection Group (PNP-CIDG) this week against all the members of "Otso Diretso", which failed to win any seats in this year's elections, "vice president" Leni Robredo, senators Leila De Lima and Risa Hontiveros, and former "senator" Antonio Trillanes IV are also reportedly based on Advincula's sworn statements.
Also charged were Magdalo Rep. Gary Alejano, former Sen. Bam Aquino, human rights lawyer Chel Diokno, Moro civic leader Samira Gutoc, former Solicitor General Florin Hilbay, election lawyer Romulo Macalintal and House Deputy Speaker Erin Tañada, who ran for the Senate under opposition slate Otso Diretso in the May elections but lost.

The same charges were also filed against vocal critics of the Duterte administration including Archbishops Socrates Villegas and Pablo Virgilio David, Bishops Honesto Ongtioco and Teodoro Bacani Jr., and priests Albert Alejo and Robert Reyes.

Former Education Secretary Bro. Armin Luistro and former Supreme Court spokesperson Theodore Te and several officials of the Integrated Bar of the Philippines (IBP) were also cited in the complaint.
Contrary to what Monsod claims, the police are not simply "swallowing" Advincula's statements "hook, line and sinker". In late May when Advincula's first issued his sworn statements against the priests, [National police chief Oscar Albayalde] said investigators still have to determine whether the claims by Advincula, who was described by police as a "peddler of fake information," have enough basis.
"We don't take [his claims] as the gospel truth. He has to substantiate his statements with evidence," added Albayalde.
Contrary to what all the shrill "thought leaders" of the Opposition are screeching, the matter is being handled by the book.
Police Lieutenant Colonel Kim Molitas, PNP deputy spokesperson, said it would be best to let the investigation, that will be undertaken by the Department of Justice (DOJ), take its natural course.

[…]

"The cases [have] been filed in court already, hence, we leave this to their appreciation," Molitas told the Manila Bulletin.
People like Monsod are only adding unnecessary noise to the "issue" rather than be a beacon of level-headed clarity befitting her supposed role as one of the more educated "thought leaders" of the lot. No laws are being broken and the police and the Philippines' Department of Justice are, for now the most qualified agencies to handle the case. Following that, it then becomes a matter for the Philippines' judiciary to rule on. What the Opposition, again, have failed to do was follow their own rule book — which, to be fair, only makes them consistent with their track record of seizing power illegally and causing instability among a people who only want a stable environment to build a strong nation.
benign0 is the Webmaster of GetRealPhilippines.com.