Last night I posted about the dinner conversation I had with friends over at the House of Representatives where in we did the best we can to come up with a plausible guess as to who'd become House Speaker.
At one point in the conversation, we found ourselves amused by the prospect of Taguig Representative Alan Peter Cayetano becoming House Speaker at the behest of President Rodrigo Roa Duterte.
Word is that to console him after losing his bid for the Vice Presidency in 2016, Duterte promised to make him the House Speaker of the 18th Congress.
The problem with this is that Cayetano's camp is not the only one claiming that the President had promised him the House Speakership.
Marinduque representative Lord Allan Jay Velasco's camp has also made the claim that President Duterte supports his bid for House Speaker. Not only that, Velasco's camp says that they trump Cayetano's claim because they also have HNP Chair Mayor Sara Duterte's support.
As one of my friends put it, "They're like siblings asking their Tatay Digong to settle a dispute over who gets to ride shotgun with him."
I really wish this was exactly like kids fighting over who called dibs first over something as inconsequential as who gets to ride shotgun with Tatay Digong.
But this is the leadership of the House of Representatives which supposedly is where our voices as citizens can be heard at a time when the clamor for long awaited political and economic reforms are at its highest.
We need a strong leader at the House of Representatives now more than ever, especially after the Senate trashed the Resolution of Both Houses Number 15 which would have allowed us to finally get rid of features in the 1987 Cory Constitution that has held our economy back and stunted our political evolution.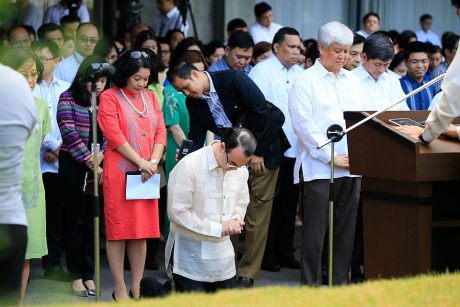 Surely, the leadership of the House of Representatives is more than just a carseat or some token of consolation for a failed bid for the Vice Presidency.
Word  from other political observers is that Cayetano is demanding payment for a debt of gratitude that he claims Duterte owes him for running as his Vice President and supporting his presidential campaign.
If this is true, then it would appear that Cayetano supported Duterte to promote his self-interest rather than because of a sincere belief in Duterte's vision for the country.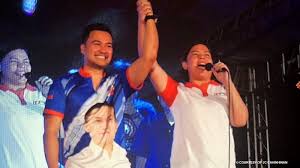 As for Velasco, all he has going for him so far is that he is a member of the party with the most members in the House of Representatives and appears to be a really close friend of Mayor Inday Sara Duterte. So far, I can't really say I remember him fighting tooth and nail to push for Duterte's legislative agenda.
A friend in mainstream media who watches the going on at the House of Representatives quipped, "Paano ngani ipapaglaban ni utoy ang Presidente, eh laban pa lang sa caucus ng partido para sa House Speaker eh di na makausad. Di niya mapagkasundo bilang isang grupo at mapastol ang mga PDP congressmen, paano mo pa maasahan yang maging lider ng ibang congressman mula sa ibang partido? Pag hindi sumunod, isusumbong niya kay Inday?"
In sharp contrast to Velasco and Cayetano's bickering over dibs, Leyte congressman Martin Romualdez seems cool as a cucumber about the whole affair.
Rather than brandishing any claim to the House Speakership on the strength of Duterte or Mayor Sara's word, Romualdez has been quietly building alliances between his 11 man Lakas party and congressmen from other parties.
Even though Romualdez was not a member of the previous congress, he was support for President Duterte's legislative agenda was felt and known throughout the country.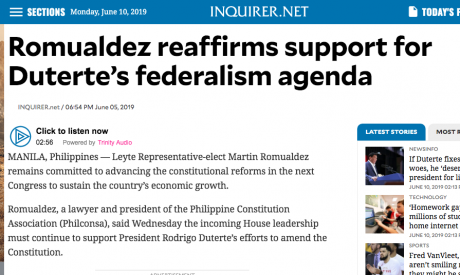 Just a few days ago, Romualdez affirmed his support for Duterte's federalism agenda and other constitutional reforms.
He said the push for Charter change (Cha-cha) should be in the list of priorities of national leaders as this would complement the Duterte administration's initiatives to accelerate economic growth.

"We will keep our dedication, commitment, passion and the flame burning in pursuing federalism until we reap the real benefits of genuine constitutional reforms for our children and the succeeding generations," said Romualdez, one of the frontrunners in the Speakership race.

"I urge my colleagues and the Filipino people to stand behind President Duterte and help push a federal Constitution to create opportunities and for strong economic growth to be also felt by ordinary people," said Romualdez, president of the Lakas-Christian Muslim Democrats (CMD).

"The federalism advocacy of President Duterte is a golden opportunity to unlock the doors of peace, progress, and prosperity of the country and the people," he added.
Surely, creating political alliances for a legitimate and much needed political reform agenda is GENUINE CHANGE in our country's politics compared to the loud and obnoxious SELF SEEKING that's going around.