Right off the bat, I don't expect too much bitterness in the rivalry for House Speakership should it be between just Congressman Lord Allan Jay Velasco and Congressman Martin Romualdez.
Compared to a Velasco vs. Cayetano or Romualdez vs. Cayetano race for House Speakership, we might see less of the underhanded political arm wringing some reports attributed to Cayetano.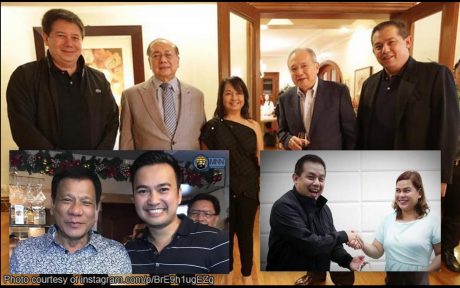 SUPPORT INDEPENDENT SOCIAL COMMENTARY!
Subscribe to our Substack community GRP Insider to receive by email our in-depth free weekly newsletter. Opt into a paid subscription and you'll get premium insider briefs and insights from us daily.
Subscribe to our Substack newsletter, GRP Insider!
Learn more
In one report, Cayetano said he would bolt from the administration should Mayor Inday Sara Duterte Carpio endorse anybody else for House Speakership.
In another story which probably did not make it to the news for a number of reasons, it was claimed that Cayetano warned a coalition of party list representatives that their members should "be VERY afraid" should they not support his bid for Speakership.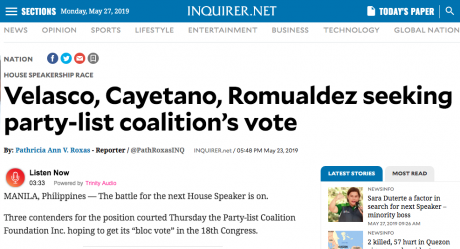 Not that I actually give any credence to such stories, but it makes me wonder how good old Alan Peter ever got a date or how he actually proposed to his wife, Congresswoman Lani.
(One funny story which I doubt is true is that Senator Pia was actually the one who wooed Lani for Alan Peter.)
Anyway, I tried to get a sense of how members of the partylist coalition were thinking about the speakership race beyond the statement made by its leaders.
One member said that one card that Alan Peter is playing is that he is anti-Marcos.
I'm not sure how anti-Marcos he is, really. Afterall, Alan Peter's dad former senator Rene "Companero" had close ties with the Marcoses when they were in power.
In a page of the Senate website it says, "After his 1984 election as an assemblyman to the Batasan Pambansa, he was appointed Deputy Minister for Trade and Industry Administrator of the Export Processing Zone Authority (now Philippine Export Zone Authority)."
Ah! If only one can choose to inherit all his father's virtues and none of his vices.
Anyway, going back to the possible rivalry between Velasco and Romualdez…
It would be great to size up the potential of the two as House Speaker by looking at the number of bills they authored and co-authored side by side, but it just isn't possible without comparing apples to oranges.
Romualdez ran for senator in 2016 after finishing three terms as the representative of the first district of Leyte.
Velasco on the other hand is finishing his third term as representative of the lone district of Marinduque where his father, former Justice Presbitero Velasco is now governor and his mother is Mayor of Torrijos. The Velascos have been feted for toppling and apparently replacing the decades old Reyes political dynasty that ruled the small island province.
If Romualdez had been a congressman at the same time Velasco was, then perhaps we could gauge both gentlemens' ability to muster support for legislation which they authored  and thereby somewhat of a studied guess on their ability to get other congressmen to back their bid for House Speakership.
Another way to gauge both congressmen's ability to muster number might be the look into all the bills they filed and note the ones made that would benefit provinces outside their own as well as bills that are national in scope.
As far as what I am aware without doing too much research, Romualdez is known for the Magna Carta for Disabled Persons which is by far the most comprehensive law which protects and promotes the interests of PWDs.
Recently, Romualdez vowed to look into the implementation of various exemptions for PWDs.
Most people might be mistaken in thinking that PWD concerns won't affect them, until they consider that a great number of people become PWDs after suffering strokes, diabetes, or cancer — three illnesses that affect millions of Filipinos.
Looking at the number of votes given to senatorial candidate Willie Ong and the victory of Anakalusugan partylist in the 2019 polls, I think public healthcare as well as PWD rights is emerging as an electoral as well as governance issue ranking as high as public order and criminality.
On the other hand, I've seen Velasco at the fore of electric power issues especially during the lead up to the elections and the summer months when frequent power outages occur. Which makes me wonder if the Velascos finally put a stop to the regular power outages suffered by Marinduquenos for decades, which began after Marcopper shutdown.
And now that I remembered, how's Marcopper now?