The recent issue over lowering the age of criminal responsibility got from Webmaster Benign0 his usual good form of an answer – be better parents. This goes with another intention by president Duterte himself, that he wants to make the parents responsible for their children's criminal actions. They say you shouldn't always blame the parents; but in the Philippine setting, parents are often remarkably amiss.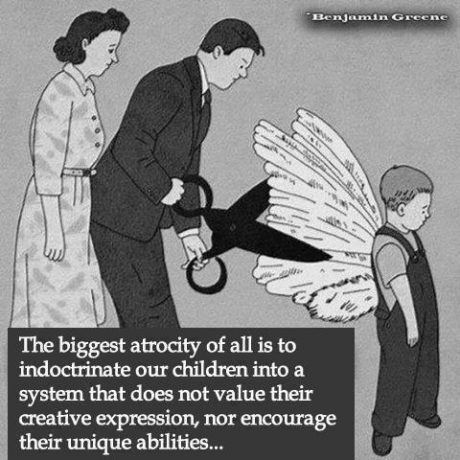 You may have heard of cases where the people who are too careless or irresponsible to be parents become such, while those who can better become parents, because they are careful and think before they act, tend to not. And then sometimes, the situation becomes one where the non-parent is likely the one giving advice to the parent about their children, or worse, the one providing for the children. It seems awkward, but this is a real situation in some families these days. Thus, the person who actually provides for and cares for the child has every right to be considered a real parent. The idea that "you can't be a good parent unless you have your own" becomes obsolete. Singles become as much an "authority" on parenting as parents themselves.
Moving on, I'll explain my idea of what a better parent is like (or more like what a better parent should avoid) in a way that's a sort of sequel to my earlier article about societal dysfunctions starting in the family.
1. Stop the culture of passing responsibility to others. The example of the single mother above could be one example of the "pakisuyo" or "pakiubaya" mentality, where the request is "please take care of my child for me." This continues to be one of the glorious examples of Filipino laziness.
There are women (even men) who chase after foreigners because they believe there's so much money abroad, and they hope to leach off their foreign mates. Pretty soon the rest of the family of the Filipino joins the leeching. The same happens to our overseas Filipino workers or OFWs. This is a vicious cancer in our society. Better parents don't leech off other people to provide for their children, but work to provide for needs themselves.
2. The tradition of parents expecting their children to provide for them when they are old should be reduced. Many Filipino parents know of the tradition of children sometimes providing for their parents when they get old, so they try to take advantage of this. They often abusively force their children to become ATMs and servants, even when the parents are not elderly yet. I've talked about this in a previous article, about why Filipinos have inferiority complex.
You might have heard of cases where parents had abandoned their children, but come back only to mooch on them. Some support this, saying that such parents still deserve to be supported. But others would say, that is rewarding wrong. It gives the idea that even if you're an irresponsible jerk, you have the right to live as one. Decent societies have a system of punishing irresponsible jerks to eliminate their wrong behavior.
It also seems to be another tradition that elderly parents are supposed to stop everything, including work and hobbies, and just "be old," and just sit in front of the TV all day. The children are expected to provide for this habit. But it is an unhealthy habit, based on a wrong expectation. Columnist James Lafferty himself contended (in the article "The best bosses never look at Birth Certificate") that elder people should still be allowed to work, and he condemned the ageist requirements of companies ("only people aged 21 to 25 may apply").
Elderly being allowed to work is not cruelty or disrespect. Let's learn from Japan where some elderly in trains do not like to be offered seats by younger people. They want to show that they can bear their own weight. While there are times when the opposite is done owing to courtesy towards elders, I still would call that the right kind of pride.
Of course, this is no excuse for another abuse: leaving one's children and letting the grandchildren support them. This is also irresponsibility. Any shirking of responsibility is to be avoided and only reveals harmful selfishness.
3. Parents often desire authoritarianism, but in practice, it tends be the worst policy ever. Parents when they were still young have been advised that having a family is not easy. But they scoff at it and act like families work "automatically." They assume problems solve themselves when left alone. Whatever they want will be followed, because they are the parents. They feel like kings and queens with their own little kingdom. But reality bites, such as their own mistakes harming their children (and Filipinos often don't like to admit mistakes, because they fear it makes them look stupid) or when their subjects "rebel," they can't accept it and may even take out their frustrations on their children.
Such parents do the same thing like Rhonda Byrne teaches in her The Secret scam: whatever you desire, just think it, reality will reshape itself and become true (how lucky Byrne was in getting such a stupid idea into a bestselling book). Some parents will believe their family already reads their minds and should obey without question. This is so detached from reality.
One myth I encountered in Larry Osborne's 10 Dumb Things Smart Christians Believe is "A Godly Home Guarantees Godly Kids." Yes, Osborne wrote that it's a myth. Many parents twist what "Godly" means, basing it on their authoritarian desires. They believe they should dictate everything their kids do so they will become "godly." So they try to dictate what job they will take, who their mate will be, how many children they will have, what hobby they should be and other things. It can destroy children's lives because they are left no space to use what they were given and supposed to use so they can become "godly" – free will. Parents should realize how damaging controlling other people is.
Another mistake parents do is antagonize their children. For example, modifying my example from another article, let's say a child displays a talent for painting. However the parent wants him to be a lawyer. The parent seeks to antagonize the child and beat him or shout at him if he as much as holds a paintbrush. He forces the child to be a lawyer. The parent might even boast that he can control his child in such a manner, saying, "magaling ako!" because they make controlling another person a source of their pride. Later, the child becomes a lawyer and keeps on losing cases. The parent might beats the son up for being a good-for-nothing disappointment. But the son, later on realizing he can take control of his own life, leaves law and his father, and becomes an artist, much to his parent's misguided chagrin.
As I wrote before, pride in something does not necessarily mean love for it. In fact, it is simply arrogance and narcissism. Many people try to control other people to make these people give them pride; but it is nothing but being a slave-driver. This shows how incompatible pride and love are.
4. Parents should stop seeing their children as an extension of themselves. They must stop seeing their children as tools to get what they want and serve their own vainglory. For example, some parents, perhaps because they love living vicariously, want to use their children to make up for their frustrations in life. In one case, the mother regrets not having married a rich man. So she urges her daughter to marry a rich man to fulfill her own dream, to the point of dictating who she will marry. That might also serve as a step to secure a human ATM.
Of course, another thing is the rat race. Filipinos seem to have this seething inside desire for dominance. Some parents fail to become the "kings/queens" of their own social ladder in their own lives, so they will want their children to take up their social climbing dreams for them. Never mind if the children will have their own dreams; the children should serve their parents' dreams first! But this is wrong; making tools out of children dehumanizes them.
One problem with having "absolute authority" is that it will always be abused. So it's better even for parents to not to have it at all. When parents have authority, it's because they earn it, not because they demand it. Just like respect.
Parents should also accept that children are independent beings. One day, they will become adults and make decisions on their own. Children are not made for the perpetuation of the parents' plans, unless the children themselves consent to it.
A church pastor once told me that the Bible passage, "a man must leave his father and mother to be joined to his wife" has a sense of discontinuity of the parents' influence. This was written during a time when family traditions are expected to be strictly passed down from parents to the wedded couple. Basically, traditions are forced down their throat. The Bible passage was actually revolutionary in saying the newly married couple have the right to separate and follow their own way. When the married couple have their own family, the older parents are expected to avoid interfering. The new parents are expected to be responsible for their children and not the grandparents. Now this seems normal these days, but there was a time when it was seen as disobedience and would be severely punished (probably still is in some parts of the world). We are lucky to be living in a modern society in this time and place.
5. Families should stop making roles inflexible. For example, if one sibling becomes the techie person, he is expected to fix all the computers of the family. Never mind that some computers units are user-friendly and easy to adjust nowadays, or they could get someone else to do the fixing. The designated family member still should handle the computers, no one else. Letting the rest of the family go DIY (Do It Yourself) is seen as an insult. That is also applied to breadwinners; one is the breadwinner, so they should be the breadwinner forever. Some don't want to turn breadlosers into breadwinners. This is a corruption of the family structure and deserves to be disrupted.
Another case, as a comment in another article on this blog mentioned, the "less successful" sibling usually doesn't have a job or is underemployed. They're expected to be the buyer of patis at the sari-sari store, cleaner of the house, general "utusan" in case they have no house helper. Such inflexibility of roles deprives people of the freedom to run their own lives.
Sometimes, family traditions have to go, especially when they get in the way of the well-being and independence of its members. Traditions should not be law; they should be activities that allow family members to bond to to each other and learn respect and responsibility. Families should also encourage independent thinking to help in better understanding the concept of responsibility and equip the members for dealing with the world.
6. There are many things that threaten children today on technology, such as Internet predators. Parents are often advised to teach their children about the dangers of such things. But when parents sit down to do this, they sometimes don't know what to do because they don't use the Internet or know what the child does online. Sometimes, the parents just scoff it off and say, "we never had that when we were young," and consider anything new as the work of the devil. This is the blinder that keeps parents from being able to relate to their children. Parents should then educate themselves on the latest technology and ideas, so when they sit down to talk with their children, they will know what they are talking about. They have to be steps ahead of the issues that may affect their children.
And why do children go out to meet sexual predators? Maybe parents have slipped out something like, "you should go out and meet people instead of locking yourself to your computer all the time," and this may have been said aside scolds and shouts on other topics such as "you're good for nothing because you don't bring me what I want." So the predator can market themselves as, "someone who won't shout at you like your parents do." The child will go out and meet them. The environment that the parents make for their children is a factor.
7. This is one thing Filipino families really need to do: Stop being a fair-weather family only. It's like being a fair-weather friend. They only want to exist for the good times, but during bad times, they'd rather hide.
Filipino families probably tend to model themselves of the haciendero families of the "elite." They believe these are the examples they have to follow. It's time for them to wake up. The hacienderos and hacienderas are the worst examples to look at these days.
Like the hacienderos, families see themselves as competing with other families in "ruling" societies. Perhaps in the baby boomer days, the parents thought they could ascend to become hacienderos with servants of their own and have the same luxuries. Perhaps that is a source of (unnecessary) sadness for some people from this generation since after the Spanish Era, since they are disappointed that they can't be "lords." This would lead to bitterness and anger within the family. They have to accept that the days of haciendero-style richness are over (and should be).
8. Filipino families should teach the value of self-sufficiency more. As some might spot from this article, a common theme is mooching and irresponsibility. Sense of entitlement is still a major cause of family problems. As long as there is a way to avoid work and dump one's load others, Filipinos tend to do it. This is something that is passed in families, whether by example or by teaching.
Self-sufficiency is a mark of more prosperous societies. They do the work and accept that this is part of life. They accept their responsibilities and don't burden others. That is something that should start in the family.
Many Filipino families seem to have one person do all the work and feed the rest. This, instead of having everyone work and pitch in their share. The pattern of family dependence encourages irresponsibility. Families who value independence and the value of "you do not deserve what you did not work for" do better and become relatively less problematic.
Family and Culture
It's been so often said that the dysfunctions of society start first and foremost in the family. My Ateneo sociology teacher said the most violent institution in society during peacetime is the family. This violence is what extends into all other areas, such as crime (crime families), politics (political dynasties) and economics (OFWs, dependence and freeloaders). So solutions should start in the family. It is part of the bottom-up approach that Get Real Philippines espouses, because the family is part of culture, and culture is where the problems of society come from.
And the things I have said here will likely make some people aghast, or comment that I am cruel for letting off children not willing (or able) to support elderly parents. Well, some steps that seem cruel at times might actually be just. Besides, there are a lot of elderly benefits made available these days; I'm for expanding and making good use of them. That instead of this dumb proposal to allow parents to sue children who refuse to provide for them. I am not against it when parents are the ones being chased after because, simply, parents have the advantage. When they bear a child, it's not the child who has to change diapers or give their parents milk. It is not something to demand gratitude for, parents should do it, so they can't say "you owe your existence to ma and pa" (to which a good answer may be, the children never asked to be born). It is also their duty to teach their children the right things as they grow up, so being a parent is rightfully a thankless job. Accepting that it is will lead to a better attitude towards parenting.
I believe, as my cohorts here do, that what Filipinos embrace as their culture is what actually pulls the country down. And those who seem to be anti-dictators, who may also believe themselves to be "heroes," are the real dictators.