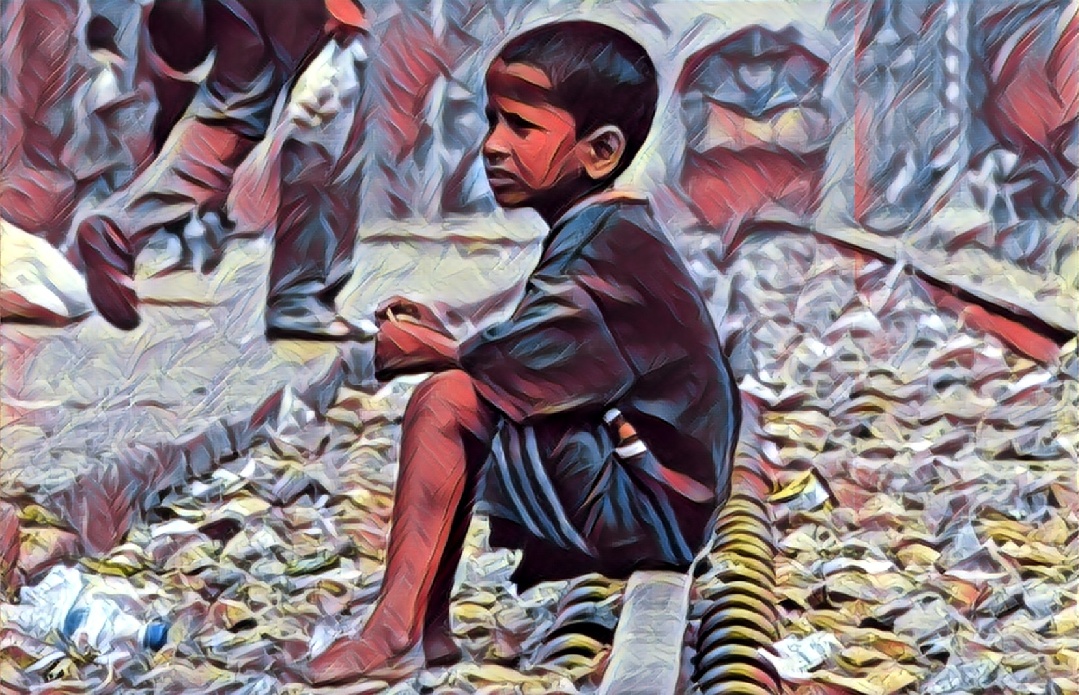 Perhaps the idea of "chidlhood" is something we in chi chi circles take for granted. But if we step back far enough and regard the bigger swathe of Philippine society or, for that matter, the societies of most Third World countries in general, we begin to see a picture that challenges our long-held and cherished notions of "childhood".
Actually, scratch that for a moment and dive back into our daily individual existence. Every day and night on the the drive to and from work in chi chi Makati (say), right there with just our car windows separating our comfy airconditioned cocoon and the rest of the country is enough information to fuel a real think of the notion of Filipino "childhood". At virtually every street corner are Filipino children scraping together whatever they could to contribute to their wretched households. These are "children" — Filipino children — that vastly outnumber the children who populate snowflake Filipinos' fantasies of "childhood" ingrained in them by Sesame Street.
But even more important is how the average airconditioned Honda Civic driver and passenger regard them. They are regarded with indifference. Even without any new law that criminalises them, they are effectively already imprisoned not just by their unfortunate circumstances but by the banal indifference of the very Filipinos who now issue shrill cries about new legislation that reduces criminal liability to the age of nine. This indifference is, in principle, a general nod issued by the Filipino public to the effective adulthood of these kids.
It is, indeed, laughable the way Filipinos' "activists" and "thought leaders" now argue against proposals to treat these kids as adults by pointing out how "plunderers" and other crooks who are, by law, "adults" populate the halls of Congress and government executive offices. They fail to realise that these are regarded in much the same way as the average airconditioned commuter regards street kids — with indifference. Filipinos are audience to blatant thievery and fraud splashed on their newspapers and flashed in living colour on their screens everyday. Yet, in much the same way as they give a token couple of knocks on their car windows to dismiss the nine-year-old beggar, they simply issue a brief chuckle then turn the page or change the channel to Pinoy Big Brother or Eat Bulaga after their daily dose of news about their crooked politicians.
Thing is, Filipino "activists" apply a selective lens to both "childhood" and politics. On one hand, shills would be shrieking about the monstrosity of a bill lowering the age of criminality to nine then, on the other, would casually refocus on their iPhones after according a short glance to street kids selling cigarettes on the other side of their car window. This is not much different from a rabid communist raging about "evil" oligarchs and capitalists in their trite street rallies then, in another life, taking part in a selfie in the company of henchmen of the very same oligarchs gracing the year's chi-chi-est wedding.
The common denominator in the credibility-killing conduct of these so-called "activists" is the company they publicly keep. It is difficult to remain consistent to a principle, cause, or advocacy when personal loyalties get in the way.
So back to the original call to action — step back and take stock of the bigger scheme of things, and we will find that the notion of "childhood" as defined by the liberal affluent West is not one that is generally-accepted by the bigger cross-section of humanity. All over the world there are childs-soldiers, child-brides, and child-labourers who go about their daily business — often side-by-side with their mothers, fathers and siblings. Our definition of "normal" is one we are using to push the tide in a society — Philippine society — that, in actual fact, mirrors the planetary normal and not the "normal" fed to us by the Children's Television Workshop.
If we truly want to be a society where kids can be children, we need to understand where we as parents and as "activists" fail to be consistent with what are, essentially, colonial ethical principles. Indeed, that such a bill that lowers criminal liability to the age of nine was crafted and had progressed within a body of popularly-elected representatives of the Filipino people says something about the tide being pushed, so to speak, by the small but noisy cliques of chi chi "activists". There is a bigger reality out there that these "advocates" need to come to terms with. Perhaps it is only when they do really come to terms with this reality that the quality and intelligence of their activism becomes more resonant and relevant to the broader Filipino public.
benign0 is the Webmaster of GetRealPhilippines.com.