So, yesterday and the day before that, my young friends on Facebook were all agog over Senator Panfilo "Ping" Lacson's supposedly explosive revelation on House Representatives from Pampanga and Camarines Sur carving out a P2 billion or P3 billion chunk of the 2019 national budget as their "pork barrel fund".
Lacson announced his oncoming expose in the way some gay showbiz commentators would entice people to listen their most recently concocted rumors.
Not that Lacson suddenly launched into a flaming, flamboyant pirouette during a press conference or a session at the Senate Plenary. But he certainly piled on copious amounts of insinuations and intrigue on what amounts to a procedural lapse in the passage of the 2019 General Appropriations Act.
SUPPORT INDEPENDENT SOCIAL COMMENTARY!
Subscribe to our Substack community GRP Insider to receive by email our in-depth free weekly newsletter. Opt into a paid subscription and you'll get premium insider briefs and insights from us daily.
Subscribe to our Substack newsletter, GRP Insider!
Learn more
Thing is, although Lacson fashions himself to be the scourge of pork barrel allocations, he seemed to struggle during his exposition and, at least to me, failed to show that there was anything illegal or unethical. Then again, maybe his point during the plenary interpellation with Senator Loren Legarda was so subtle and esoteric that it had escaped me.
Honestly, all I got out of it was that he was allusion to members of the House of Representatives as having inserted P2 billion to P3 billion worth of projects for their districts.
I really don't know whether budget insertions can be classified as a corrupt act or deemed unconstitutional, but I don't think there is something wrong with a congressman or congresswoman seeking to fund more projects in their district to benefit their constituents.
Although we all know that congressmen are meant to legislate and keep the executive branch in check, their constituents expect them to bring projects and provide various types of aide as if they were governors or mayors.
This is a reality that Lacson fails to recognize, as senators like himself, do not have a constituency or people in a district to be accountable to.
I had expected Lacson to come up with specific examples of budget insertions that common people such as myself would immediately recognize as obviously corrupt.
But what I have seen so far was a far, far cry from the Lacson exposes that shook the country.
Neither did Lacson dare to name the district representatives or congressmen/women who he accuses of inserting pork barrel items in the budget.
Alluding to people instead of directly naming them looks unbecoming of a man of his age and stature. Besides, making parinig is dated Mean Girls tactic.
Anyway, by saying those who inserted items in the budget were district representatives from Pampanga and Camarines Sur, some took it to mean that he was referring to House Speaker Gloria Macapagal Arroyo and Congressman Rolando Andaya.
Of course, I can understand the political grudge that Lacson may still have against Speaker Gloria Macapagal Arroyo, but what would he have against House Majority Leader Rolando Andaya?
Hmmmmm…. I wonder.
Could the Villafuertes have something to do with Lacson's supot (fizzled out) expose?
Unlike Lacson and his buddies in the picture above, Andaya faced the insinuations head on and answered the issues squarely.
The House majority leader denied having billions of pesos in insertions in the 2019 national budget and likewise denied involvement in amending the budget submitted by the Department of Budget and Management.
Andaya pointed out that he instructed the House Appropriations Committee not to tamper with any amendments and if ever it should be done, it should be with the consultation of the Senate at the bicameral level.
As for the flood control projects in Pampanga, if I am not mistaken, Lacson questioned the need to keep on spending for flood control and I just had to laugh at how clueless he is about the situation in Pampanga as well as Bulacan.
Andaya clarified that the budget item Lacson was questioning and attributing erroneously as benefitting ONLY House Speaker Arroyo's district, is actually intended to benefit the entire province of Pampanga as well as Bulacan.
Moreover, according to Andaya, House Speaker Arroyo's district ranks 100th place as far as the amount of allocations are concerned.
"Diretsuhin na po natin, I think the persons being referred to are the Speaker and myself na lumalabas na napakalaki ng allocation na binigay sa distrito. Just to clarify ang allocation ng ating Speaker, she's actually ranked 100. Around 99 congressmen ang mas malaki po ang allocation sa kanilang distrito."
Andaya's district, on the other hand, is in the 186th place.
He noted that one congressman was allocated P8 billion and that several senators had allotments bigger than P8 Billion.
Regarding the alleged P 16 Billion given to local government units without consulting the DBM, Andaya clarified that at this point when the budget is already in Congress, the DBM need not be consulted since it is only Congress that has the power to determine if the allocations are in accordance with the guidelines set by the DBM.
In anycase, as far as anomalous items in the budget are concerned, Andaya vowed to help the senate uncover anomalous items in the proposed national budget.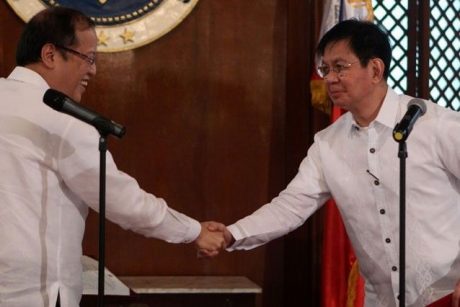 In ending, this short blog post, I'd like to remind everyone that for all the thunder and lightning Lacson unleashed as a self proclaimed anti-corruption warrior during the Napoles pork barrel scam investigations in the senate, he failed to get former DBM Secretary Butch Abad to answer for masterminding the PDAF scam.
To which, all I can say is: "There's another word that rhymes with PDAF and it starts with the letter B."