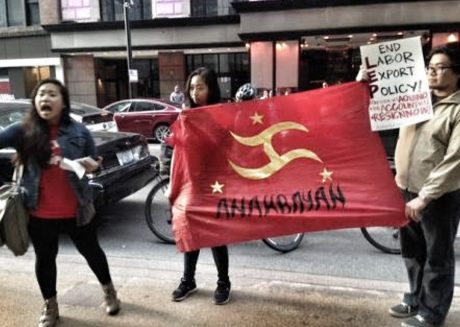 So-called "activists" decry the "stagnation" and even the regression of Philippine democracy to states supposedly not seen since the "Martial Law Years". What they conveniently leave out of this tiresome scare narrative is that they embrace, as part of their "Laban", the Cold War Era sloganeering of that other scourge of the 20th Century — communism.
What seems to fly above the pointed heads of these shrill professional rallyists is that communism is an obsolete relic of an ideology that failed under the weight of its own totalitarian ideals. Its command-and-control approach to governance and economic management runs counter to any notion of that "freedom" that peppers the rhetoric of the Philippine Opposition today.
Why then does the Opposition led by the Liberal Party (a.k.a. the Yellowtards) continue to sleep with the communists? Simple. Because they share a common goal to overthrow any incumbent Philippine government through dishonest means. In the case of the communists, it is that all-too-familiar method of violent revolution that aims to install a "dictatorship of the proletariat". In the case of the Yellowtards it is to mount a "people power revolution" to beat the incumbent leadership in a screeching match.
One uses guns and young expendable blood and the other uses romantic narratives channeled through oligarch-owned Big Corporate Media. Both are after the same office in that palace by the river.
Filipinos need to challenge the Opposition with the really hard questions — like what it is they really stand for. If it is freedom and democracy, why do they count amongst their ranks a group with a long track record of running horrific dictatorships and maintaining a terrorist arm to effect their mission? If they are after a cause to "fight" for, why do they fly the colour long associated with cowardice? If they are out to exact reparations for the "victims" of the "Martial Law Years", why haven't they in the last 30 years thrown in prison its surviving top lieutenants?
In just these handful of questions, Filipinos can force their "Opposition" leaders to cough up answers that will reveal what they are really up to. Even better, their lack of answers may reveal even more interesting things about them.
The Filipino owes it to herself to step up and regard her politics with an intelligent and critical mind. The reason idiocy has ruled for so long is because Filipinos have allowed it to. It takes only a bit of work on the part of ordinary Filipinos to take back the narrative, make it their own, and be accountable for what they get out of their politics.
It's time to be a real democracy. Not the pretend democracy the Yellowtards shaped to their insidious ends and not the non-democracy Filipino communists are sneakily trying to build from the rotten core of their so-called "revolution".
benign0 is the Webmaster of GetRealPhilippines.com.