What sets apart Raissa Robles and other yellow journos from the rest of the paid hacks that litter mainstream news media is that paid hacks can blame their patrons for whatever stupidity they publish. Raissa and her ilk only have themselves to blame for the mindless, delusional, and paranoid rants that they flood social media with.
In her latest post, Raissa accuses House Speaker Gloria Macapagal Arroyo of "crudely and secretly ramming through a legal bid to stay in power forever".
Journalist friends who cover the House of Representatives and professional political analysts who understand the country's legislative process, even those who sympathize with the Aquinos, noted that they gagged upon reading the title of Raissa's post.
"Yan ba ang tipong binibigyan ng International Award for Excellence in Journalism 2016  ng Center for Media Freedom and Responsibility? Yang mga ganyang EPAL awards ang sumisira sa industriya natin bok. Naiisip tuloy ng mga papasok sa news media na dapat tularan ang mga bugok na tulad ni Raissa," said one of my old journalist friends who is a big fan of Cory Aquino.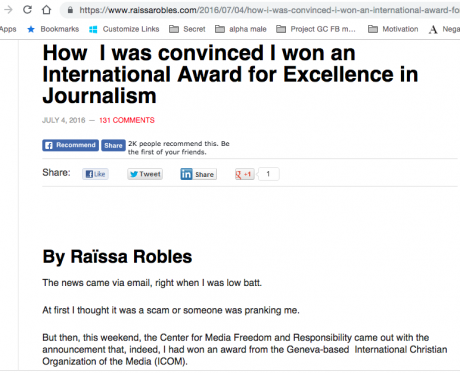 I can understand the revulsion my friend feels towards Raissa's writing because I once had the unpleasant job of editing the puerile copy of newbie reporters.
Horrible copy feels like nails on a chalkboard and  Raissa's latest post feels like a metal bucket being dragged across asphalt.
Before you say that I am being excessively mean, let me give you some of the reasons why her writing  can make most editors want to dump napalm on her and the laptop she used to write her piece.
Crudely.
Raissa claims Speaker  Macapagal Arroyo acted crudely to pass "a legal bid to stay in power forever".
One proper definition of the word crude is that it is an object or act "marked by the primitive, gross, or elemental or by uncultivated simplicity or vulgarity".
The only crude thing here is Raissa's use of "legal bid" to improperly refer to committee report number 881 regarding Resolution of Both Houses Number 15.
As such, nowhere in Raissa's writing on the matter points out specifically what was crude about the Committee on Constitutional Amendments act of recommending adoption without amendments.
Was a step in parliamentary procedure skipped? Were the motions not in order? Does the report contain any infirmity? Raissa cites nothing to support her claim of crudeness in the submission of the committee report.
Secretly.
Being very familiar with the behavior of reporters covering the House of Representatives  and the Philippine Senate, I know for a fact that most of them DO NOT sit through the  committee hearings or afternoon plenary sessions unless they're expecting something controversial to happen.
Raissa Robles' claim that "RG Cruz only found out about it AFTER the House Committee on Constitutional Amendments approved it WITHOUT AMENDMENTS" only calls attention to the fact that he was probably "sleeping in the noodle house" or attending to things other than manning his beat.
House of Representative and committee records that public consultations were in fact held and it went through several committee hearings. Moreover, it was posted on the House of Representatives website all this time.
But Raissa writes, "I tried looking for Arroyo's House Resolution on the Congress website and I could not find it."
What Raissa's claim of the committee report not being on the House of Representatives' website exposes Raissa's unforgivable inability to conduct a correct search on the House of Representative Website and her non-existent skills as an investigative reporter.
Moreover,  it may indicate that  to ABS-CBN News Reporter RG Cruz, things don't happen or exist if he isn't aware of it.
As for the committee not making any amendments to Resolution of Both Houses Number 15, Raissa makes no argument that would prove the need for an amendment.
Even more, it is not true that after hurdling the House of Representatives it is a done deal. It still needs a Senate counterpart version because Speaker Macapagal Arroyo is pushing for both houses of congress to  vote separately.  This means it will still pass through bicameral proceedings.
Bid to Stay in Power Forever.
As a rule in news writing, it is best to avoid humor and hyperboles. Since Raissa is not known for her humor, I guess her use of a hyperbole would appear hysterical because no one lives forever.
If Raissa means that Speaker Macapagal Arroyo has created a means to perpetuate herself in power in the passage of Resolution of Both Houses Number 15, she should review the resolution because it specifically provides that implementation is in June 2022.
This means there will be no changes in 2019 and Speaker Macapagal Arroyo is not eligible to run.
Resolution of Both Houses Number 15 Is Not Speaker Macapagal Arroyo's Alone
Raissa writes,  Speaker Macapagal Arroyo "has authored a House Resolution to scrap the 1987 Constitution and replace it with her own version of a federal government."
If she had only bothered to read the copy below the title, she would have encountered the list of representatives who introduced the resolution:
Introduced by Representatives Gloria Macapagal Arroyo, Vicente SE Veloso, Rolando Andaya Jr, Fredenil H. Castro, Arthur C. Yap, Rodante D. Marcoleta, Corazon T. Nunez Malanyon, Alfredo Albee Benitez, Tricia Nicole Q Velasco Catera, Deogracias DVD Savellano, Lianda B. Bolilia, Aurelio Gonzales, Eugene Michael De Vera, Romeo M. Acop, Micaela S. Violago, Wilter Wee Palma II, Ron P Salo, Antony M. Bravo, Makmod Mending Jr., Arnolfo A Teves, Celso L Lobregat, Bernadette Herrera Dy.
Removal of Term Limits, State Formulation Mechanism
It was not Speaker Macapagal Arroyo who introduced the removal of term limits but some other groups.
What she introduced was a mechanism for the creation of federal states, which is an EXCELLENT move because, otherwise, ratifying a new constitution which simply creates states out of existing regions may pose problems later. It anticipates a situation wherein certain state compositions may not be viable and avoids the situation of having to amend the constitution again for the purpose of re-organizing one or a number of states.
Raissa's Objectionable Provisions
Raissa objects to requiring "a college degree for everyone who wants to run for Congress and for the post of President and Vice-President".
Going against this provision is not only backward but hopelessly retarded.
While a college education is no assurance that an elected official will perform well in his or her position, it will certainly weed out people whose educational attainment just barely exceeds the high school equivalency test.
Would Raissa prefer that our country be run by popular nincompoops? Oh yeah…