Yellows worship Cory's 1987 Constitution as if it were the stone tablets on which God himself wrote his ten commandments. So much so that any person proposing any change in the 1987 constitution is automatically demonized and accused of wanting to establish another "tyrannical regime".
Thus, when Raissa Robles falsely claimed that House Speaker Gloria Macapagal Arroyo removed the provision for term limits in the new proposed constitution in order to perpetuate herself in power, I just had to write a post yesterday to expose this yellow "journalist's" lack of ethics.
Today, friends at the House of Representatives sent me the transcript of a press briefing held by House Committee Chair on Constitutional Amendments, Leyte 3rd District Representative Vicente "Ching" Veloso and House Committee on Constitutional Amendments  Member for the Majority, Negros Occidental 3rd District Representative Alfredo "Albee" Benitez.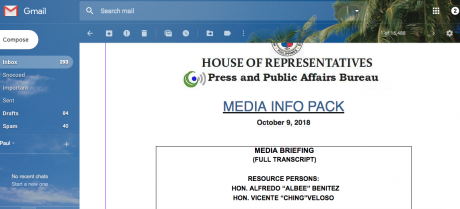 In the eight page transcript, the two lawmakers explained in great detail how the "no term limit" provision came about.
Q: Sir, balikan lang natin yung dun sa proposal na i-exclude si Vice-President from the line of succession sa transitory provision. Bakit nga po naging ganun ang desisyon po ninyo?

Veloso: Okay. First, in hindsight, let it be understood that the Committee has been working on a proposed revised Constitution for about two years now.

And we started with the PDP-Laban draft. And then we had the Cong. Gonzales-Cong. De Vera draft. And then we had later Constitutional Committee draft headed by Chief Justice Puno.

So it is unfair for anybody to claim that this is designed to address the political concerns of Speaker Arroyo. This is not an Arroyo draft. Speaker GMA, has been with us as Speaker only for about a little over two months. (Inaudible) we had Speaker Bebot Alvarez who was pushing for this Federalism thing. Speaker Arroyo, then congresswoman, was a mere participant in our committee hearings.


—

Q: Why remove the provision on anti-political dynasty…

Veloso: As early as the first committee meeting we had, I proposed the removal (inaudible) of term limits and I heard then, sinabi ni CJ Puno na pag walang term limit at walang anti-dynasty provision, he will be campaigning against its ratification.

Three weeks ago nagkita kami ni CJ Puno and he explains to me, sir (inaudible) in 1935 Constitution, duon walang term limit. Dahil wala tayong term limits doon lumabas ang magagaling na mga legislators, Diokno, Recto, Tolentino, Manglapuz, Sumulong, Padilla, ang gagaling nila dahil walang term limit.

E kung may term limit tayo katulad ng senador ngayon hanggang dalawang terms lang sila siguro sisikat ngayon, babasahin natin sa history books, ang magagaling na legislators na lang will be Mrs. Tolentino, Mrs. Diokno, iyong mga asawa because with term limit magkakaroon ka ng dynasty. Ipapasa mo doon sa puwedeng magpatuloy sa trabaho mo.

Itong anti-dynasty provision anak lang po ito ng term limit.

So because we are deleting term limit there is no need for us to come up with an anti-dynasty provisions.

Second, we have in our 1987 constitution an anti-dynasty provision subject of course (inaudible) particular stature. Thirty-one years na po tayo wala pang pumasa sa Congress na (inaudible) implementing that anti-dynasty provision. What failed in 1987 constitution would be a failure in our proposed 2018 Constitution. Bakit pa namin ipapasok iyan.

—

Veloso: Another point, uunahan ko na, because we have been unfair to the Speaker. Ang contribution lang po ni Speaker Arroyo is Article 12, local government and federal states, yun lang po.

This proposed draft has been worked upon by the members of the Committee then chaired by Congressman Roger Mercado. I became chairman only 2 months? Basta, I've been working with Chairman Mercado all these months umikot na po kami sa Pilipinas last year trying to get the pulse of the citizenry.

Ano ba talaga ang gusto ng mga tao para mailagay namin sa proposed constitution? This is a revision structurally designed to fit the needs of the people, to address the needs of the people.
Robles, the Center for Media Freedom and Responsibility 2016 Awardee for Journalistic Excellence, got it completely and utterly wrong.
The "no term limit" provision was clearly hatched loooooong before Macapagal Arroyo stepped up as House Speaker.