Over the past few days I've seen people on my Facebook newsfeed spreading the disinformation that the Presidential Communications Operations Office (PCOO) has a budget of P1.3 billion and in their demonstrably ignorant view, they say that the government agency was barely making any noticeable headway in communicating the gains of the Duterte administration.
The issue being made over the PCOO's P1.3 billion budget is an old one and thrives on the ignorance of people who couldn't be bothered to Google "PCOO budget for 2017".
And it dismayed me that even a former senior government official, whom I expected to understand documents such as the General Appropriations Act, had shared a news report on Facebook saying that the PCOO's budget had ballooned by 700 percent from 2016 to 2017.
First of all, when we talk about the PCOO we should be talking about just the PCOO proper and not the PCOO together with the government agencies attached to the department.
Why? Because a government agency attached to a department is a separate and distinct organization. According to Book IV, Chapter 7 of the Administrative Code of 1987, attachment of an agency " (3) (a) refers to the lateral relationship between the Department or its equivalent and the attached agency or corporation for purposes of policy and program coordination."
This means that PCOO proper as a department does not have possession of or direct control over the agencies attached to it.
This characteristic of the PCOO proper and agencies attached to it can be clearly recognized in how they are listed in the General Appropriations Act (GAA) or what laymen may refer to as the national budget. How? The budgets of these agencies are listed as SEPARATE ITEMS.
A document from the Department of Budget and Management website clearly shows this.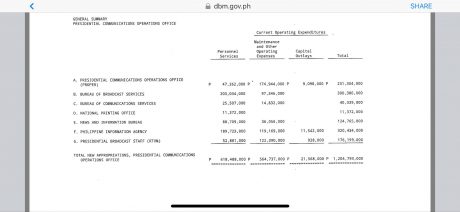 According to this document, PCOO proper's budget for 2017 is P231,304,000.
The budgets of the agencies attached to PCOO proper were as follows:
Bureau of Broadcast Services, P300,380,000
Bureau of Communications Services, 40,339,000
National Printing Office, P11,372,000
News and Information Bureau, P124,765,000
Philippine Information Agency, P320,434,000
Presidential Broadcast Staff, P176,199,000
However, the report claiming a PCOO budget of P1.3 billion was based on AN INCORRECT READING of the summation of all the items listed under the heading of "TOTAL NEW APPROPRIATIONS, PRESIDENTIAL COMMUNICATION OPERATIONS OFFICE".
In one of his broadcasts on Radyo Pilipinas 1, PCOO Secretary Martin Andanar answered his critics saying that it would be foolish to expect government communications to surpass the presence of mainstream media organizations such as ABS-CBN and GMA7.
"Ganito ka simple ano, coming from the private sector, nanggaling ako sa tv5, at ito yung up and coming before, ito yung third largest network… ang binabangga mo dyan eh GMA7 at ABSCBN.
"Very established na yung dalawa na yan, kung tutuusin mo, napakalaki ng budget ng tv5 nuon. Pero hindi sya makalapit sa number 2. What more na nasa government communications ka na hindi kasing laki yung budget mo sa kalaban mo na abscbn o gma.
"Sinasabi na 1.3 bilyon ang budget ng PCOO, excuse me. Marami pong ahensya ang PCOO, may pcoo na 230 milyon ang budget… mayroon pang radyo pilipinas, mayroon pang ptv, mayroon kang news and information bureau… meron kang PIA, meron kang IBC, meron kang national printing office, mayroon kang apo production unit… napaka dami.
"Kung iisa isahin natin ito, pwede kayong pumunta sa opisina kung kayo nagcri criticize, ilalatag ko sa inyo ang financials.
"For the last 30 years, anong pagbabago ang nakita niyo sa infrastructure ng communications dito sa ating gobyerno? Wala!
"Ngayon lang nangyari. Nuong nagtake over ang duterte administration, lumakas ng husto ang presensya ng government communications. Makikita ito sa pagdami ng mga nakikinig at nanunuod ng radyo at tv ng gobyerno, pati na sa social media. Ang followers ng facebook page ng PTV ay wala pang 30,000. Ngayon, 1.5 million. Nung pumasok po ang PCOO, yung followers ng Presidential Communications Facebook page, tatlong libo… ngayon, 1.4 million.
"Itong radio station na pinapanuod niyo ngayon, itong pinapakinggan ninyo ngayon… Wala ito sa rating noon, ngayon number 1 ngayon sa radio affiliation rating sa Mega Manila. We are doing our best with the budget that we have. Ngayon if you will expect, government media kung sino ka mang hayup ka na nagsasabi niyan, if you expect government media to be ABS-CBN right away right now… eh magre resign ako ngayon din, palit tayo kung kaya mong talunin ang ABS-CBN o GMA7."