I know, my colleague Ilda had an article why she believes in sports as a good thing to get into. Sports has exercise and helps develop competitive spirit, desire to grow and grit. I agree with that. Some even say, better to be into sports (at least it's a hobby) rather than getting into drugs. True, and there are benefits to it.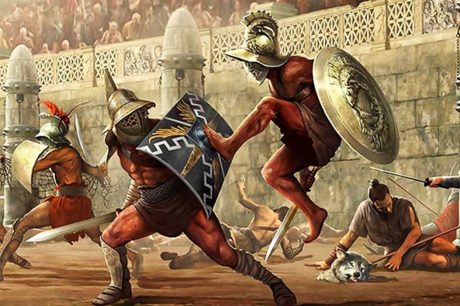 But about sports helping unite us, I doubt. Sports has actually been very divisive, especially when you consider sports team rivalries. One part of the problem is that Filipinos are not into sports per se. They are into spectator sports. They're the ones watching, not the one playing. Of course, this happens in the U.S. and other countries, too. But does this really benefit us? In addition, we Filipinos still have this unhealthy fixation on a single sport, basketball.
One of the signs the Roman Empire was in decline was its preoccupation with gladiatorial combat to keep the populace busy. That's the same function spectator sports serve today. In my view, we can have all these sports and games without needing any large media displays of them. But they serve the purpose of keeping people distracted and placated. Just as the gladiatorial combats had its celebrities (such as Spartacus), we have "sports heroes." They are touted as inspirations for people to get into sports or healthier habits. But do they actually do that?
Not only that. Spectator sports still has a mendicancy mentality to it. For me, I never understood identifying with a team. The team wins, you as a fan are happy. When it loses, you are depressed. I never quite caught on to that. I relate it to mendicancy, because you depend on others for how good or bad you feel. Perhaps people will tell me I am an unfeeling asshole for not identifying with others this way. But I did say that emotional investment on others can be unnecessary. We don't need to feel bad or good just because others do. It is not really "charity," commiseration or camaraderie to identify with a sports team – it is just admiration of a celebrity, which is never genuine caring for another.
There are other things, which Gogs talked about, such as low standards both in media and in our expectations. But perhaps another argument is that sports is associated with increased violence in youth – perhaps because of the competitive spirit becoming so aggressive, the aggression spills over into other parts of life (as well as hooliganism, and in the recent Gilas-Boomers brawl, which also served as gladiatorial entertainment). That can be a serious downside, so perhaps people need to study this more and see how they could tweak sports to reduce aggressive mentalities. And sports rivalries often stupidly spill over into something bigger. Think of the infamous Soccer War between El Salvador and Honduras in 1969.
Of course, I don't say people should stop sports initiatives. But I believe sports is not being handled the way it should. Many sportspeople and supporters believe you need the big media displays like NFL, NBA and all that to get people into sports. But is that really true? Has anybody done a study on it?
I'd say spectator sports isn't really a good tool for drawing people into getting into sports itself. Because, in the end, the companies paying for it are all about the marketing mileage. They don't care that much about whether people get into sports are healthy in the end. They likely even don't care about whether someones achieves their dreams of being the next Michael Jordan or anything. They just want their people to buy the products they advertise during the event. Or they may even favor events like brawls because these can increase ratings.
Oh wait, I was wrong about their not caring about whether someone become the next Michael Jordan. They do, because such people become their next cash cows. Like how record companies pick from the contestants (not necessarily winners) of American Idol.
I will admit that I am personally biased against sports, since I believe people can get exercise without a competitive setup. For example, mountain trail biking without a race, or just going hiking. It's just that I believe people should develop their own interest in sports without the help of the media. There is no need for superstars or large televised events; just a personal interest. Sure, we could use a little media, perhaps video games, to promote some sports. But sports programs might be better off not depending on big business, and local community efforts might work better.
Others will say, you're going uphill against businesses, you dumbass. Well, a fight that's worth it. I've said that we as consumers have power by choosing what we consume, so we don't let them dictate us on whether to get interested in sports or not. Then people say, I am bad for business, I'm not supporting businesses. I have the right to do this. We consumers should stop consuming or adjusting our lifestyles based on popularity and should have some resistance to what is advertised to us.
On the recent issue, I personally believe even if Australian players were the first to play dirty, the Gilas team's reaction was wrong, and so the suspensions on both sides were appropriate. Perhaps it's better, since if this is what our team is bound to encounter all throughout the tournament, better they be spared from it. But in the end, does this matter to the country as a whole? Perhaps it only mattered not because Gilas would be unable to win a tournament, but because it showed our inadequacies as a people. And since people would rather support these inadequacies instead of admitting they are something to fix, then it explains why our country is in the pits. Perhaps because of sports not helping us address our inadequacies but being the arena where they are exposed, then sports probably isn't going to help us much.
I believe, as my cohorts here do, that what Filipinos embrace as their culture is what actually pulls the country down. And those who seem to be anti-dictators, who may also believe themselves to be "heroes," are the real dictators.