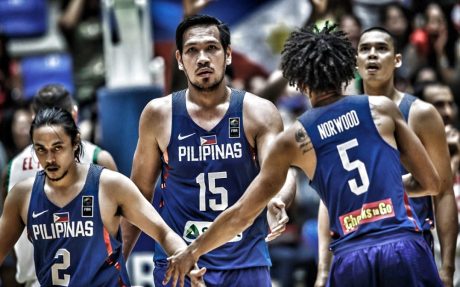 The recent disgusting and shameful yet shameless brawl that engulfed what was intended as a friendly match between two allies (Gilas Pilipinas and the Australian team) brings us to a point of deep reflection as a nation of civilized Homo sapiens. The grave level of pikon (butthurt) and crushing tambak defeat of the "Pinoy" shooters would not have been so depressing had the entire ballgame been a fair match to begin with.
The basic question is: Why did Filipinos being genetic underdogs even choose basketball to be their de facto national sport anyway?
I remember back in my younger years when there were still baseball leagues for kids in our community: complete with pro-looking uniforms, caps, gloves, bats and all. Somehow after Cory's ascent to power, Filipinos dropped everything else to focus on just basketball, as well as showbiz and politics (notice how personalities in these arenas simply hop around among these 3 bins – take Joey Marquez for instance).
Why would obviously genetically disadvantaged Filipinos bother to participate in a field of competition where height is might? Why seek to gain international respect in a competitive arena where Filipinos are by default clear losers? If there's no way Filipinos will ever be able to have a dream face-off with even the least of NBA teams to gain international respect in basketball, why even bother? If there was a race between an American eagle and a Maya bird, who would you bet on? However, no-brainer questions such as these are things that even have to be debated over in the land of the scorching sun.
For one, it's got to be the weather, as always, that's to be blamed. Our relentlessly over-zealous sun and the humidity that makes you perspire as if you had a shower – these conditions make it difficult for outdoor sports like soccer, American football, or baseball to gain widespread popularity.
Besides, these sports can require significant capital and equipment (large tracts of land, or expensive sporting gear), making them not really cut for a pro-poor society such as ours. But the biggest factor is really the sun: basketball can be played in gyms or beneath the comforting shade of trees and buildings all over the country. All you need is a piece of the road and an elevated hoop. Uniforms? Why bother  – just make one team remove their sandos.
Purposeful rights-friendly eugenics program
If Filipinos really were serious about basketball, they would intentionally breed Filipinos custom-built for the purpose. But then we leave everything to chance – when once in a while, a Filipina happens to fall for a tall or black foreigner.
People are so afraid of eugenics because images of Nazi's Third Reich (Hitler's mustache) or evolution-inspired elimination of the weak or Japan's forced sterilization; but we can adopt a human-rights-friendly approach; for example, give tax incentives to couples that produce genetically superior citizens and athletes.
Choose another national sport
The easier way is to simply swallow our pride and accept the fact that Filipinos are short. One thing the brawl proved was that Filipinos are natural boxers. Did you see those smaller Gilas cagers flying through the air reaching out to slam the head of a towering Australian?
Look at the Thais – they are respected in the kickboxing arena. Boxing (beating up each other) is an area that holds promise to the ASEAN physical built. So maybe we should take the cue from Manny Pacquiao, our living legend.
The good thing about boxing is that there are weight divisions. So there's no way a muscular Mike Tyson will be pitted against a leaner Manny Pacquiao. Gilas vs. Australia was a total freak'n mismatch gone haywire from the get go. Even with the imports, Filipinos were relegated to being just supporting actors. And there's no real national pride in that.
Filipinos have historically excelled in indoor sports; again anything that has to do with escaping those scorching UV rays of the sun: for bowling we have Paeng Nepomuceno and for billiards we have Efren "Bata" Reyes.
One indoor sport we should take seriously is table tennis (ping pong). It was a favorite among boys I hung out with in my high school days. It can even be played as a small team: doubles.
Basketball height divisions
But then it may be too difficult to part ways with a team-based highly interactive action-packed sport such as basketball, a sport for which every local barangay or school has infrastructure and space allotted for so that young Filipinos can be kept from getting drawn into drugs and vices. Well in that case, we should be happy for the time being to probably just limit Pinoy international competition to the ASEAN games.
OR… as we have major and minor leagues or weight divisions in other sports, there could be a similar scheme for basketball as well. We simply cannot go on dreaming to become champions against genetically superior and agile Blacks or towering Caucasians.
FIBA should review the rules to truly promote friendly and fair competitions. Eventually, there should be basketball for "small people" in the Olympic Games, just as males and females compete separately, and as there are Paralympics for the handicapped.
Better yet, there should be a basketball division for "small people" with pikon issues. This way, a basketball match can legally turn into a boxing brawl (switching back and forth between 2 modes) in a way that can be double entertaining.
Let's see how things go for the country's sports and athletics where just like its typhoons … anything goes!
Zealous revolutionary advocate of bringing back common sense for the common good in a land of dysfunctional and delusional zombies.