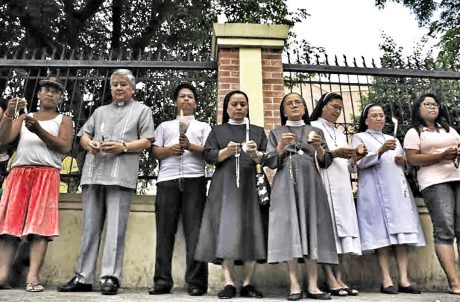 The jury still seems to be out on what could be the long-term impact of Philippine President Duterte's direct attacks on the Roman Catholic Church. Such attacks by a sitting president and, for that matter, any top politician or official of the government are unprecedented, but it is this vastly different way with which a Philippine president is regarding the Church that is opening doors to a lasting legacy for Duterte and, more importantly, a long-overdue cultural shift in Philippine society. As pointed out by Manila Times columnist Bobi Tiglao in his piece today, "Duterte is at least lighting a candle in the vast dark landscape of Filipinos' worldview, by which they would risk life and limb to touch a wooden statue so they'd get a boon from the Deity, such as a visa to the US or a brandnew SUV."
Indeed, the irony that escapes the huffing and puffing stalwarts of the Philippine Opposition led by the Liberal Party (a.k.a. the Yellowtards) is that the big waves Duterte's attacks on the Catholic Church have caused actually highlight just how deeply-entrenched a grip on Philippine society the Church enjoys. At the very least, the fact of this very grip should prompt a bit more objective scrutiny into the real nature of the effects of this disproportionate influence on Filipino behaviours and attitudes wielded by a single organisation — and one that answers to a foreign government, no less.
SUPPORT INDEPENDENT SOCIAL COMMENTARY!
Subscribe to our Substack community GRP Insider to receive by email our in-depth free weekly newsletter. Opt into a paid subscription and you'll get premium insider briefs and insights from us daily.
Subscribe to our Substack newsletter, GRP Insider!
Learn more
More importantly, given this influence, it is worth revisting just how exactly the Roman Catholic Church came to acquire such vast powers over humanity. Tiglao points out that this was achieved through means that likely wouldn't appeal to most modern liberals…
Christianity is one of the main religions of the world now, because it was the state religion of one of the biggest civilizations the world has seen: Europe, which originated from the Roman Empire, the most powerful and long-lasting military dictatorships the world has seen. It wasn't a choice of the vast population of peasants whether to believe in Jesus or not; they had to, or else.
Indeed, no monarch — no dictator — relinquishes power without a fight. So it is no surprise that the rallying cry of those who seek to uphold the status quo that is the Church's vice-like grip on Philippine society would be none other than Laban! ("fight!"). Change is never painless, thus it is reasonable enough to expect a lot of pained responses to this on-going journey. There is, in fact, a lot of grimacing and gnashing of teeth amongst the Philippines' chattering classes today. Many of these are, of course, politically-motivated — driven by an opportunity to "finally" turn the Philippines' religious masses against their popular president.
There is, however, some evidence that the Filipino masses are not biting that hook either. Whilst the noise is palpable amongst the Twitter- and Facebook-equipped chattering classes, there is no conclusive evidence, as yet, to ascertain whether the outrage fad being kicked up by the Yellowtards is resonating amongst the broader base of Filipino voters. Indeed, there are hints of frustration being expressed amongst Yellowtard "influencers" over what some are admitting to be disappointingly weak response from Filipino Catholics at large. Could this be evidence that Duterte has successfully conquered this sacred no-go-zone and emerged unscathed, political capital fully intact?
If, indeed, Duterte manages to break the back of the Roman Catholic Church itself and end the vast blanket emotional blackmail it had been subjecting Filipinos to for centuries, he will have dismantled a major vestige of imperial rule over Filipinos. Within more recent history, he will also have taken down a key pillar of the Yellowtards' power structure. Recall that the Yellowtards seized power in 1986 backed by the influence gratitiously dispensed by the Roman Catholic Church. It would seem that the days of this conjugal grip on power by the Yellowtards in partnership with the Catholic Church is coming to an end.
By itself, that is an achievement at par with any other major reformist movement in the annals of human history. The Philippines has long been renowned for the voodoo flavour of its Catholic practice — something the Catholic Church has done little to change (and, in fact, has encouraged it). As such, the Catholic influence in Philippine society has long been recognised as a significant contributor to the backwardness of Philippine society. It panders to the poor, does not encourage self-reliance and personal accountability, and emotionally-blackmails the rich to dole out their hard-earned surplus wealth to the "less fortunate". Such is an environment created by Catholic teachings that encourages mendicancy and mediocrity to thrive and personal excellence and focus on achievement to take a backseat to these.
One can only hope that this rare opportunity to take the Philippines' Roman Catholic Church to task is finally taken. The fruits of this opporuntity hang low and Filipinos only need to get up off their asses and reach for them.
benign0 is the Webmaster of GetRealPhilippines.com.