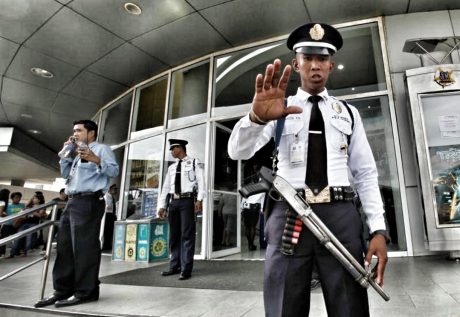 Here's another reason why we should not believe all those virtue-signalling millennials who are making a lot of noise about President Duterte's anti-Tambay police campaigns. Many of these "socially-aware" libtards actually live in gated subdivisions complete with mean-looking shotgun-wielding security guards. These guards have orders to screen people and vehicles entering the subdivisions of their masters. Some even search the bags of servants walking out these gates, in effect, presuming each one a thief.
But here's the important question we need to ask these people: How would they feel if strangers start to hang out at their front doors?
The idea that a group of shirtless men could make tambay at their front doors or on their stone-paved driveways is probably ludicrous to these iPad-tapping Social Justice Warriors (SJWs). For one thing, they rest easy knowning their sikyo attack dogs are keeping their tony neighborhoods safe from society's riffraffs. Second, the most elite of these SJW households employ their own security guards as well. So fat chance any tambay could last a minute even just sitting in front of an SJW's front gate.
Here's the thing, the very idea of gated communities is, itself, an affront to the concept of an egalitarian society. They are also the opposite of everything that a true community stands for. People who live in gated communities prefer to exclude themselves from the bigger Philippine society around them. That preference for exclusivity simply revokes any license on their part to preach to us about what is good for tambays.
I also noticed that many of these compulsive selfie-snappers are "social media influencers". That is, many of them are these rich kids who inhabit malls and picturesque places around the Philippines for the sole purpose of taking selfies and promoting the brands they fancy themselves as "ambassadors" of. I wonder, then, how these "brand ambassadors" will feel if their precious selfies are routinely photobombed by the very unsightly shirtless tambays they presume to "defend" in their lame tweets?
Maybe these kids should also do some research to find out what sorts of policies the managers of their favorite malls apply to the treatment of certain types of people who they find making tambay in their premises. I'm sure there are two kinds of tambays as far as mall managers are concerned — those who are fair-skinned, wear branded clothes, and sport expensive smartphones are allowed. All the rest are promptly escorted out. We might think sandos and tsinelas (the uniform of garden-variety street tambays) will automatically catch the attention of mall security. Think again, though. Some Filipinos actually look good in that attire. So, again, are these policies really clear and fair? Or are they discriminatory policies in disguise? I'm sure the average conscientious SJW will do the proper research work to make sure they are consistent.
The bottom line is that if you plan to be "activists" you should make sure you walk your talk and check your Instagram feed to make sure your timeline does not inadvertently reveal the hypocrisy of the "cause" you advocate. You people think making glib tweets and Facebook posts makes you a valued contributor to social justice? Think again.
Frustrated artist doing geek for a living.