Lray and Migz Villafuerte must be extremely gifted magicians, if the stories that common folk in Camarines Sur tell is true.
While they can't levitate trucks or get out of unbreakable restraints, legend has it that they can make tons of government money disappear with a flick of the wrist.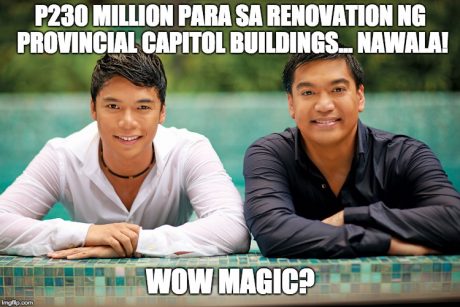 Personally, I have a hard time believing such fanciful tales from common ordinary folk. Knowing the culture of distrust upon which most of our laws and safeguards against corruption are built, I know that it takes an extra ordinary amount of resources and manpower to spirit away government funds.
And yet… and yet… It happens.
Recently, a friend from Naga sent me a couple of documents, which on the face of it makes it appear that a 2012 report from the Commission on Audit says that a project to renovate the Camarines Sur Provincial Capitol Building did not materialize despite government funds having been released for the project.

An excerpt from the report reads, "The construction and improvement of the Provincial Governmanet of Camarines Sur (PGCS) buildings/offices as embodied in in the annual Investment Plan from CYs 2010 to 2012 and Provincial Development Investment Program for CYs 2011 – 2013 were not implemented by the Province, thus, depriving its officials and employees, stakeholders as well as the visiting tourists from the benefits of having a decent venue and healthy working environment."
How much money was allotted for the said renovation of the provincial capitol building and offices?
Oh well… just about a quarter of a billion pesos or P 230 Million to be exact.

That's nearly five times the amount of money that needs to be stolen from public coffers to make a case for economic plunder!
Pictures from the report show the dangerously decrepit state of the capitol buildings and offices.
Windows rusted shut, concrete eaves and awnings cracked and unpainted, floor tiles chipped, urinals missing or clogged up, paint chipped and peeling all over, and the road leading to the capitol building pretty much unpaved.
I just can't believe that P230 million was given to the Camarines Sur local government and then nothing happened!
Maybe the renovations were actually accomplished but for some reason, these renovations rapidly deteriorated and the buildings came into a state of disrepair.
Or maybe, just maybe… is it more likely that the money was taken and spent on something else? But that would be malversation wouldn't it?
If the money had indeed been misspent or, God forbid, stolen… why hasn't the COA, DILG, and Ombudsman done anything about it?
But alas! It seems nothing ever happens to allegations of corruption against the Villafuertes and it looks like this reputation is solidly in place almost three years into the no nonsense Duterte administration.