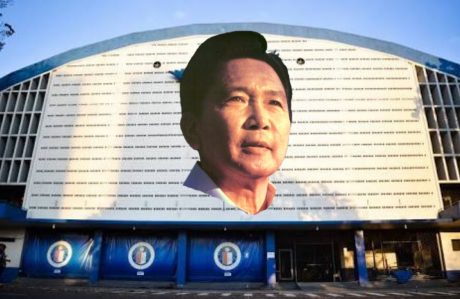 Manila Times columnist Yen Makabenta today wrote a scathing article about his alma mater, the Ateneo de Manila University which today stands out amongst the elite Catholic private schools as a bastion of campus Yellowtardism. In What is more toxic than a crony? A crony school?, Makabenta laments how on the current "debate" over the recent ouster of never-had-been-chief-justice Lourdes Sereno from the Supreme Court, "Ateneo's administrators and talking heads have waded into the loud campaign for Sereno, and railed against the Supreme Court and the justices who ousted her as chief justice."
Some fellow alumni have asked me how our school, which was once so correct and slow to action, became committed to the dubious project of restoring Sereno in the high court, regardless of her limitations and dishonesty. They wonder how the Society of Jesus, the Ateneo administrators and the faculties of various colleges and departments arrived at the startling policy of putting the name of the Ateneo on the line in this sham enterprise.
For a school that regularly gets its faculty and student body members' as well as their affluent corps of alumni's panties twisted over the "horrors" of Martial Law, the Ateneo community has collectively failed to deliver any scholarly work on the subject over the last several decades. As Makabenta's fellow Manila Times columnist Bobi Tiglao wrote sometime back…
SUPPORT INDEPENDENT SOCIAL COMMENTARY!
Subscribe to our Substack community GRP Insider to receive by email our in-depth free weekly newsletter. Opt into a paid subscription and you'll get premium insider briefs and insights from us daily.
Subscribe to our Substack newsletter, GRP Insider!
Learn more
Nothing. Zero. In the three decades since Marcos fell, the Ateneo has not produced a single piece of scholarship that would contribute to our balanced assessment of the Martial Law era…
Yet, the way the Ateneo community positions itself and makes pronouncements as a collective body to denounce those "Martial Law years" and the so-called "historical revisionism" of those who dare challenge this dogma, you'd think they are in possession of actual peer-reviewed work on the subject. An example of this hollow self-assurance is a "statement" they issued on the matter in 2016 where they pompously proclaim We are not blind to the darkness and oppression of the Marcos years!…
We affirm our commitment as faculty members and formators always to teach the truth. The Marcos dictatorship should be remembered as one of the darkest periods of Philippine history. We reaffirm our responsibility as teachers and professionals to keep the spirit of EDSA 1986 alive by imparting to the young that the structures, actions and ideas — including the many lies — that allowed the Marcos dictatorship to impose and perpetuate itself, should be eliminated and never again be allowed to flourish. At the same time, we will work to bring to fruition the dream of EDSA for a more just and democratic society.
It is now clear in the context of what Tiglao wrote and, now, Makabenta confirms why the Ateneo finds the need to continuosly "reaffirm" ad nauseum their "commitment" to "reminding" Filipinos of the need to be anti-Martial Law and anti-Marcos. It is because they are likely covering up their own institutional failure to commit to scholarly writing any of the drivel they spew today.
Most interesting of all is the scantly-highlighted fact pointed out by Tiglao that the Ateneo had, itself, been complicit with the regime of former President Ferdinand Marcos at the height of his power. Writing for Business World Online, Filomeno S. Sta. Ana III, himself a staunch anti-Marcos activist corroborates this little-known bit of Ateneo history and points out…
Yes, Ateneo had its dark period during the presidency of Fr. Jose Cruz, S.J. in the early years of martial law. Fr. Cruz, S.J., a supporter of Marcos, expelled or dismissed the student radicals. Among them are current leaders in government and the private sector like Diwa C. Guinigundo (Deputy Governor of the Bangko Sentral ng Pilipinas) and Ramon R. Isberto, Public Affairs Head of PLDT. Two of those dismissed are now part of my group, Action for Economic Reforms — Mon Fernan and Raffy Paredes.
And, more importantly…
Despite its current progressive leadership, Ateneo as a total institution has yet to apologize for its accommodation of the dictatorship and its dismissal of idealistic activists during the presidency of Fr. Cruz, S.J.
The Ateneo needs to get real and come to terms with its own past — hopefully not become a full-fledged Yellowtard institution but to truly step up and become an institution that truly encourages real and modern critical thinking.
benign0 is the Webmaster of GetRealPhilippines.com.