The CNN Philippines report titled "Villar property firm is behind levelling of Boracay mountain" is a hack job aimed at attacking the reputation of Senator Cynthia Villar and son DPWH Secretary Mark Villar.
The lazy, cowards hiding behind the by-line "CNN Philippines Staff" should be outed by the management of CNN Philippines and then publicly fired or made to resign after being given a thorough dressing down on live television.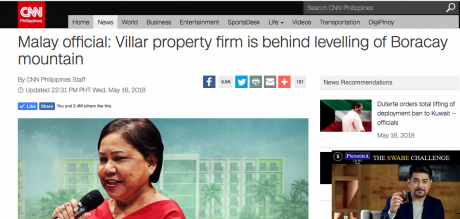 First of all, both Senator Villar and Secretary Villar have divested themselves from the Villar group of companies. For the absolute idiots who wrote that story, divest means "to deprive or dispossess especially of property, authority, or title" and this means that there is no basis for the claim that the company allegedly leveling a mountain in Boracay is connected with the Villars.
In an interview, DILG Assistant Secretary Epimaco Densing III said when asked about Secretary Villar's possible conflict of interest in the ongoing Boracay rehabiliation, "As far as I am concerned, secretary Villar has already divested from all interest in the Villar group. Wala na siyang connection duon. I wouldn't look at it na merong potential conflict, very specific po ang mandate ni Secretary Villar sa Boracay which is the expansion program and the drainage system. Kaya kung issue ito ng resort nila dyan, I don't think may connection." (Source)
Second, the micro-brained keyboard monkey called "CNN Philippines Staff" still decided to run the story despite the fact that DENR Secretary Roy A. Cimatu issued a statement which we found on Facebook completely debunking claims that earth moving works were being conducted.
Reports from our field office indicated, however, that said flattening of mountain was conducted prior to the Boracay closure and has since been stopped.

To be clear to all that we mean business in the enforcement of environmental laws, rules and regulations, I have ordered, with the concurrrence of the Boracay inter-agency task force, a total stoppage of all constructions of any kind effective immediately.

I have also ordered a moratorium on the issuance of DENR permits, including but not limited to Environmental Compliance Certificate (ECC), tree cutting permit, except those relating to on-going road widening project by DPWH, and other licenses.

(Source)
Based on what Cimatu said, it seems the creature called CNN Philippines Staff was too busy breathing through his or her mouth that he or she didn't even investigate whether the video was of current date. There have been a number of times that people mistake old videos as new, simply because these videos were re-uploaded and the people seeing it didn't bother to double check if the video was recent.
The most likely thing that happened is that someone at CNN Philippines had been bribed into publishing this slanted story and if so, this person should be sued for libel.