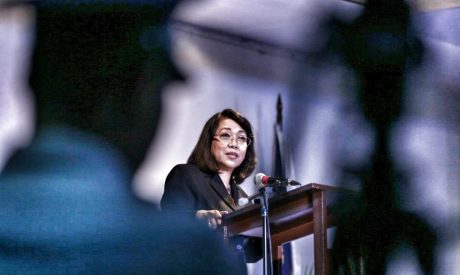 Personally, I'm looking forward to the coming circus that will be the impeachment trial of Chief Justice Lourdes Sereno. After all, there is sound basis to impeach her and it is hard to imagine what sort of defense she will put up against the charges raised against her. As such, it will likely be an entertaining event that will attract a lot of media coverage and social media chatter. This could only enrich a political discourse made dull by a guileless Opposition made up of unimaginative and obsolete "thought leaders".
Nonetheless, it is still better that Sereno resign now. She has become, after all, a liability to the Republic. Since her appointment as top judge, the Philippine Supreme Court has attracted attention for the wrong reasons. Rather than be followed and cited for its judicial work, the SC is being watched for its politico-drama value. Indeed, the Opposition led by the Liberal Party (a.k.a. the Yellowtards) like to lament how the SC had been "politicised". In truth it is the Yellowtards who are politicising it by using Sereno's perceived popularity as a key pillar in their arguments in her defense. Sereno's critics, on the other hand, make a sound case based entirely on her violations of the law and the questions around whether or not she really is qualified to be Chief Justice.
For that matter, the Supreme Court should not even be regularly making headlines on front pages. It was never intended to be a political institution as membership within it is based primarily on qualification and merit and not on mere popularity as is the case with the legislative and executive branches of government. By continuing to force the issue of her "entitlement" to be Chief Justice, Sereno is all but paralysing the SC in a protracted political battle.
Sereno has clearly lost the trust of her peers and that of the public. In most normal societies, people who lose the trust of their stakeholders know what the right thing to do is, and that is to resign. It is not only right, it is an honourable act that shows respect for the office that is seemingly alien to Filipino sensibilities…
Philippine society keeps trying to model its way of life based on the western model but we fail to grasp the fundamentals of what make Western society work. Indeed, we fail at even being a copycat. With the number of public officials and common citizens who get away with fraudulent activities in the Philippines, I am beginning to believe that there are members of Philippine society who are turning into psychopaths. A lot of our public officials do not have a sense of guilt or do not feel remorse for not being able to fulfill their social obligations and for causing harm to the rest of society. They also blame their behavior on someone else, make all kinds of excuses and therefore do not feel accountable for their actions.
Sereno fails to understand that the office of the Chief Justice of the Supreme Court is bigger than her personal goals and aspirations. This is evident in the way she has gone off on the all-too-familiar media blitz to direct attention to her plight. It is not the plight of the Supreme Court she is asking Filipinos to focus on. Sereno is, instead, asking Filipinos to direct their attention to herself.
It is therefore clear that Sereno must go. Whether that be by resigning now or by way of a fair impeachment trial becomes more a question on how much further time and resources Filipinos want to see go to waste because of the vanity of a single hard-headed person.
benign0 is the Webmaster of GetRealPhilippines.com.