A long time friend in the field of politics and communications messaged me on Facebook saying that RJ was going off the rails again over how PCO Secretary Martin Andanar handled himself during the recent Senate hearing on fake news.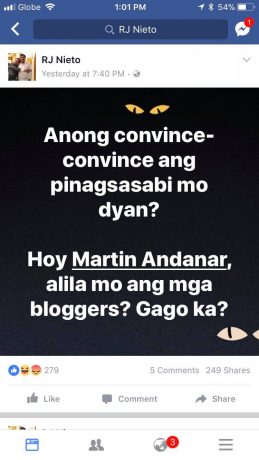 Using words like "gago" (fool) and "bayag", Nieto appeared to be expressed a personal disgust for Andanar's personal character and performance as the Secretary of the President's communications department.
Thing is, before my friend told me about Nieto's rants, I was already mid-way into writing an article on "Dean" Tony La Vina act of sharing a link leading to an article with a headline that misrepresented President Duterte's approval of the PCOO budget for 2018 and how it could contribute to the spread of misinformation regarding this administration's efforts to accomplish its mandate.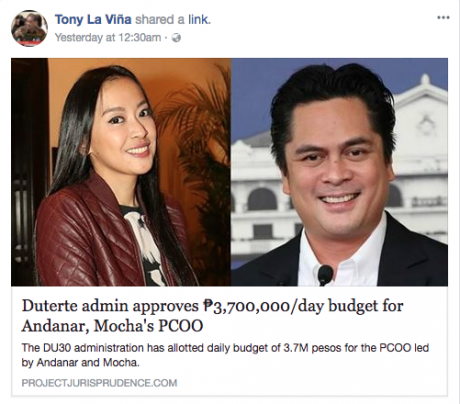 I didn't get a chance to tell my friend when we were chatting, but it seems to me that between Nieto and La Viña, the latter's post seems to be more deserving of my time in writing a commentary.
Perhaps the only thing that Nieto and La Viña share is open criticism towards Andanar.
Besides the fact that La Viña is a lawyer and educator (thus presumably more likely to engage in a civil discussion), he didn't write a comment to accompany the article misrepresenting the PCOO's budget and leaves enough empty space to assume that he merely shared the article without any intent of vetting its content. Which isn't to say that any other interpretation of his sharing may not be true, but certainly, only La Viña can tell us for certain what he thought of the article.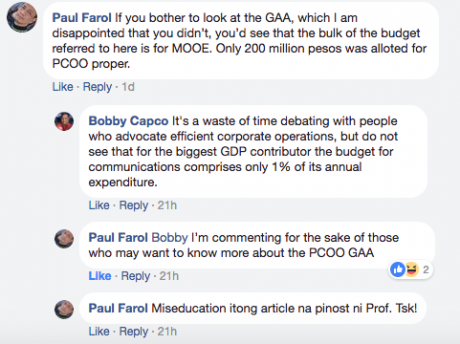 As I told Bobby Capco, my intent in engaging La Viña on his own Facebook wall is not to convince him about anything but merely to offer others on his friend's list another perspective. I don't expect La Viña to change his mind if he truly doesn't believe that Andanar or the Duterte administration is doing a good job.
My main beef with the article shared by La Viña titled "Duterte admin approves ₱3,700,000/day budget for Andanar, Mocha's PCOO" is that it makes it appear that it may be understood to mean that:
— Secretary Andanar and Assistant Secretary Uson receives P3.7 Million a day.
— That PCOO belongs to Andanar and Uson
I blasted both possible interpretations of the title as PATENTLY IGNORANT and a lawyer/educator like La Viña should have not shared it as it goes against the ethics of both noble professions to spread misinformation/miseducation.
Further reading of the article's body reveals more ignorance, especially the part where it states: "₱1,351,000,000 divided by 365 days is ₱3,701,369. That's 3.7 million pesos a day for the PCOO."
If only La Viña had bothered to get a copy of the GAA for 2018, he should have looked at page 176 which shows that PCOO Proper's 2018 budget is actually P252 million. NOT P1.351 Billion which is based on the inaccurate report by CNN Philippines.
Other items cited under the heading XXVI Presidential Communications Operations Office include:
B. Bureau of Broadcast Services which was given a budget of P352 Million
C. Bureau of Communication Services which was given a budget of P36 Million
D. National Printing Office which was given a budget of P93 Million
E. News and Information Bureau which was given P122 Million
F. Philippine Information Agency which was given P318 Million
G. Presidential Broadcast Staff P206 Million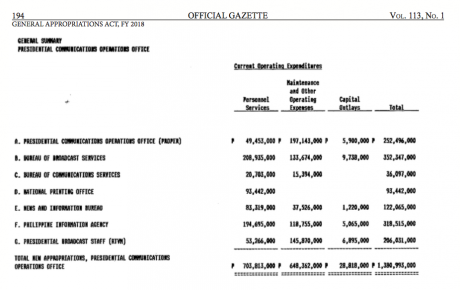 (In Part Two of this post, I'll share information about what the PCOO did with its 2017 Budget.)