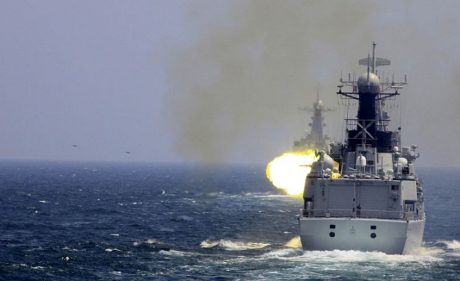 Filipinos are currently lamenting China's progressive annexation of their claimed territories in the South China Sea (SCS). But this lamentation is of a confused sort. One of the more controversial "issues" is around the foreign policy trajectory current Philippine President Rodrigo Duterte is taking his country — one that leans closer within the Chinese sphere of influence and further away from the US and Western European sphere. As such, Opposition "activists" are screeching about Duterte's "allowing" this incursion into Philippine territory and spinning this as a betrayal of Philippine sovereignty.
The truth is, China has been beavering away at securing its presence in these territories for a long time. Considering even just the historical momentum at work, it is evident that nothing will stop China — no one Philippine administration will. Philippine "democracy" and its six-year cycle of disruption on governance makes a sustained Filipino effort to mount a strategic response to the Chinese threat next to impossible. That, plus a lack of a strong martial and technological tradition leaves the Philippines with few options.
Without any military capability of consequence to, at least, effect tactical deterrence measures against Chinese forces in the SCS, the Philippines' prospect of success through political and diplomatic initiatives lacks promise. The much ballyhooed ace of the Philippine government, the ruling of the Permanent Court of Arbitration (PCA) at The Hague rebuking China's claim to sole control over territories in the South China Seas, had already been played. China had simply continued to build. The question is, who is going to stop them by invoking that ruling? China had been, from the very start, categorical in its position on the matter: "China will never accept the absurd argument that the illegal conclusion of an unlawful arbitration court is legally binding". It comes down to who will make them see otherwise.
Indeed, as much as Filipinos remind one another to refer to the zone as the "West Philippine Sea", much of the world still refers to it as the South China Sea. That says something about how much the rest of the world is really prepared to antagonise China. Even regional naval heavyweight Australia has much at stake…
China's chief deterrent for [Australia, India, Japan and the United States, a group known as the quad] may be its economic might. Australia, for example, counts China as its No. 1 trade partner, with a 27 percent increase in exports in 2016 and 2017, official Australian data show. A naval drill is unlikely, Ho said.

"I think Canberra has too much at stake in terms of economic links with Beijing to take such a drastic measure," [Ben Ho, senior analyst with the Military Studies Programme at the S. Rajaratnam School of International Studies in Singapore] said. "After all China is Australia's top trading partner, both in terms of imports and exports, and Canberra will not do anything drastic to damage its relationship."
Ultimately no one country nor any one government within any country in the democratic world can really account for the China issue. Chinese goals and the monumental work mounted to make good on them transcends the scopes of influence of most of the players involved in South China Sea politics. This seems to be a collective shortcoming of the conflicting national interests of the camp that is facing China and the inherent fragmentation of governance over time inherent to democratic systems. China, on the other hand, is anything but any of these and is in a position to win territory over a war of attention spans it is inherently structured and constituted to excel in.
benign0 is the Webmaster of GetRealPhilippines.com.